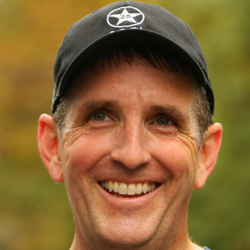 Hubbard Takes the Helm at Bull Run Run
Quatro Hubbard is the new race director of the Bull Run Run 50 mile trail run.
He continues in the fine tradition of Chris Scott, Scott Mills, Bob Phillips, Anstr Davidson, Toni Aurilio, Bob Gaylord, Jim Daniels, and Alisa Springman — the former RDs who have nurtured this bedrock VHTRC event over the past 25 years.
Quatro will lead the event into the next quarter-century (or possibly longer, judging by the food supplies on hand in the QBaru).