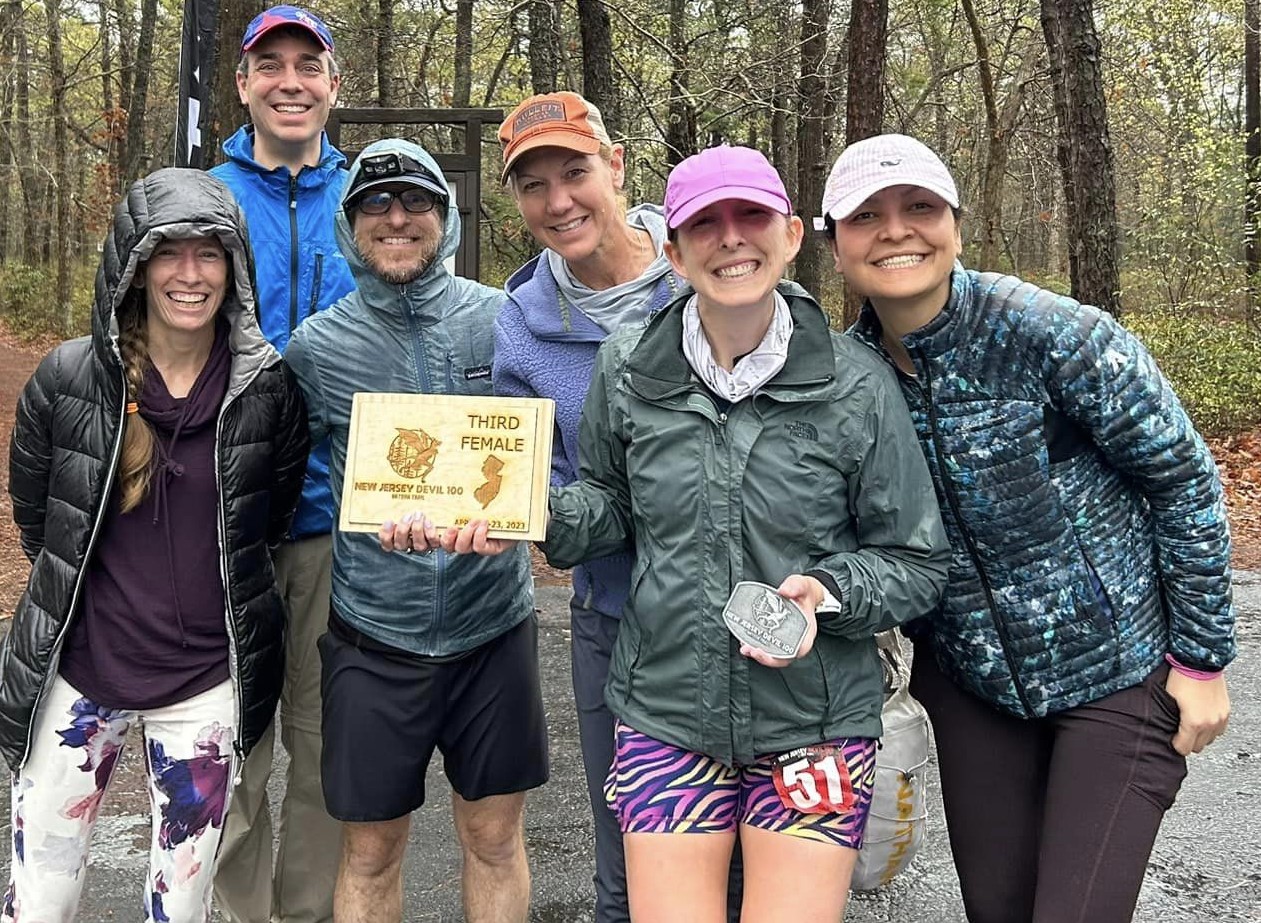 Hell and Back at the NJ Devil 100 Miler
My story of the NJ Devil 100 miler isn't just about one day on the trail, but about what 25 years of running has taught me about broken hearts, commitment, redemption, and fulfillment. It's about how those lessons pull you through not only in training and on race day, but in life. And how if you're really lucky, you're fulfilled in a way you've never imagined.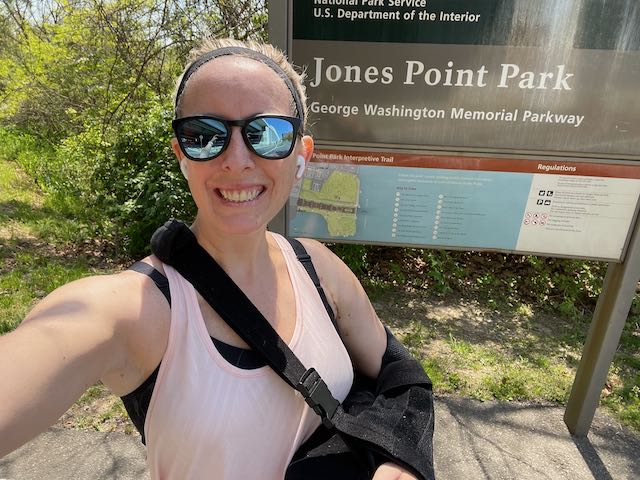 But first comes the broken heart, and in my case, a broken shoulder. I signed up for the race just weeks after a total reverse shoulder replacement to remove a stage 2 chondrosarcoma (bone cancer) from my left humeral head.
This terrifying diagnosis led to a life-changing surgery and countless hours of physical therapy — and trash television. I'd gone from a solid endurance athlete to not being able to lift a single pound. Running seemed out of reach, so like any true runner, I signed up for a 100 miler in a year's time.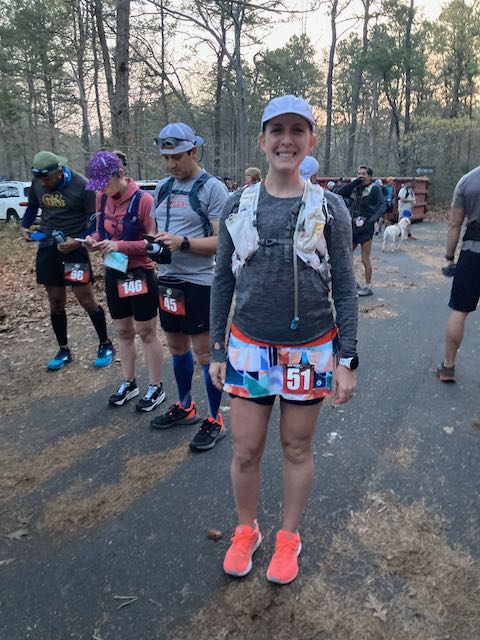 Even though I couldn't run, I truly committed to physical therapy, the same way I commit myself entirely to any training plan. The NJ Devil 100 represented more than a race in my home state; it was my way of setting a potentially improbable goal to dig myself out of a very sad hole. I focused on what I could control and within a few months of surgery, I was back to running — albeit slowly — but it was running nonetheless.
Redemption finally came at 6:00 a.m. on April 21, 2023, deep in the swamps of Jersey. Equipped with eight months of training and a new perspective of what really matters in life, I'd made it to the start line of the NJ Devil 100 miler. I was ready for a day of ups and downs that so vividly would represent the past year of my life.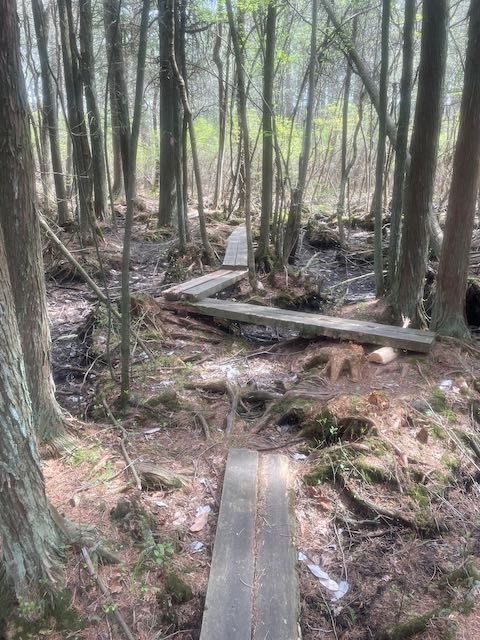 The race is run almost entirely on the Batona Trail through the Pine Barrens, a remote but absolutely beautiful area in southern New Jersey. The trail moves elegantly from singletrack to doubletrack, with ever-changing scenery of lakes, wildlife, and cranberry bogs. It's never boring — don't let the word "barrens" fool you!
Race day was met with full sun and unseasonably warm temperatures, but an ice and hydration plan helped me move well through the heat.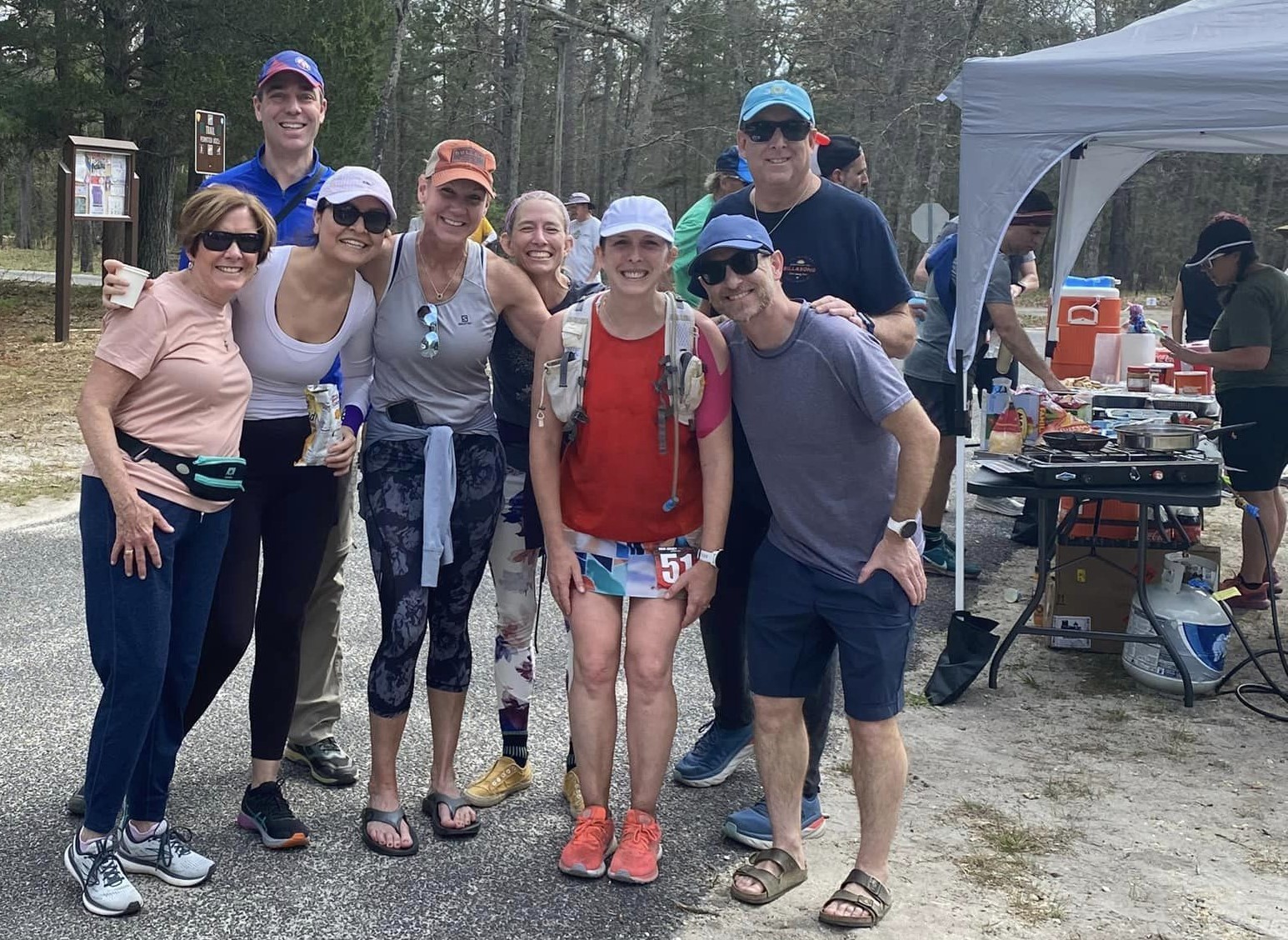 I was greeted by caring volunteers at the well-stocked aid stations as well as my stellar crew/pace team (shoutout to my parents, Kirk (my husband), Bryan Zelley, Ayse Alpaslan, Karen Wille, and Jen Norris). They were ready for whatever the day threw at me, from filling my pack to managing a very unfortunate blister situation (yes, this was recorded, and no, you'll never see it).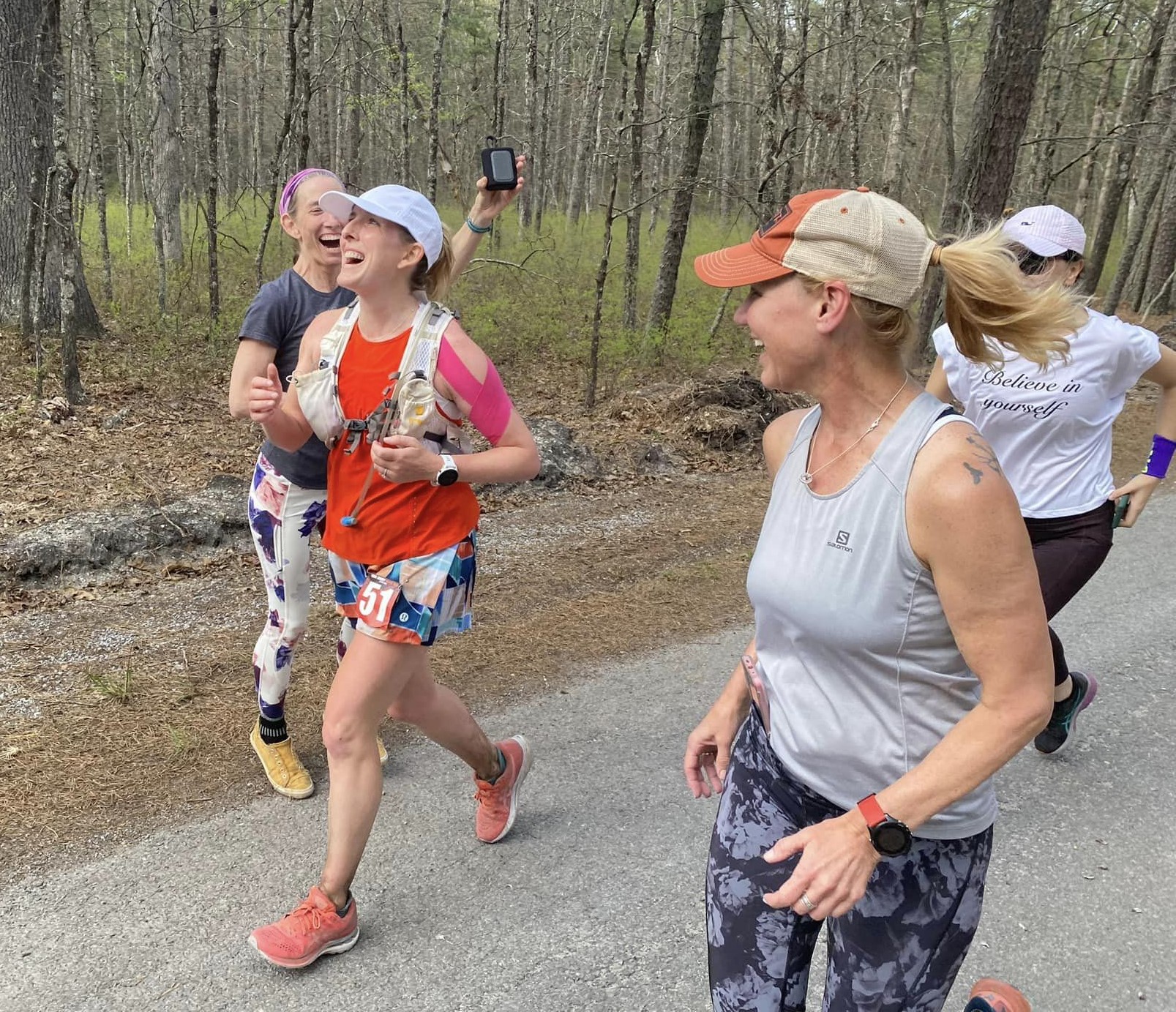 Karen joined me at mile 62, just ahead of the downpours that would last into the next morning. She got me through some of the toughest miles, particularly those where I wasn't moving fast enough to stay warm in the soaking rain. She safely led me into the mile 81 aid station, where I had a second complete outfit change (including Asye's waterproof jacket and an always-stylish space blanket), ate lots of warm food, and picked up Jen, who paced miles 81–89.
Once I was warm and well-fed, my miles with Jen were much more even-keeled. The rain was old news and time seemed to speed up. We met a few nice runners on the course, one of which had a very insightful quote: mile 80 is the halfway point of the 100. Halfway point, indeed.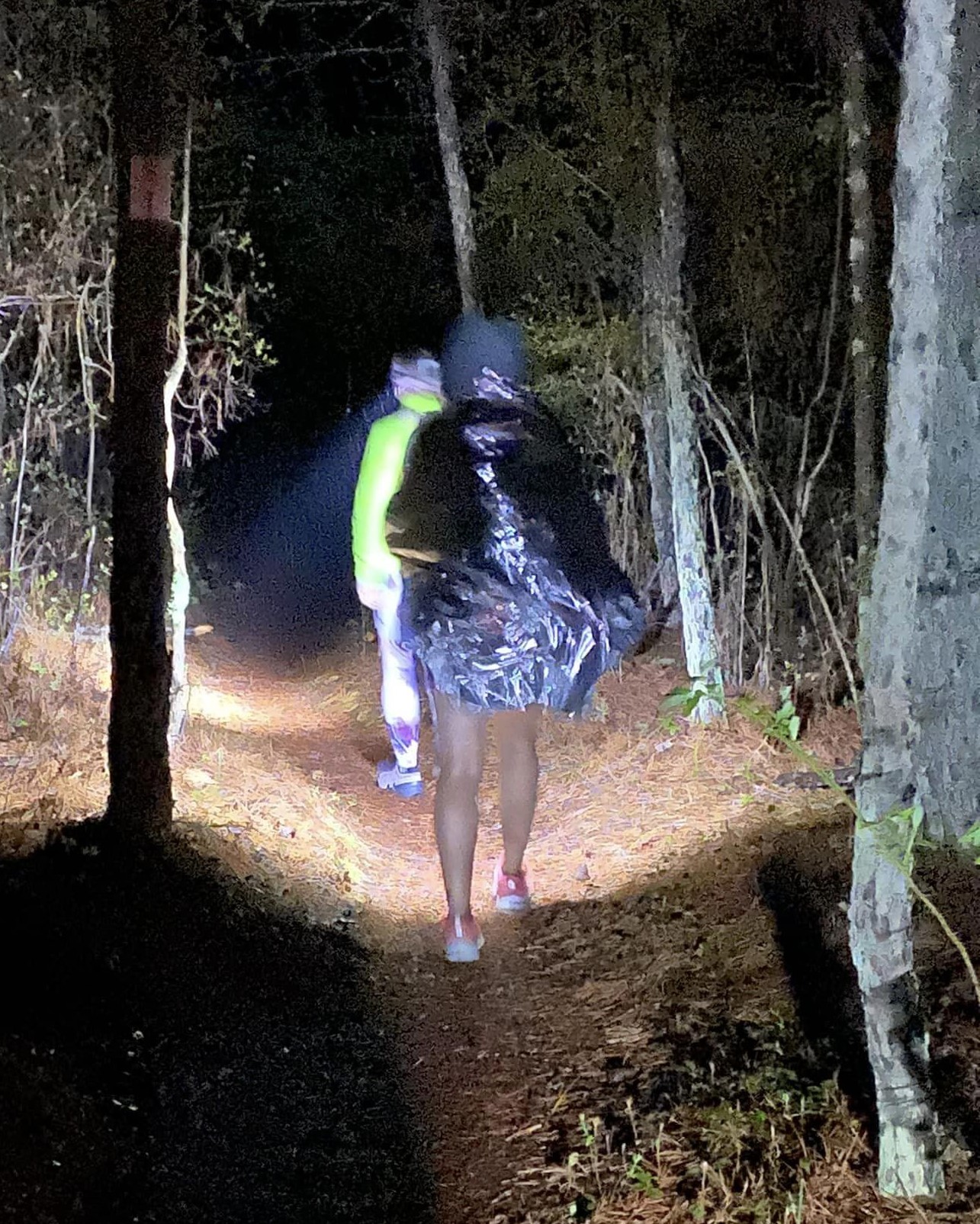 Kirk closed out my adventure by pacing miles 89-100 through some of the worst rain yet — the trail became a river because it simply couldn't handle the sheer amount of rain (and quite frankly, neither could I). Kirk's pacing reminded me of the exact reasons I married him - he's patient, supportive, and loves me no matter how cranky I get :) Although the last 11 miles felt like a lifetime, we made it to that glorious finish line in 24:51:33 - good enough for third place woman and the closure of one hell of a chapter of my life.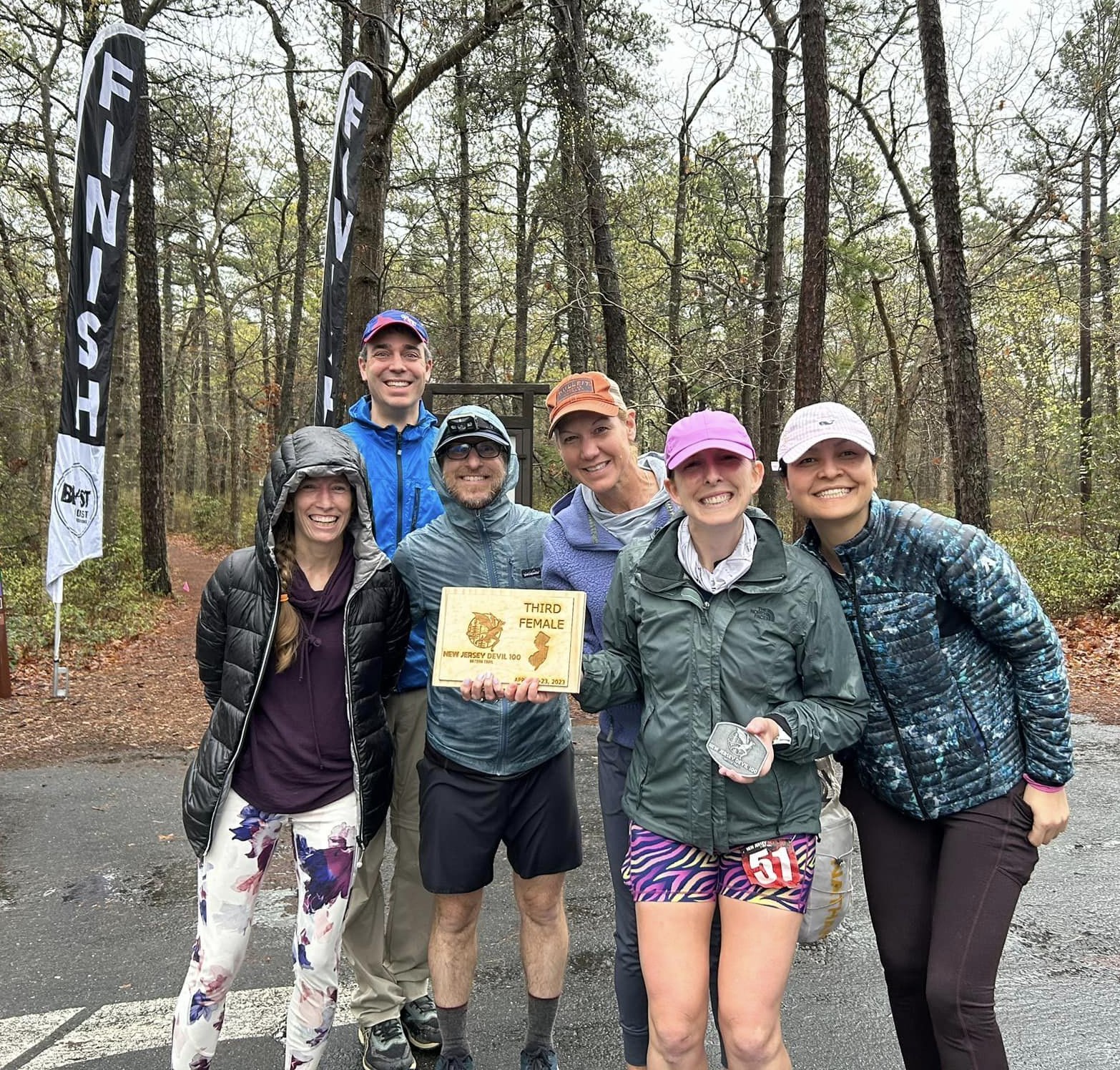 This finish line fulfilled me like no other race because it seemed so unlikely just a year before. It was the most difficult one I've ever reached, and for better or for worse, one that I'll never duplicate. It meant even more to finish this race in my home state where my love of running was born. A true homecoming.
I was lucky to have seven people at the race who provided unconditional love and support leading up to, and during, the big dance. But there are so many others who sat with me on the couch, walked when I couldn't run, ran with me in support of my crazy dream, and checked in just because. I'm forever grateful to my friends and family, to the doctors who healed me (Dr. Eric Thomson of Vienna Family Medicine, Dr. Felasfa Wodajo of Virginia Cancer Specialists, and Dr. Alec Howells of Solutions PT), and to Vanessa Kline and John Swanson (of Beast Coast Productions) for a phenomenal event. Thank you for giving me one day to represent the comeback of a lifetime!
To my VHTRC family: Blue Train in 2024?!