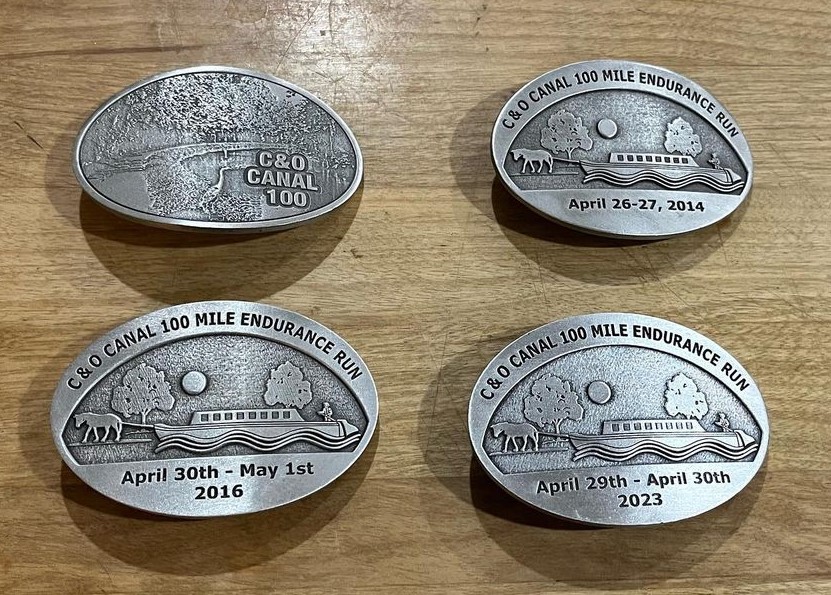 Four Buckles at the C&O
The C&O Canal 100 race is very special to me. It was my first 100 mile finish and I ran the race the first four years. I became an aid station captain (Brunswick) the next 5 years. But I made a decision to run the race again this year and was not disappointed.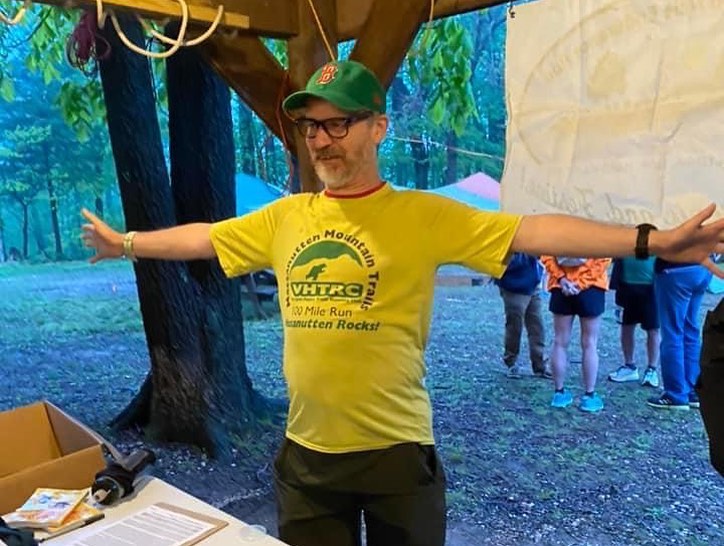 I should point out that my training/preparation for this year's running was not stellar. I showed up on race morning without a whole lot of training miles since last fall and about 20 lbs over my fighting weight. Still, I was undeterred. What's the worst thing that could happen? A DNF? I've DNF'd more 100s than anybody I know. Threaten me with something real!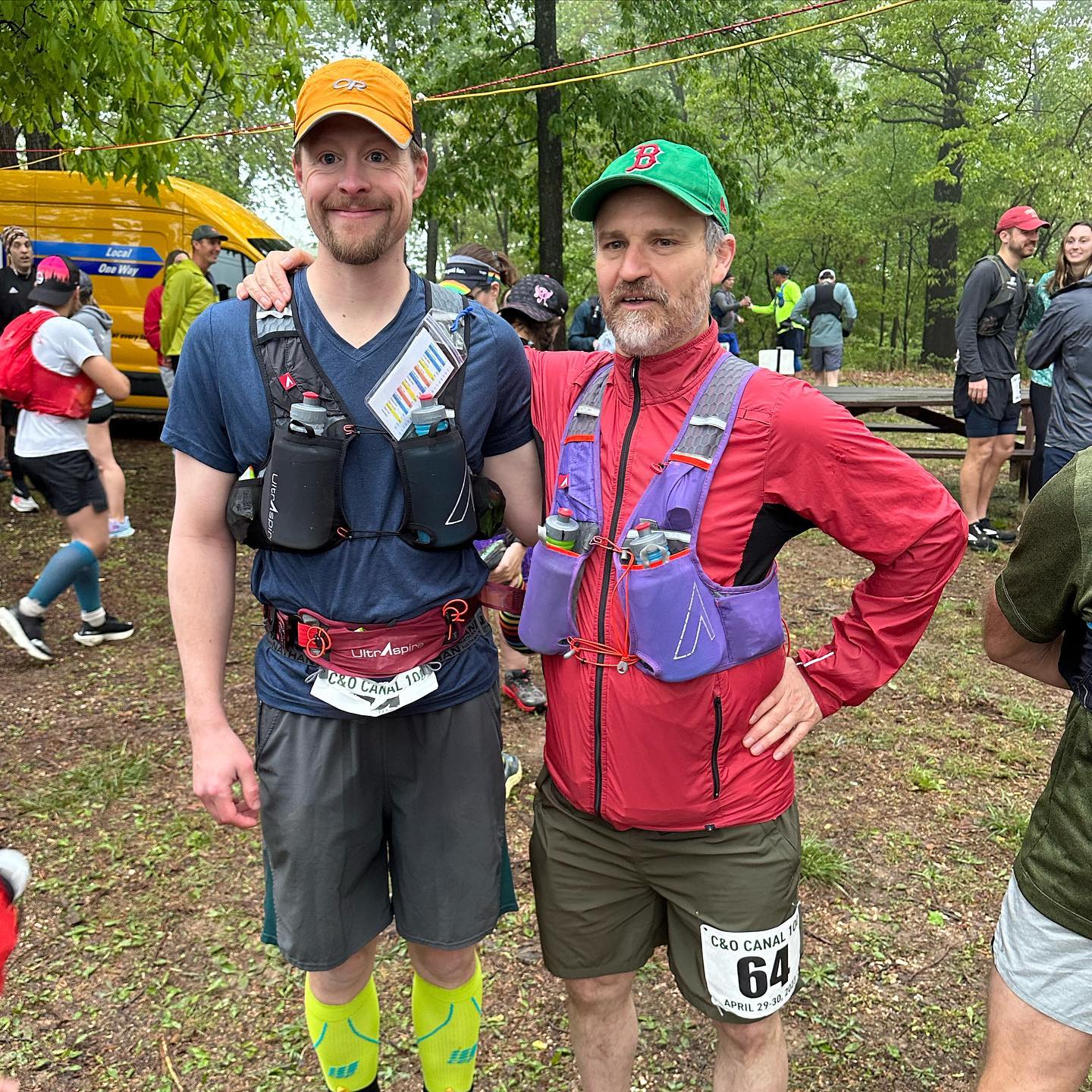 Anyway, it was quite nice to show up on race morning and see all the faces: Lance Dockery (RD), Emily Clay (co-RD and this year's Brunswick captain), Jim Lampman (the only person left who has finished all of the runnings of the C&O 100), Andrew Arbuckle, John Calabrese, Denise Freeman, Tammy Massie, Sergey Ivanov, Lara Gonzalez, Betsy Lyons, etc. I was ready to get out on the course and do whatever my body would let me do. Charlene Howard (my trusty pacer and crew) would be at Brunswick all day and would join me for the 60 to 90 stretch.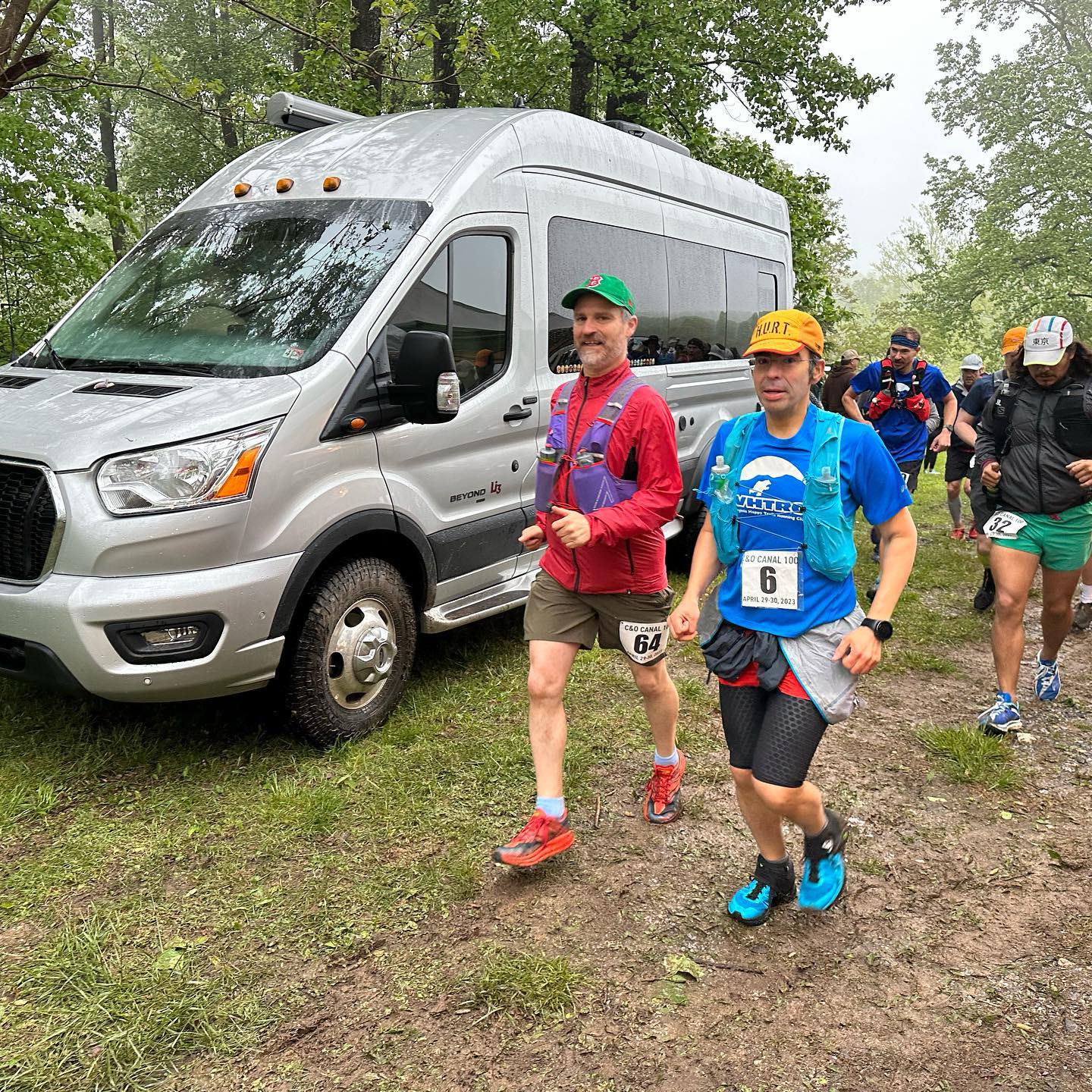 The clock rang 7 and we were OFF! Andrew Arbuckle and I left together and followed the crowd around the big field and picked our way down through the camp and onto the steep trail down to the towpath and banged a right to head north. I should point out that there has been an effort to "resurface" the C&O Canal Towpath in recent years. It definitely had a nice, dark-grey hue to it. But it was still hard as concrete and completely unforgiving for every less than perfect step.
Andrew and I were cruising along at what was faster than my intended pace. But it felt fine and I wasn't going to change until there was a compelling reason to do so. After about an hour we arrived at Antietam and the first Aid Station and saw the ever delightful Jana Fridrichová and Barry Hauptman. They seems pleased to see us and offered us a litany of snacks. I ended up grabbing some grapes and immediately got back on the course northbound to the loop 1 turnaround. The first loop is ~40 miles and the only time we venture north beyond Antietam. In later loops, we would turn around here.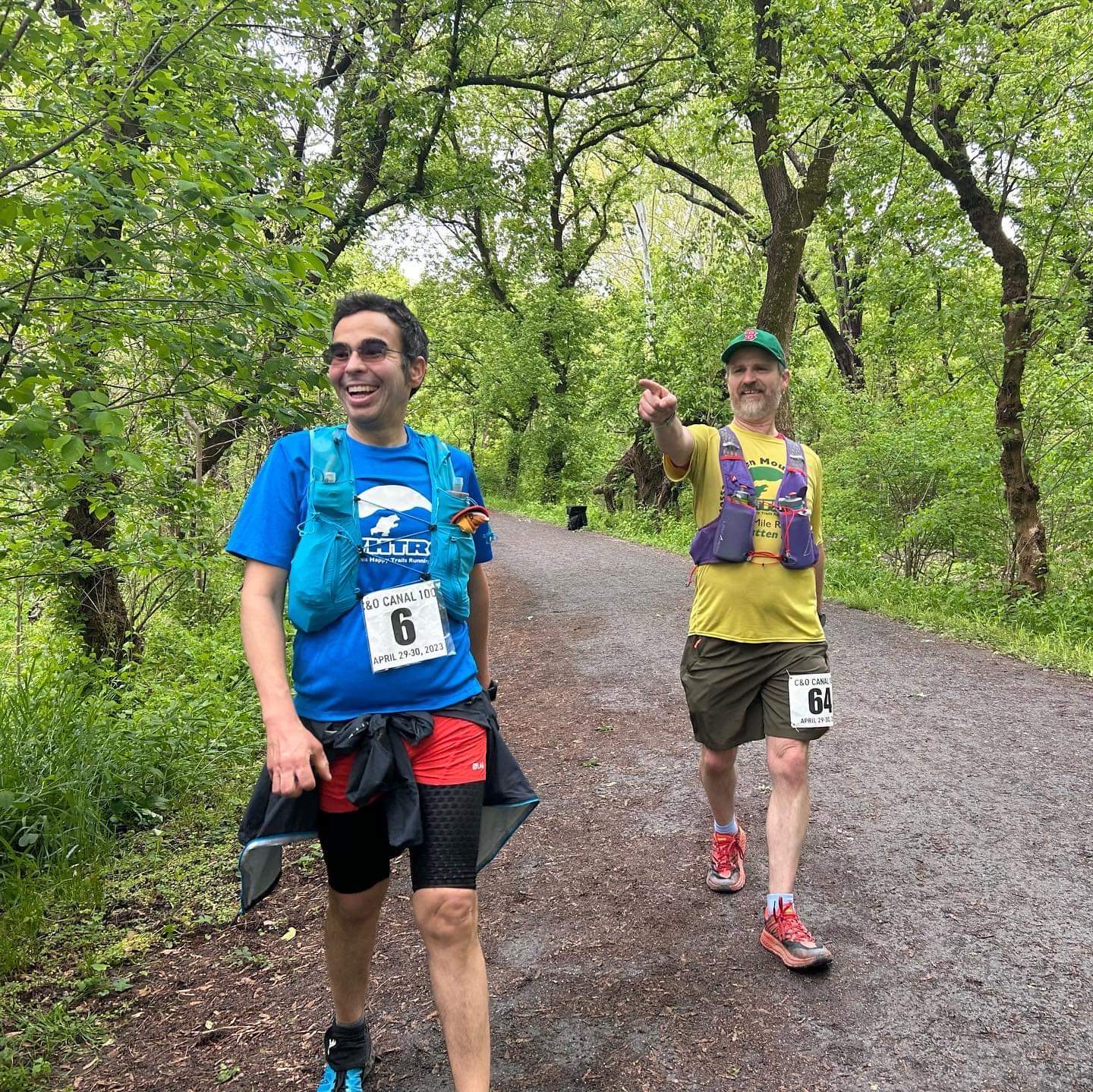 Andrew and I were still mostly together. One of us would stop for a pee break and catch up later. This went on for most of the first loop.
We reached the turnaround and headed back to Antietam… Andrew started complaining about his hip and said he might need to slow down. But he hung in there and we continued together into and through Antietam again and headed south to Dargan (which is about where we got off the trail and onto the towpath earlier) By this point, we'd picked up Jim Lampman for some miles and we seemed to be speeding up and slowing down a lot all the way to the Dargan Aid Station. Billy Clem was there and he took great care of us! They had some egg quesadilla and I jumped on that action! Filled my bottles and got back out to head further south. By this point, Andrew was complaining about his glute. He was still in good spirits though.
We passed the trailhead for Maryland Heights and then the train/foot bridge into Harper's Ferry and I took some pics. Andrew started asking how much further to Keep Tryst and I could tell he was getting more and more uncomfortable. I said 2 or 2 1/2 miles and that turned out to be right. We pranced into the Keep Tryst Aid Station like we owned the place. It was great to see Judith and Neisa. I was reminded that I'd been an aid station captain the past 5 years and realized I was getting hugs from people at every aid station. Addie Welch remarked that I was going to be "the most hugged runner on the course" and I think I was.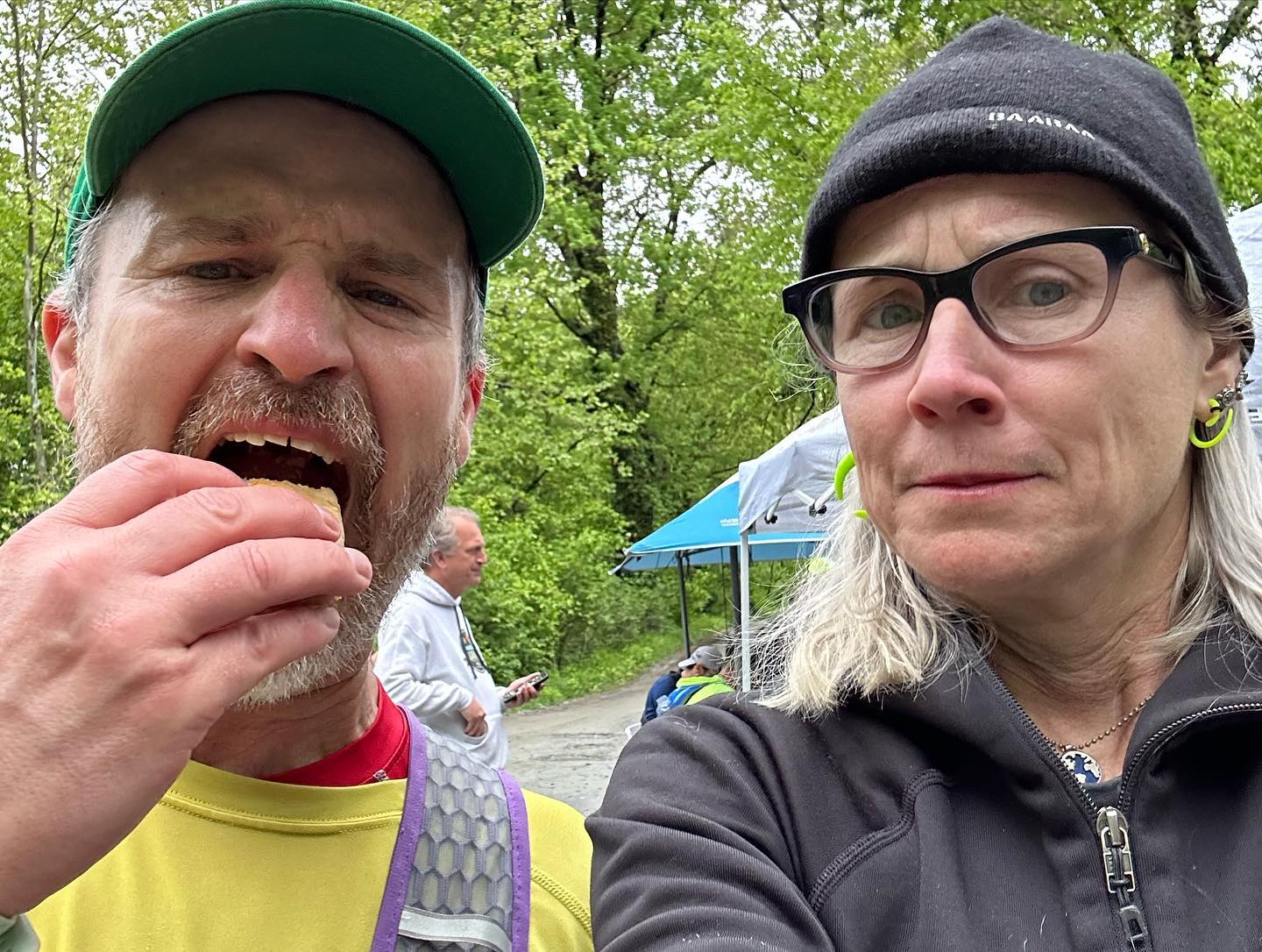 I filled my bottles and grabbed some food and told Andrew I was going to start walking. He ended up waiting for Jim Lampman to catch up so I didn't really get to run with him again after that. I ran the last 3 miles south to Brunswick (mile 30) and finally stopped for more than 30 seconds. I saw Charlene and she had some eggrolls for me from the cooler. That was most welcome. She was remarking that I got there "really fast" with a little worry. I was alright though. I dropped off my jacket, filled my bottles, and got out of there just as Andrew and Jim were arriving. That would be the last time I would see Andrew that weekend.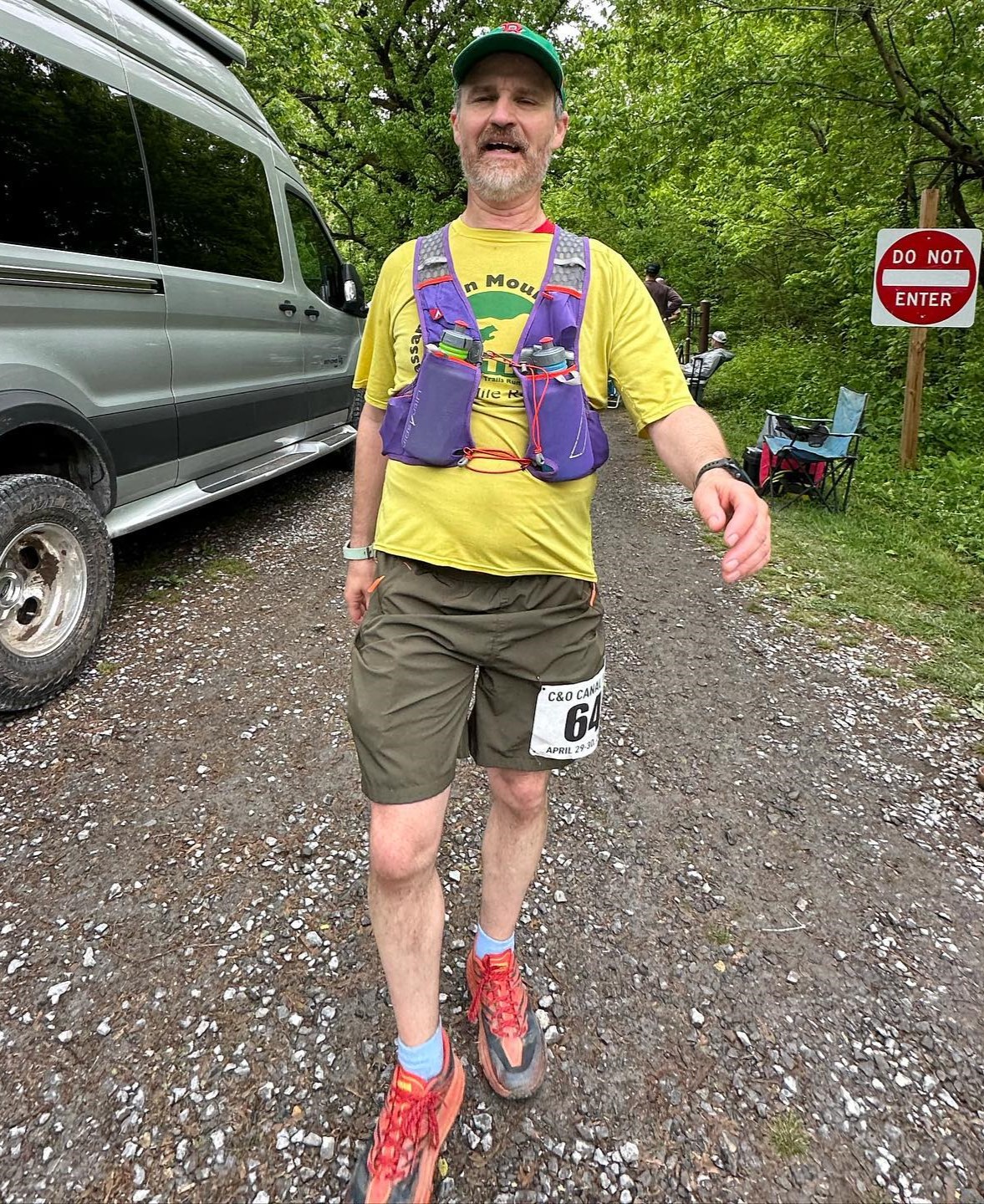 At this point, I started paying more attention to my pace — I didn't want to blow up. But I wanted to maintain the same level of effort and keep moving well. I got to Keep Tryst and Neisa asked me, "Where's my husband???" I told her I'd seen Andrew come in to the previous aid station and was confident he wasn't doing anything stupid. I continued out of there and the 6 1/2 miles back to the trail back up to camp to finish loop 1 (40 miles) way faster than I'd intended.
The first time though camp was pretty quick. I dropped off some stuff that I was carrying that I simply wasn't going to use, changed my base layer, grabbed a whole grilled cheese sammich, and got out of there… ran through the lower camp, down the trail, and banged that right onto the towpath and onto loop 2.
I trucked along at a pretty good clip all the way to Antietam and saw Jana and Barry again. They seemed surprised, but happy to see me again. Jana kept talking about how I was "crushing it" which I disagreed with. But Barry set me straight that I was at mile 45 in under 10 hours and that constituted "crushing it" for somebody in his mid-50s who isn't particularly fast. I thanked him for the perspective, got some food and turned back south.
Headed the ~5 miles back to Dargan and saw Billy again who gave me some ramen. Just after Dargan, I hit mile 50 in just over 11 hours. Things seemed to be working well. I rolled along to Keep Tryst and saw Paul Encarnacion who looked me in the eye, handed me a cup and spoon saying, "you need this… ginger soup!" to which I responded, "You bet I do!" I was feeling pretty good and a little full of myself and was wondering if I might have my first sub24 in a decade. I didn't get to wonder long though.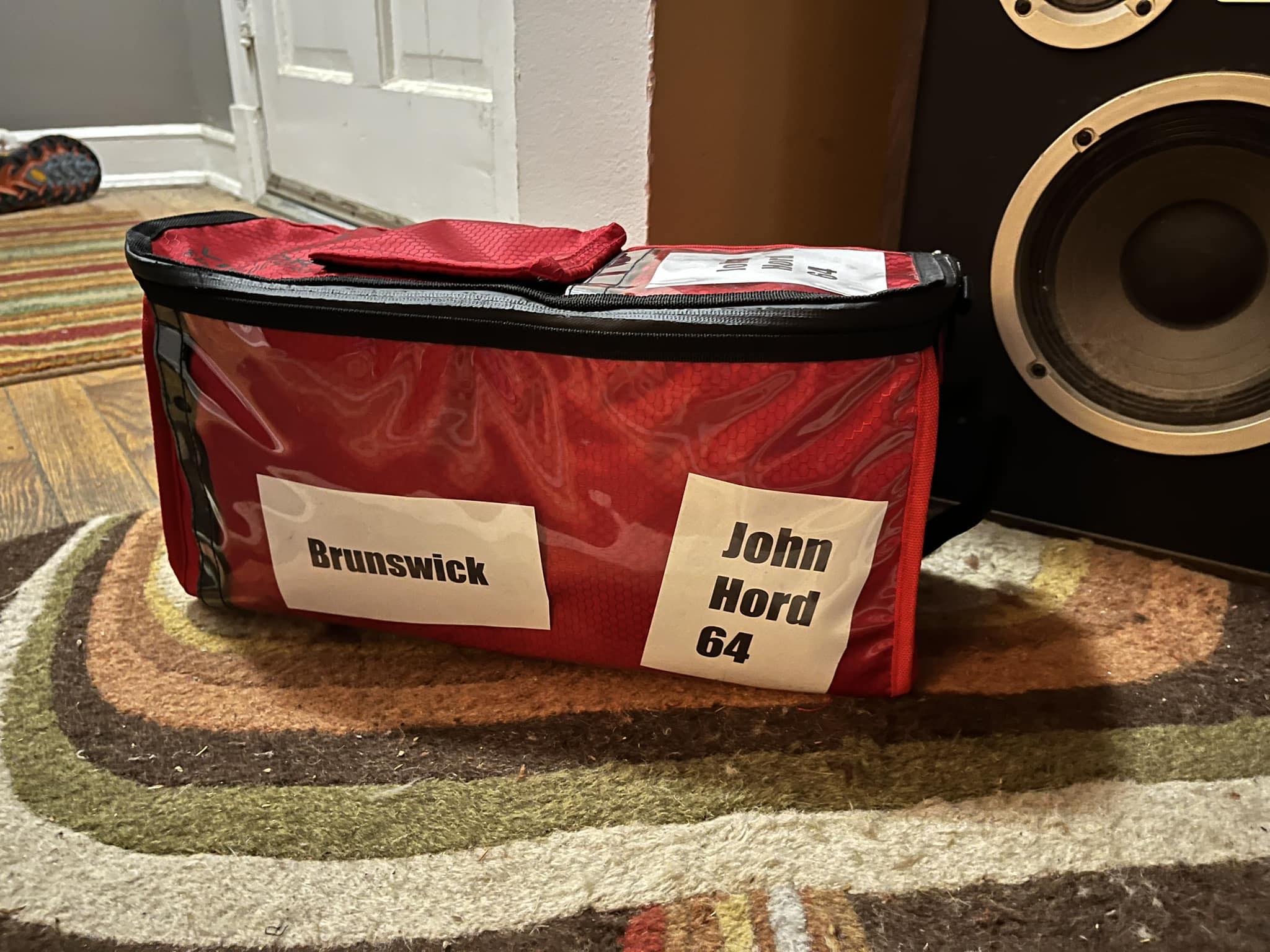 I pulled into Brunswick (mile 60) and had another eggroll and some coconut seltzer and got some things out of my drop bag for night running. I'd actually managed to get in just before it was too dark to see without a headlamp. I adorned myself with illumination and Charlene joined me for what would be the next 30 miles on the course. Unfortunately, neither of us were feeling particularly great once we got moving.
Thus began the "back 40" of my 100 mile race. As has happened on many other occasions, my pace slowed WAY down. Charlene also wasn't feeling great. We realized she'd been working the aid station all day and had been awake since 3:30am and hadn't had a nap. So we did our best to prop each other up as we continued together. But it was really nice to have company in the long, dark, headlamp tunnel that is nighttime on the towpath.
We got into camp just before midnight and I had to muster up the courage to take off my shoes and socks… I knew I had some hot spots that needed attention. Turned out I had some pretty prolific blisters on both feet. I also had a big blood blister under one of my toenails. Which hurt a lot. I got some first aid supplies from Lance and got to working on my feet. Popping/draining blisters, slathering them in Neosporin, and wrapping them with tape. Putting fresh socks on to get back out there. While this was going on, we happened to be next to the grill cook who made us a couple of veggie burgers which was SUPER welcome! I sat in that aid station longer than I've ever sat in an aid station before and was kinda worried about that. But honestly, I needed every moment I spent there and was able to get back out on the course. Though picking my way down the steep trail to the towpath was painful and slow.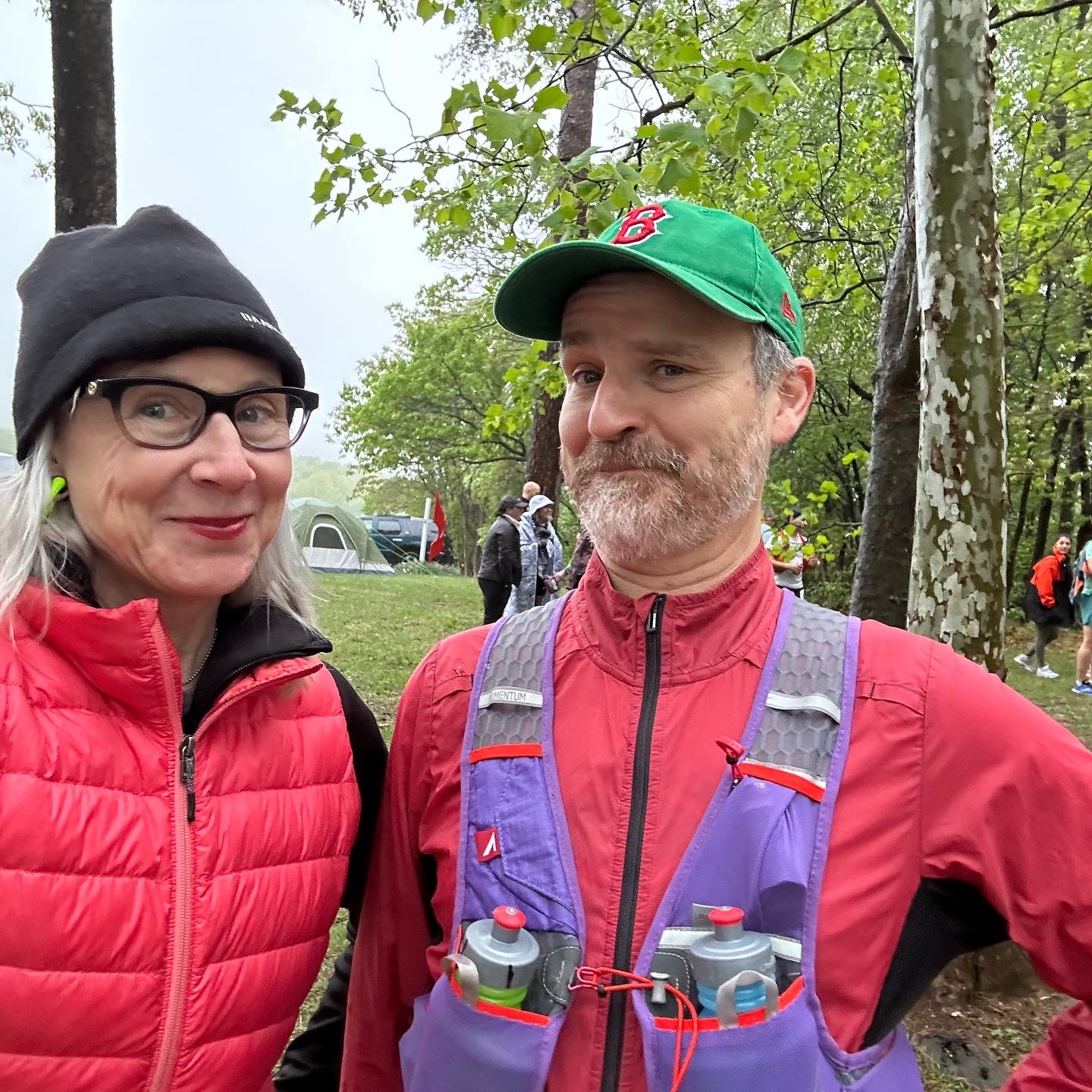 Once we were down there, I realized I hadn't filled my water bottles so we stopped at Dargan for some supplies. Billy promised me I'd get some homemade chocolate chip banana bread next time through.
The trek up to Antietam was long and slow. When we got there, Barry had gone home and Jana was sleeping in the car so a new group of folks had the fun of taking care of us and they did great. We got sorted out and headed back south. One more turnaround to go. 15 miles away.
As we lumbered into Dargan, we had a good sit. I got some noodles and Charlene got some coffee (I probably should have gotten some coffee too, but I wasn't thinking about it) — I got some of Billy's banana bread and we commenced on the 6 1/2 miles to Keep Tryst where Charlene would likely get a ride the last 3 miles to Brunswick to allow her to take care of me once I arrived there.
During this stretch, we were leapfrogging with some friends so it was a little less long and dark and boring as it normally is so late in an ultra. It's generally good to find ways to assume yourself in the very wee hours.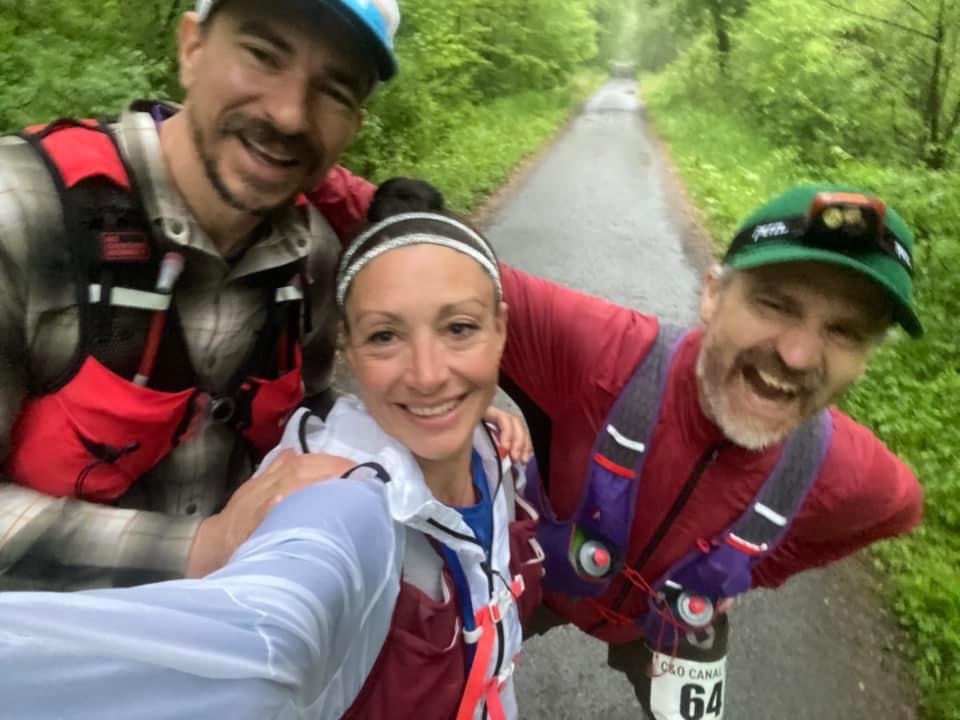 We got into Keep Tryst and Judith was there to shuttle Charlene to Brunswick. Our good friend Mike Edwards was also there. It was very early morning and almost sunlight. I had the very last of their ginger soup and got myself back on the course to Brunswick.
Once I got there… we finally got the rain that had been promised all weekend… it had been drizzling on and off since Saturday morning. But just after sun-up on Sunday, it started raining for real. Charlene made me a trash bag poncho and I got myself out of there and headed north for the last 10 miles of the race.
About half a mile out of Brunswick, I was aware that I was staggering and weaving and falling asleep on my feet. (remember that coffee I probably should have had at Dargan?) I started trying everything. I popped a caffeinated gel. Nope… payday bar? Nope. a ZAGNUT! not even close. I was nodding off and moving really slow and it was raining biblically. Fortunately, I was able to stay upright and mosey into Keep Tryst successfully where I sat in a covered chair next to a heater with a BIG cup of coffee and some noodles.
I have no idea how long I sat there — but it felt like a long time. Once my coffee and noodles were gone, I got out of the chair, thanked all the peeps and got ready to leave when Lara Gonzalez limped in (southbound) saying she wanted to drop. Mike Edwards was having NONE of that and offered to walk with her to Brunswick and back. After some hemming and hawing she agreed and she and I left the aid station in opposite directions filled with purpose.
At that point, it was just 6 1/2 more miles and counting them down. They always seem longer and slower after mile 90. I made my way past Harper's Ferry and Maryland Heights and all the little bends and turns through ankle deep puddles full of frogs and every tree branch looked like a bridge and every stump looked like a bear and "where the hell is mile marker 64????"
A little over a mile out, I saw Charlene coming to greet me. I didn't quite recognize her at first and initially assumed she was just a hallucination. But it was her.. and it was good to see her.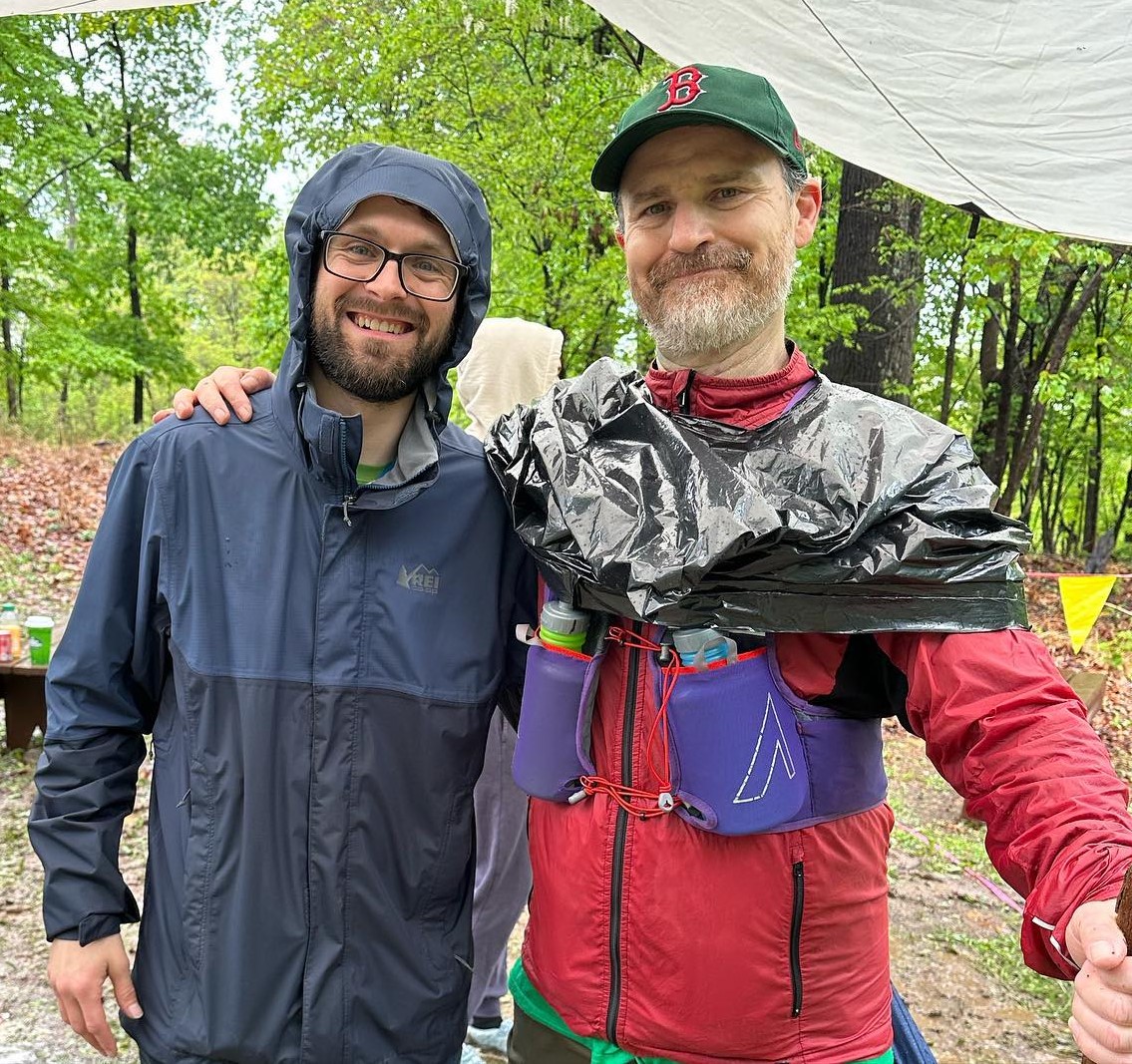 We made our way to the turnoff onto the (STEEP) trail back to camp. She handed me a stick because I obviously needed it and I very slowly made my way up the trail and into camp. The last 200 yards to the finish line were as surreal as they always are. Lance was up there waiting for me to earn my 4th buckle at his race. Antin Luu had the honor of handing me my badge and finisher's hat. Lance and I hugged it out and it was done. I had my buckle and I sat down with a burrito and a Coke and started to wind myself down.
Finishing 100 miles is always a cathartic experience. I am grateful every time it happens. This year, I finished in about 27 1/2 hours. I'll take it.
I found out later that Lara finished before the 30 hour cutoff. That made me happy.
I plan to return in 2024 to get my 5th buckle and join the 500 mile club. After that I will likely return to volunteering at the C&O 100. Until then, I have plenty to be happy about and plenty of new adventures in this ultra life.