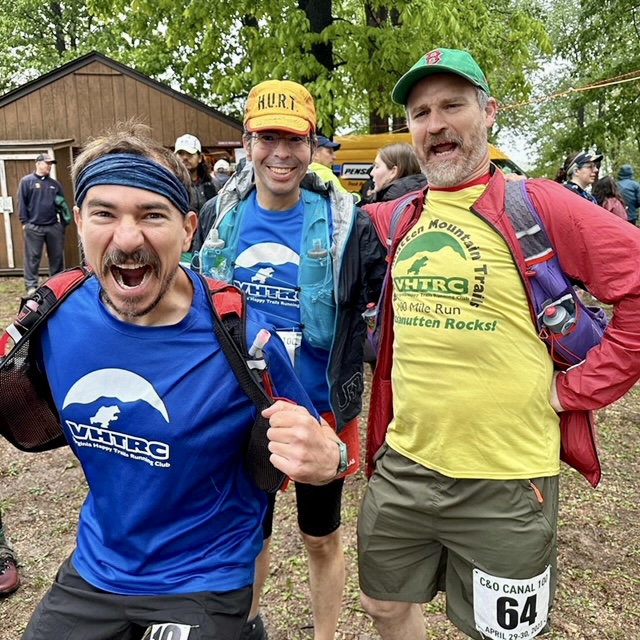 2023 C&O 100 Race Report
The Race
To me, the C&O 100 has always been like the ultra version of the movie The Warriors. You got run clubs from all over the DMV, WV and PA including Algonquin Flatlanders, Faster Bastards, Annapolis Striders, HURT, VHTRC and I know I'm leaving more out, but you get the point. It's unacceptable to me that after 10 runnings this has not become a Western States qualifier. It's $150 dollars; In the era of $300 to $1,000 races, it's unbelievable this race doesn't get more love and become the Western States qualifier for Maryland. It's put on by die-hard ultra runners. Pretty much every aid station you go to in this race is loaded with ultra junkies who will do anything to keep you going and get you that buckle.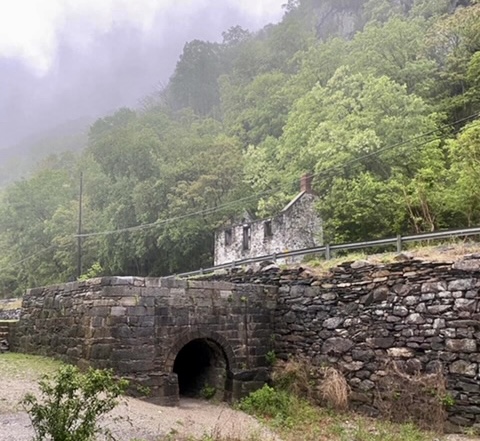 If you are a fan of the JFK 50-mile run, this course covers some of that famed route. Pair it with a running of Quad State Quad Buster and you'll be all set to run JFK.
I'm fired up to talk about my experience this year. I feel that the race really went for it this year (as they do every year) but this one for me just felt special.
Leading Up to Race Day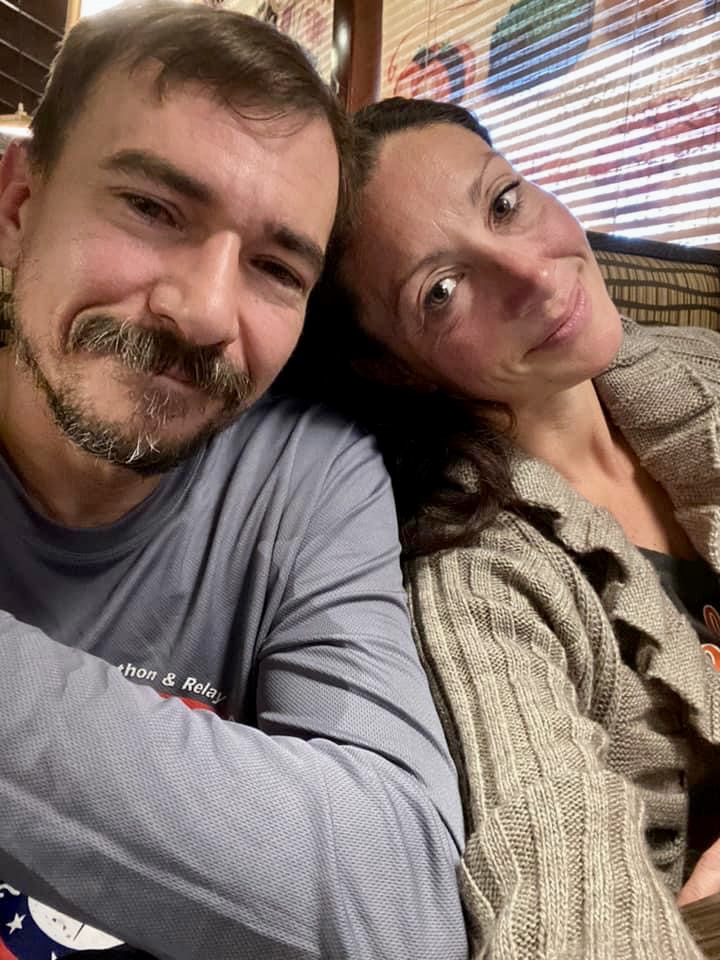 I had a really miserable experience at a race the week before C&O. I'm not going to get into it here, but I was already angry about that, as well as really struggling with allergies. I never get them, but this year I did! I could barely talk, my eyes were bloodshot and watering, and I basically had phlegm leaking out of me everywhere, It's disgusting and still occurring as I write this. I spent the night at my girlfriend, Denise's house. Denise lives right by the C&O and she, Tracey Cooley, Ben Nalette, and Tom Calla were kind enough to crew me. We woke up really early for the race, because Denise was going to help the race out by volunteering. I was not feeling well and definitely got some looks like: you are going to die John. Got my bib, hung out with Denise, then headed to the start line.
Go!
Most of the people you bump into at this race have run it before. (There's also the random, "I've never run more than a 5k but just signed up on a whim," etc.) I started out with a C&O legend Jim Lampman who was going for number 10 and Jake Kruse who was going for number 5.
The big challenge of this race to me is not that it's all on the tow path but deciding what your goal is going to be with and sticking to that goal. It's so crazy because even if you have an extremely conservative finishing time goal it's hard because it's easy to run faster here then you plan on. At this point I had run C&O 2 times one finish one DNF. Ultimately what doomed me last year was switching from a conservative pacing strategy mid race to trying for sub 24. So this go around I was committed to running smart for the entire duration. Start slow finish slower. I stayed with others with similar goals. We started out doing 9:30-10 min pace but constantly had to stop ourselves from running faster Every time one of us noticed we would alert the group.
Loop 1
Loop 1 is a little different than the others. You do some extra parts around Camp Manidoken and after Antietam aid station.
I didn't stop at the Antietam aid station. It's about 6 miles in and we were only going like another 1.5 miles until the turnaround. I had a lot of stuff on me so I just kept moving. At this point I fell into pace with Jake. Jim Lampman went to the aid station. This part right here is a dangerous spot. You start to see people going faster. I never will tell people to slow down on ultras but if you start going that fast you better be ready for what follows, either good or bad. Lots of people started going quick. Jake and I were pacing extremely smart and, again, not even that slow. It keeps the door open for a sub-24, but if you feel wrecked in the later miles, you can ease off and still easily get a finish. I don't like terms like "banking time;" I used to think like that and it probably has contributed to the majority of my DNFs.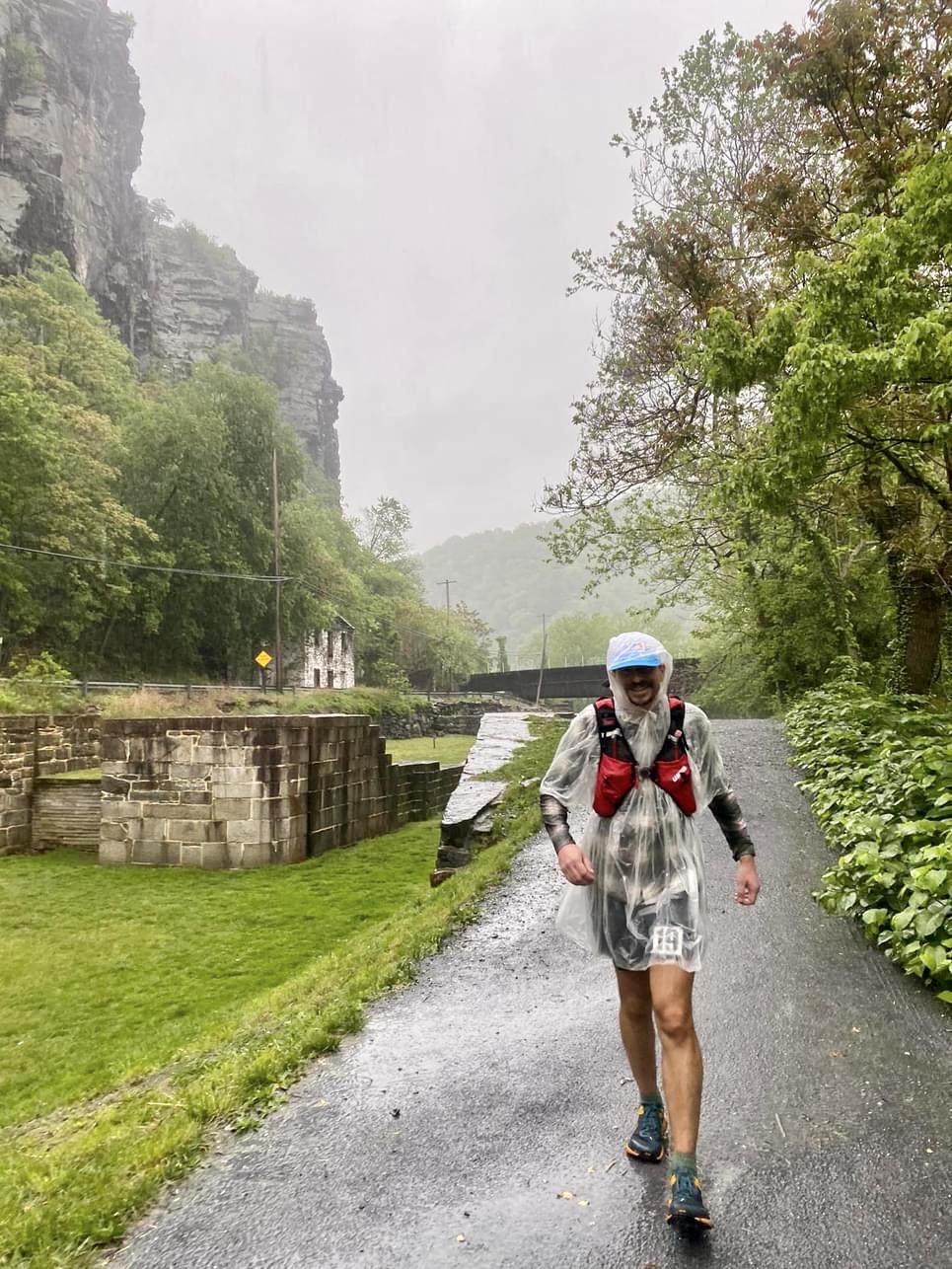 We got to the turnaround, and it was nice seeing all the runners going back in the direction of Antietam. I also questioned myself if I was going too fast. We stopped at Antietam got some food and headed out. My friends Jana and Barry were there, and it was nice to talk to them .
Headed to Dargan Bend, Jake and I started running with a young man in his 20s who said he had only run a 50k before this one. Jake and I told him about our experiences with this race. He really wanted to finish and was really nice and motivated. We talked a lot here Jake was happy because we had a new person, we could recycle all of our stories to.
Dargan Bend
Another awesome aid station: they immediately gave us delicious warm quesadillas. I got some ginger ale and some granola bars to go in my pack. We talked about this aid station a long time headed to Keep Tryst. Between Dargan Bend and Keep Tryst is both my favorite and least favorite part of the race. It's beautiful along the water and goes under the Harpers Ferry bridge, etc., but if you're tired later in the race it can drag. This will come back later in this report. The young man who was running with us dropped off; he was smart and going to take it easy. For aq good part of this section there are lots of hikers so you at least have people to say hi to if you get lonely. Once you get past that main area there with the bridge though it does start to drag on the towpath, but it is pretty.
Keep Tryst
This was pretty amazing. When we rolled in here there were so many people lined up cheering us. This is put on by HURT Harpers Ultra Running Team. They are amazing. I got some snacks but not too much because the Brunswick aid station and turn around is only about 3 miles so you see Tryst again soon anyway.
Brunswick
Again, it's a short section to Brunswick when you're fresh which is nice but later on in the race it's really amazing how long this section can take. Heading into Brunswick Charlene Howard helped me get my dropbag and I kicked some rocks out of my shoes. I was feeling good, so I moved on. I received a high school note from the aid station from my girlfriend telling me that she loved me (Tara Mildenberger was the delivery person). That was nice of her to do. I was going to see her at Manidoken soon.
Back to Manidoken
Headed back there I was still with Jake. We had already started to catch up to people who went out too quick in the earlier miles. Everyone we ran into we gave encouragement to and said there's so much time left in the race, just go easy and settle in. So, coming back to Manidoken is rough but there's 3 points of happiness to look for as you head in. The portajohn, the little reroute/ bridge, and lastly and most important the cone of happiness. The cone of happiness marks the turn to Manidoken. Now you also must do the only real climb on the course though. It's not bad but after running the flat all day it is a change up but may feel good, too depending what state your body is in.
Manidoken
I see Denise and I'm happy; she helps get me back together. I told her thank you for the note. We joke and talk some and I introduce her to Jake and head out. Things started to get tough from here.
I lost Jake somewhere coming out of the aid station I thought he was ahead of me, so I pushed it to Antietam. I got what I needed there and turned around and I see Jake. I told him I thought he was ahead of me and I'd try to go slow and wait. I walked a while and did go slow but figured he's dialed in doing his own thing and that was that we didn't run the rest of the race together. I'm not sure what happened to him.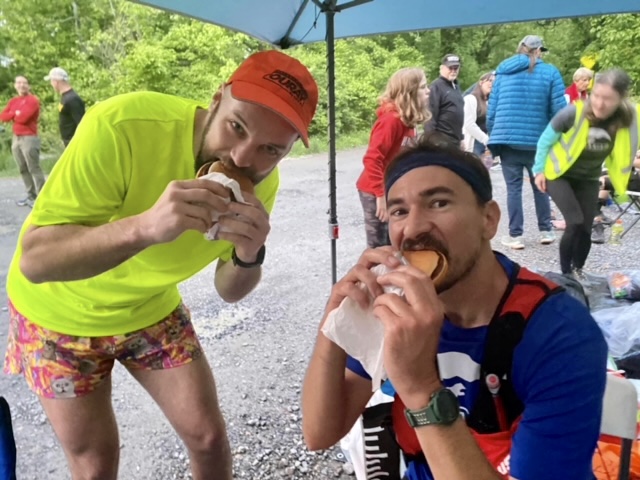 Dargan Bend
This was a lonely journey headed to Dargan, but I knew I'd get my buddy Ben Nalette to pace me soon when I got back to Brunswick and that he also had a McDonald's double cheeseburger with extra pickles waiting for me. I love aid station food but after eating it all day you need a change up. So, I was lonely but excited.
When I got to Dargan it was hilarious. I walked in and was told eat this fruit! Tastes good! I was like a dog it was hilarious. I told them thanks for doing all the thinking for me!! But it really was quick, efficient, thoughtless and great!
The Journey to Ben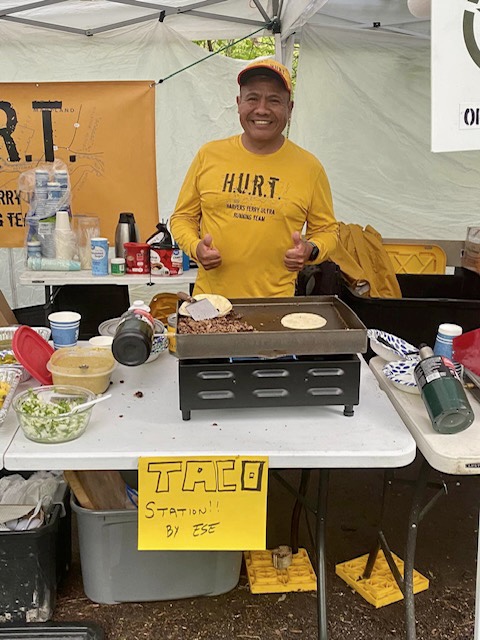 I knew this next stretch would be rough and it was. Physically I felt good still, but I was alone the entire time. It was pretty uneventful until I got to the HURT / Keep Tryst. Manny Ramos was there making tacos, it was so awesome of him. It really did help me mentally get a boost until I got to Brunswick to pickup Ben.
Ben
I am so happy I had crew on this race. Ben and I joked around as we ate burgers, I got the rocks out of my shoes, did the basic things and we headed out.
I initially ran out of Brunswick but I needed to walk a lot from this point of the race on. I was getting real tired; it hit me almost immediately as the sun went down. I honestly do not remember a lot of what was discussed here but a lot definitely was said because I was excited to see Ben, Tracy and Tom but as soon as I got everything out of my head I was just sleepy and the last couple miles dragged going back to Manidoken. PortaJohn, Bridge, and Cone. As soon as these things started appearing I got happy. When I headed up to Manidoken I was so happy to get some caffeine, warmer clothes and to run with Denise. I was really wanting to see her.
Manidoken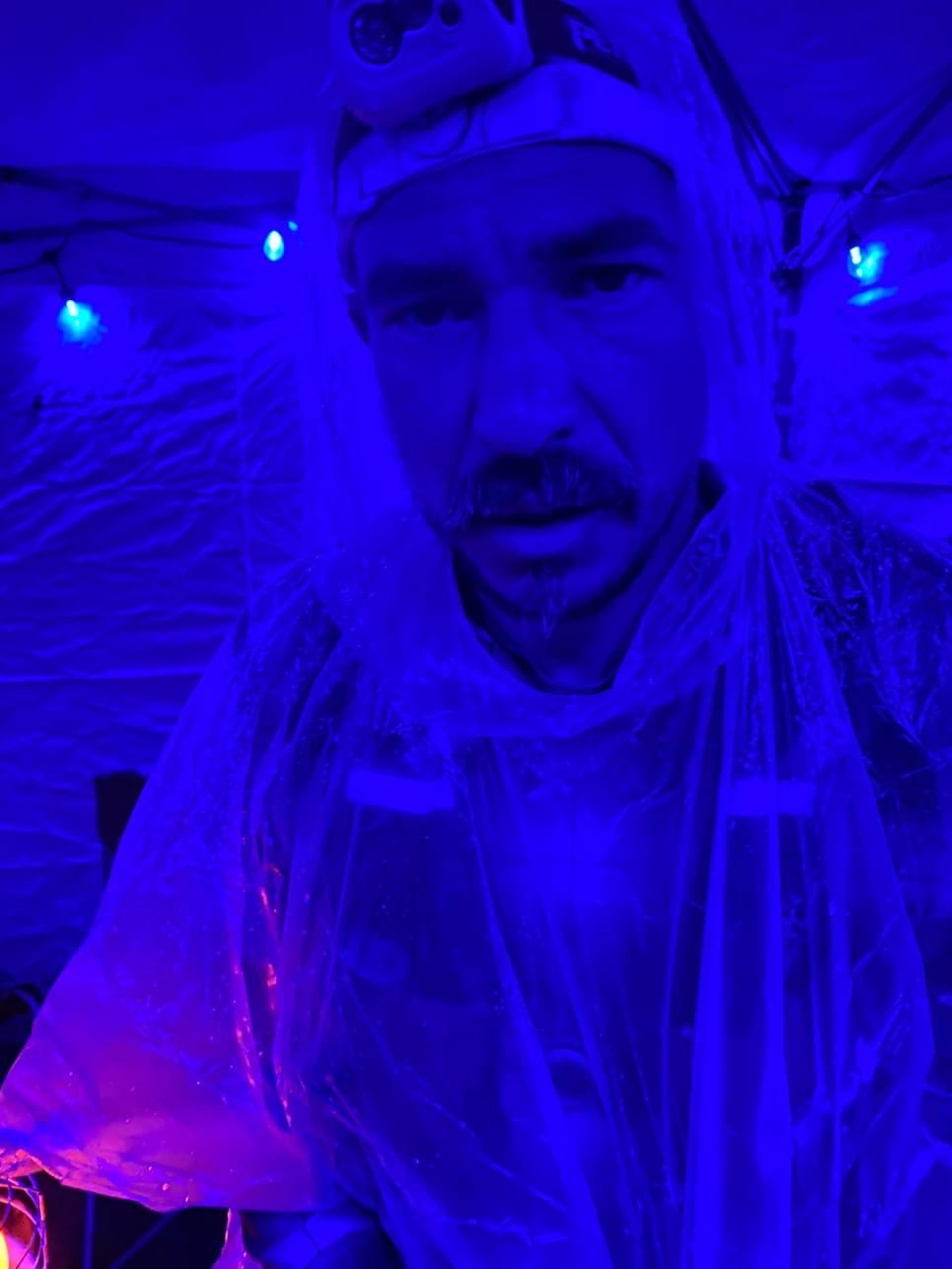 I had multiple people helping me and I really needed it. It wasn't late but I was already out of it. I knew that it was going to get much worse later. But Denise gave me another love note to cheer me up. I drank soda ate some food and put on my night layers. On the way out I gave everyone at the aid station a fist bump. We were off to Antietam.
The March to Antietam
Mistakes were definitely made here. I needed to go to the bathroom going into Manidoken but for some reason didn't (I guess I got overwhelmed with everything else and forgot). I then proceeded to double down on not going to the bathroom passing Dargan Bend. About 2 miles before getting to Antietam I had to go into the woods or I was going to have an accident. I debated putting this in here but it's definitely part of the story and made this section pretty miserable so I'm sorry but it has to be discussed. With that out of the way, I did feel much better and got the pace going better. I wasn't moving well but started doing better. Upon arriving at Antietam, I was so sleepy I took in all the food I could and caffeine but the aid station food wasn't looking good anymore. In reality it was good but I was tired and been eating that stuff all day, so I was just getting picky. We left and had our sights set on Brunswick.
Things Get Weird!
Almost immediately upon leaving the aid station I get crazy sleepy. I drank a 5 HR energy, and it did nothing. Usually, those things get me awake and moving but in this situation it did nothing. I did a lot of shuffling and running very slow whenever possible. The best thing I had going for me was that people who were headed towards Antietam were keeping me awake. Going back to Dargan Bend I had 2 happy landmarks, a tree you had to duck to go under and when the tow path goes over to the left, that mean you're about at the gate to Dargan.
Once we got there, I used a portajohn, and then they gave me an egg pancake wrap. It was so good — I needed something outside the realm of ultra food and this hit the spot.
We headed out into the night and this very dark section. I tried hard to talk about interesting things with Denise but I had nothing and she was struggling, too. We started getting to the Harpers Bridge area and something bad happened. We got lucky up to this point with no rain, but it started coming down. I waited until I absolutely needed a poncho and put one on. Even though it was raining it wasn't that bad. We made it to Tryst and we were a mess. We drank coffee and sat down to warm up. Denise and I took real quick (like 2 min) naps then headed out. On the way to Brunswick the rain stopped and it started to get light out. I started getting happy: it's almost over! My body was wrecked but I was happy! We get to Brunswick and I don't want to eat anything so I get some coffee and nibble on things and we head out. I was so encouraged again moving slow but happy the finish is getting close. We start getting close to Tryst and boom rain again. We go to a canopy and put on ponchos. Grab a coffee and head out. It's raining much worse this time. I try to run as fast as I can, it's not fast but at this point I want to be done. It rained harder.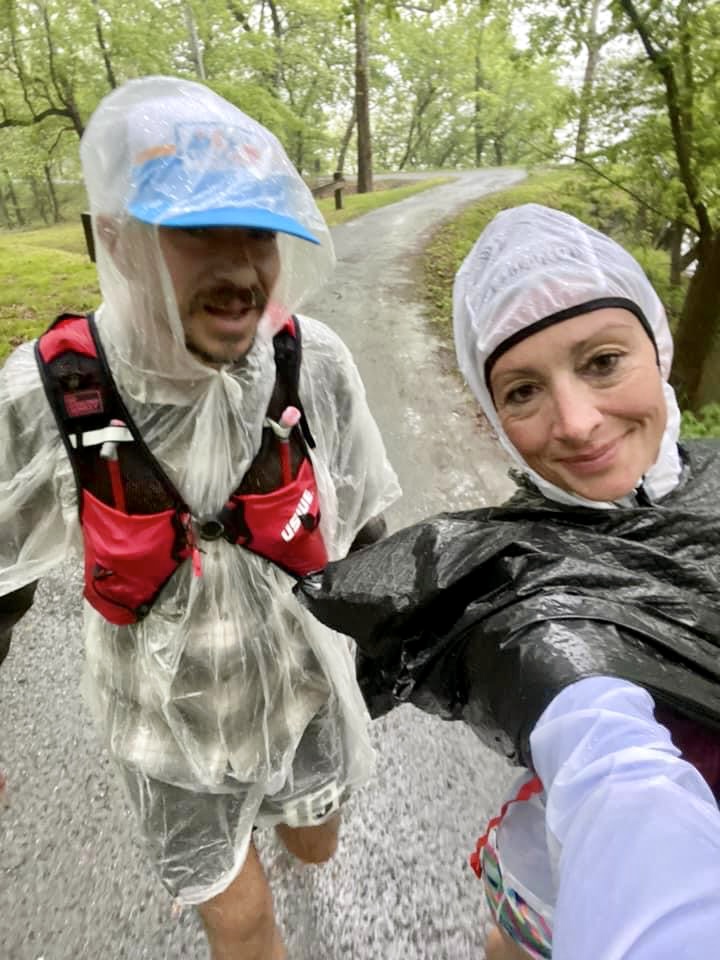 Denise and I started passing people that were bonked out or injured. We checked that they were okay and pushed on. It was miserable, my body was spent but I was trying to go as fast as I could. I was soaked and kept thinking portajohn, Bridge and happy cone. We kept moving and when I started to see my happy places appear it gave me motivation to see the rest and get this over with. When I finished in 2019, I went faster in the beginning so I could slack off on the back half. The rain made me want to work harder this time because I was sick of getting wet! As we approached the cone, I was so happy to see the climb up. I went up it as fast as I could, and Denise and I went through the finish. Tracy and Tom were waiting (also Jen Cadenhead). I wanted to hang out with everyone more but I was tired, wet and was so out of it. I gave a volunteer my shoes. They had a lot of miles but I literally gave him the shoes; he took them off my feet as I was going into my tent.
I was extremely lucky to have the crew I did on this one. It was hard and that rain at the end made for a big time struggle.
With all that said though, I plan on going back next year. Also, to anyone reading this race report: sign up for C&O 100. Maryland needs a Western States qualifier. C&O has been around 10 years. It's come close to getting 100 finishers, but I hope next year it gets 100. It's a great race and as I mentioned earlier, I don't understand why people balk at this race when it's only $150. Great race, RD, aid stations. I feel like C&O went all out this year and as hard as it was, I am thankful to be a part. I'll be back next year, for sure.