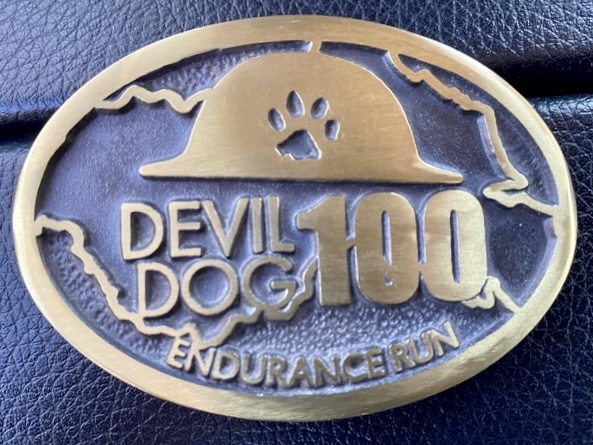 2022 Devil Dog 100 Miler Report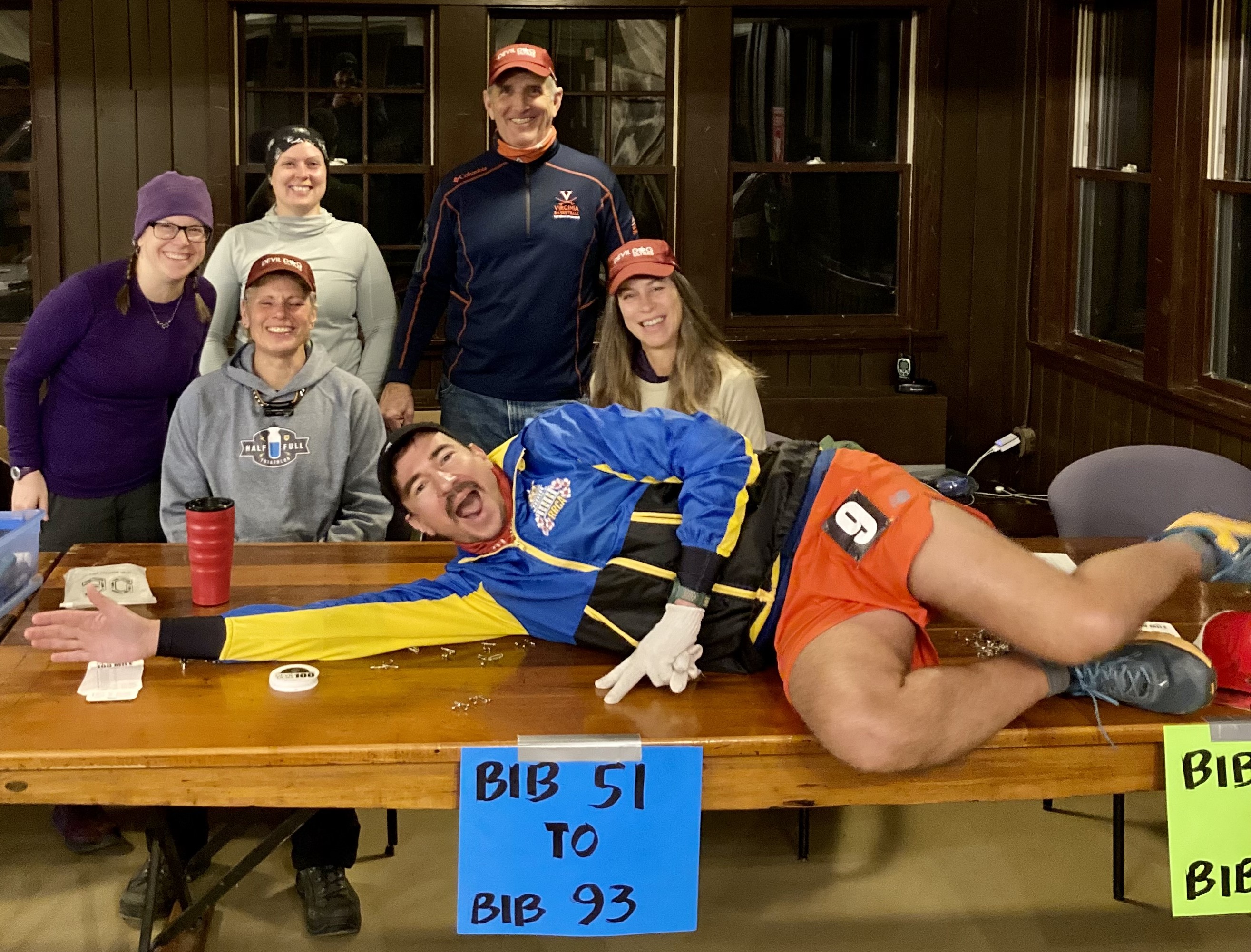 I've run Devil Dog Ultras 3 times previous to this year's race. In 2018, I ran the 100k; in 2019, I DNFd the 100 miler; then in 2021 I finished the 100 miler. I try to always have a crew for this race, and I've been extremely lucky to have had amazing crews. This year I had Tracy Cooley, Tony Taylor, and Elaina and Christian Stanton.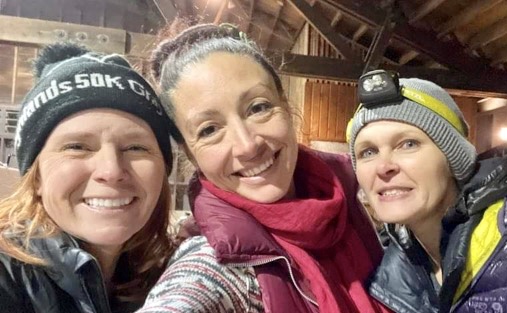 I have a very strange relationship with this race. It really beats me up and I find myself always chasing cutoffs. What I love about it though is that everyone is so friendly. The volunteers will literally do anything to help you finish. The race also attracts interesting runners.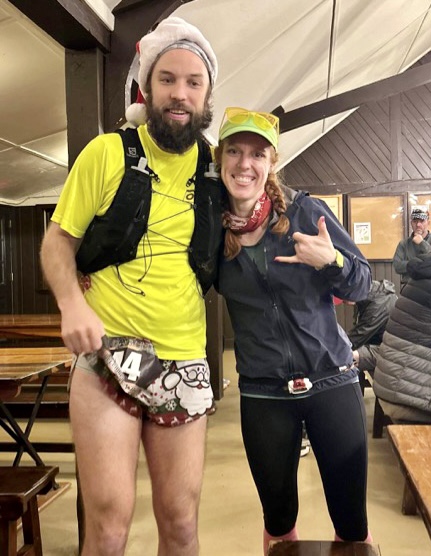 Normally, when I do Devil Dog, I take the early shuttle so I can sleep in the mess hall. This year, after arriving on the early bus, I sat with Ben Nalette and Brent Blythe and talked about past races. Then Jackie Fritsch and Walter Handloser walked up and sat down at our table. I mentioned to Ben that Walter has run the Ouray 100 and also told him that Walter holds the record for most 100 milers in a year. Ben actually met Jackie at Ouray this year and she had helped him during the race. Walter talked about the Spine Race 200 milers and his other amazing adventures.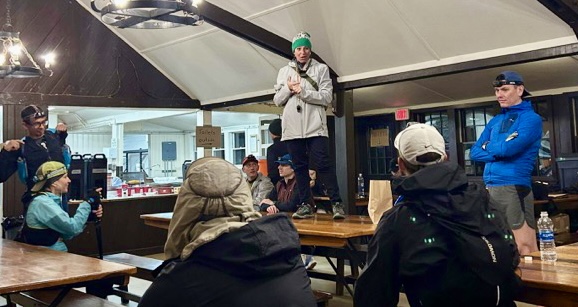 The Race Director, Toni Becerra, gave the safety brief and then I did last minute prep for the race in the pavilion.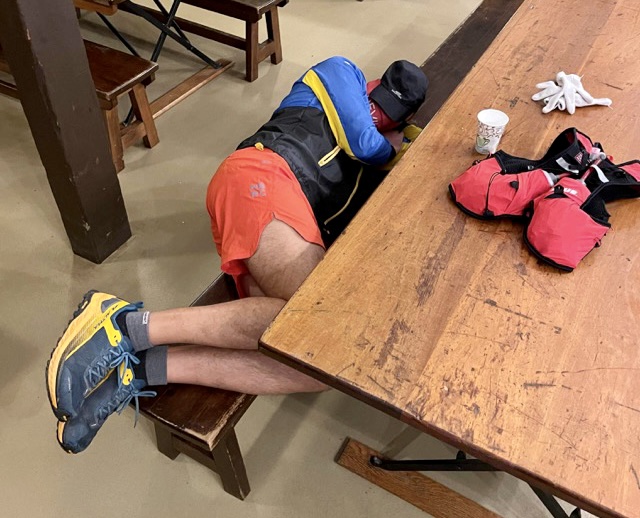 I had meant to start with Brent but we got separated. Ben Nalette also had similar goals to mine so we decided to run together. We made friends with another Ben, Ben Pettit, who was a lot of fun It was pouring rain at the start but we had a fun time talking about the new movie Cocaine Bear. Ben Pettit had long flowing hair and a real cool vibe. We discussed lots of old school 80s and 90s action movies, and Ben Pettit mentioned a crazy Stranger Things fan theory that Jim Hopper was part of The Predator universe. I pondered this for a long time on this race. It was a great time!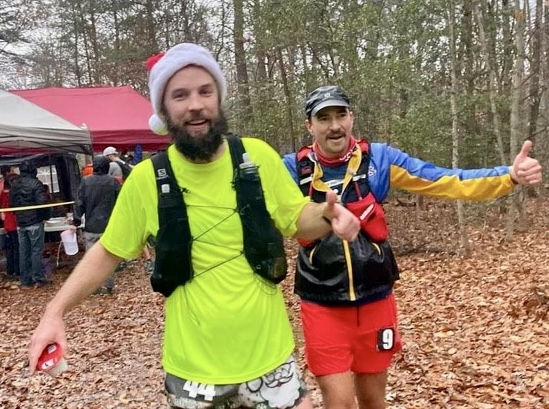 We finished loop 1 in around 6 hours. I was very pleased. The rain stopped so I changed out of my wet clothes. Ben Nalette and I started running with Ben Pettit at the start of loop 2, but unfortunately he took a fall and he fell back. Ben Pettit was doing the 100k so we knew we would have to separate at some point, anyway, but it was still sad to see him go, as he was really cool. I met up with Jeff Reed about 3 miles into the loop. Jeff shared the bad news that the USA men's soccer team lost [editor's note: in the first knockout round at the Qatar World Cup to the Netherlands, 3-1], and I was bummed, so Ben and I had to ramp up the Cocaine Bear banter. We were very excited to have pacers after this loop.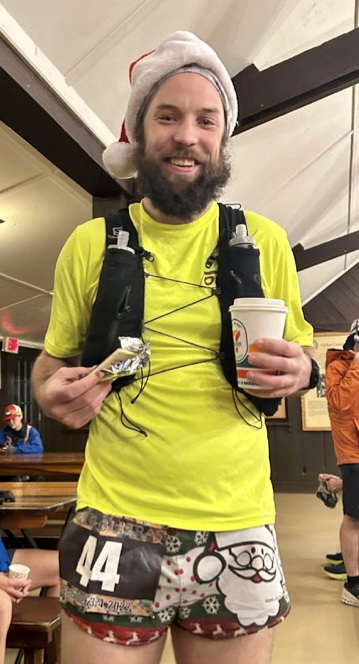 Ben and I finished loop 2 and I put on some warmer clothes for the night. We were excited to have Tracy pacing us for loop 3!! My legs were sore after loop 2, so we just took loop 3 slow, ate lots of food and clowned around. It was awesome! Tracy compared Pablo EscoBear to our friend the Cocaine Bear and that made me laugh every time I thought about it, even when I went to very low places. Tracy also confirmed my suspicions: I did not get into Western States [editor's note: the We$tern $tate$ 100 lottery was held on this Saturday].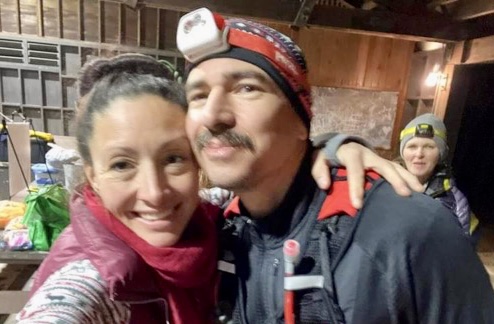 When I got back from loop 3, I had a surprise! My girlfriend, Denise, had arrived, and brought me amazing drinks and snacks! I was so happy to see her.
As awesome as that was, something bad was happening. I started to feel extremely chafed. I'm not sure how this happened, maybe the rain loop 1, but I had used the lube, wipes and changed clothes. I thought I had been careful, but it was really bad. I got set, kissed my girl goodbye, then headed out.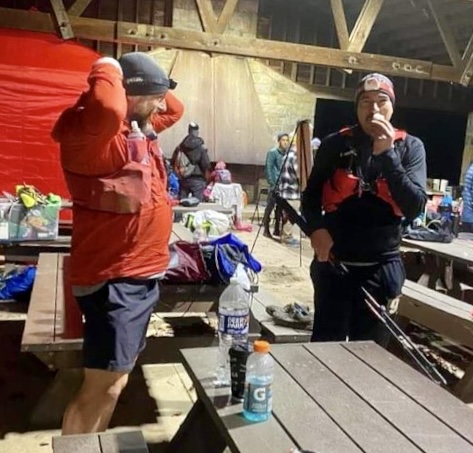 This time we had Tony Taylor pacing loop 4. Things almost immediately began to unravel. I had to go to the bathroom and try to fix the chafing, but it was bad. I knew I was going to have to deal with this the remainder of the race. Loop 4 was a struggle. Barry Hauptman saved me big time at the Gunny aid station, giving me some items to fix my disgusting mess going on down my pants. I had issues with my headlamp, with my chafing, and I couldn't move fast. Ben left Tony and I towards the end of the loop. Tony and I were trying hard to get back with enough time for me to make the Camp Remi cutoff (at 7:30 AM on Sunday), but it was extremely tight.
Loop 5 was the most action packed loop.
I knew this was going to be tight so I reported to Remi, then headed immediately back out. My crew wanted me to stop but I told them there was no time. I saw Ben head out a few minutes ahead of me. I didn't see anyone else going out so I figured we were DFL.
I had to be at Gunny in 1 hour 30 minutes [to make that 5th loop cut-off]. My pacer was Christian Stanton. I ran absolutely as hard as I could. I ended up passing Ben, and he was shocked. He followed us and I told him this is a tough cutoff — we have to move. We didn't stop running hard until we got to Gunny. Made it with 20 minutes to spare! It wasn't over yet though. Next we had to get to Camp Toofy, a 8 mile distance or so, in about 3 hours. This may seem easy with how much time we had but we were wrecked. We went slow until the last 3.7 miles to Toofy, then ran, not as fast as before, but just fast enough to make cutoff, and it was an all-out struggle. Ben went on ahead and I stuck with my slower pace. My goal was to get to Toofy with 10 minutes to spare.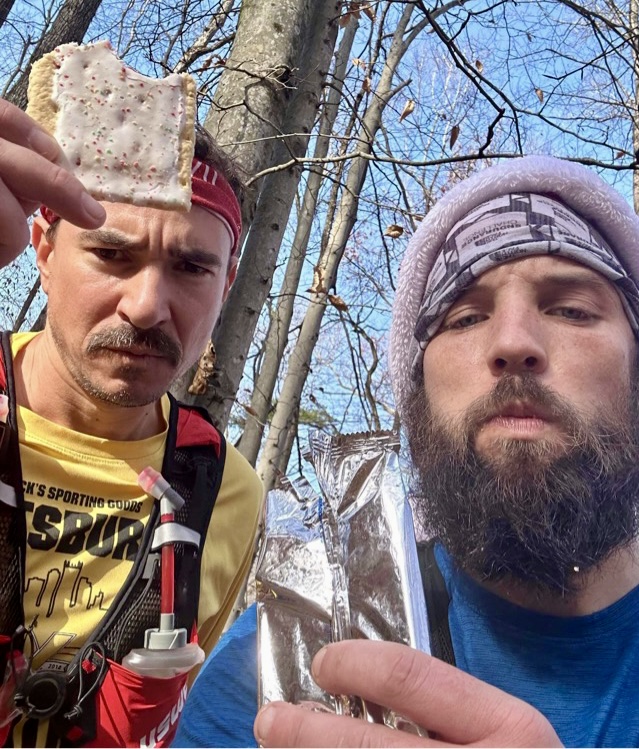 I made it! Ben was now not feeling right, sitting down at the aid station, I didn't even go in. I just kept walking. I knew it's was going to be tight getting back to Remi for the finish line cutoff, too.
"I never thought I'd need 2 hours and 30 minutes to go 6 miles"
Ben and I thought it was questionable we still would make it, even with that much time. We were sick individuals laughing about this, feeling all broken. Ben brought up a comfort item to think about: at Sheetz, the Hot Mozzarella. It's a giant burger with mozzarella sticks in it.
Christian and I pulled ahead of Ben and actually start seeing people on the course, which is nice, because we hadn't seen anyone for awhile. I started running some. We got about 2.5 miles away, and the Ben returns! We all are reunited, and we ran together. They were talking about skiing and stuff. I wasn't in a bad mood, but I just wanted to be done. We get to Remi, and Ben and I take off up the hill to the finish. We finish around the same time: at 31 hours 36 minutes and 56 seconds. We worked extremely hard for that finish chasing those cutoffs. We take pictures, celebrate and eat some amazing food the volunteers made.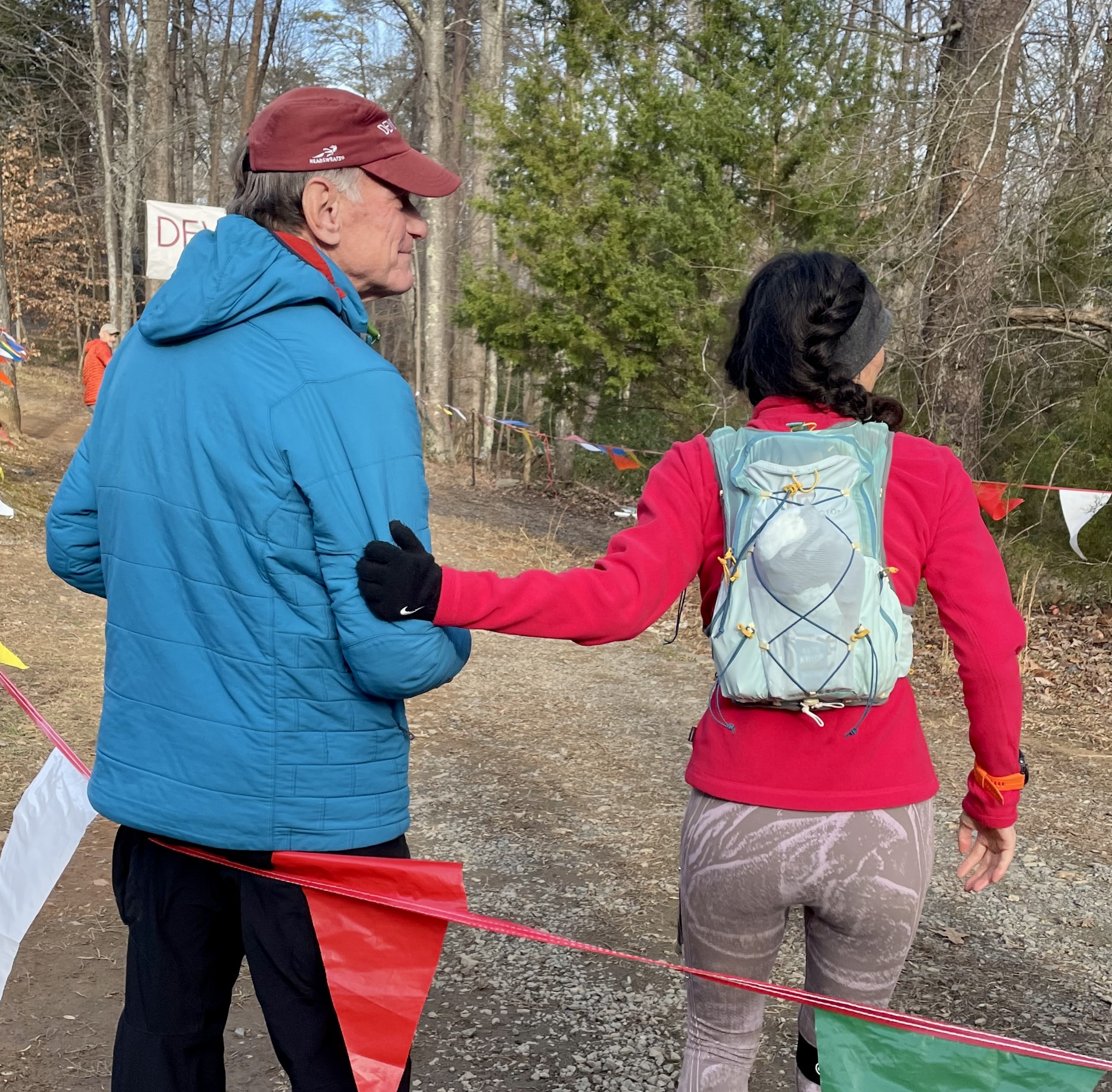 Fei Gao came in with under 6 minutes to spare while Ben and I were eating. We were in awe because she got hurt on the second loop and somehow gutted it out, just an amazing performance. During this time I had a great conversation with Ram Oruganti about some races going on next year. We both are eagerly awaiting the return of Viaduct 100.
For everyone who DNFd this race I hope this report makes you want to do this race again. It's a hard race and unless you stay constantly fast you are going to have to chase cutoffs. Be mindful of the loop 5 gunny cutoff especially, that's the one that will get you. Ben and I were dead the rest of loop 5 making sure we got that but if we didn't we wouldn't have had enough time to finish for sure.
This was a lot of suffering but it was really fun. I love Devil Dog because it's such a local race that I know everyone there.
Thank you, RD Toni, and my amazing crew. I could not have finished this without you, and all the amazing volunteers out there. Also thanks to my girlfriend who drove 2 hours to help me, then drove 2 hours directly to work: a shift on no sleep. You're the best, my love.
Don't one and done this race, keep the pain party alive ! Also if you see Ben Nalette on the trails ask him how far till RP Charlie …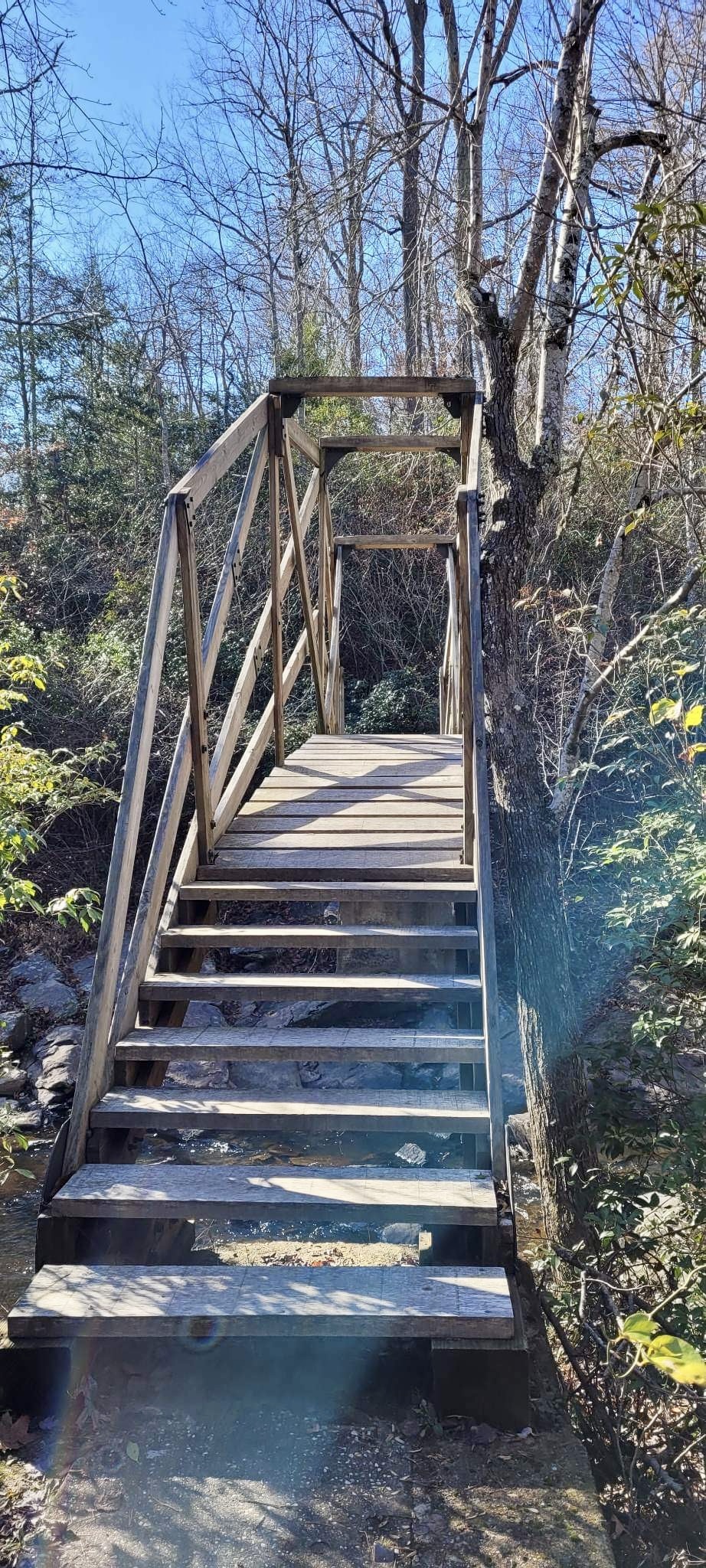 Editor's note
The Devil Dog Ultras were founded in 2016 by Bull Run Run 50 Mile race director alum Toni Becerra (formerly Toni Aurilio), and the 6th running of the concurrent 100 mile and 100k races were held in Prince William Forest Park over the weekend of Dec 3-4, 2022.
A new women's 100 mile event record was set by Tara Dower of VA Beach, who took the overall win in just over 20 hours. Tara took a remarkable 4 hours off the old record, and now holds the fifth fastest time for anyone at this race. First man was Kyle Cameron of Pittsburg, in 23 hours.
First male in the 100k was a 23 college student from New Jersey, David Millar; David needed permission from his cross country coach to the do the 100k, having seen his hope to race the 100 miler vetoed. The VHTRC's Steph Hill was third overall and first female in a time of 12:12, which ranks 6th for the 100k women over the years.
Keith Knipling continued his streak as the only runner to have completed all six of the 100 milers. Once he finishes his 10th, he gets a free puppy!!