2022 Report
March 26, 2022 • Luray, VA
38 starters, 33 finishers
Report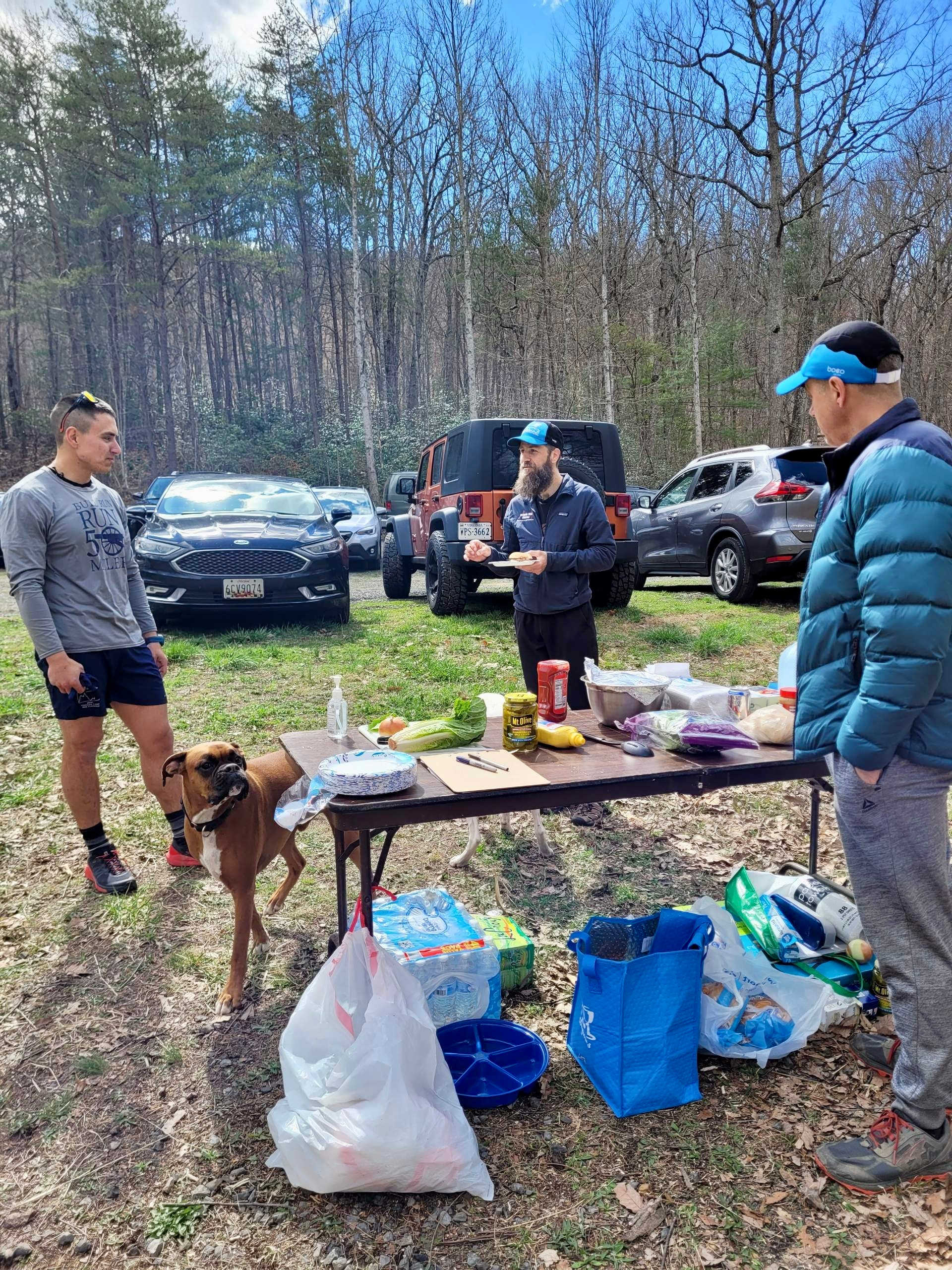 First of all, we had so much fun doing this! Thank you all for trusting us new RDs with this event. We were nervous about upholding the VHTRC standards and expectations, but I believe we lived up to all. We are happy to commit to hosting this training run again next year.
The morning started off with a downpour right before runners took off which was surprising! We started at 6:02 AM. You know you should be really proud of us - being only 2 minutes late is unheard of in the Stanton book.
While we knew Paul Jacobs was fast, but we were not expecting him as early as he arrived at the first aid station, after his trip up Duncan Hollow, over Peach Orchard Gap, down through Gap Creek, up Jawbone on the other ridge, across Kerns Mountain, and then down the Crisman Hollow Road to Route 211. Luckily volunteer Sheila Vibert knew Paul would be that fast and got her aid station at the Old Massanutten Visitors Center set up right away.
We ran to the Luray Walmart after we saw all the runners off and left all the drinks for Aid Station 2 in our parking spot so we would have that when we got back. Volunteer Jose Cardenas thought it was his when he got there and took it to Aid Station 1. So we then had to go there, get it, take it to AS 2 where we had to wait for our son, Barret Stanton, who had a bunch of finish line stuff in his car. Luckily, Larry Tumblin got there and we got to set up that Aid Station for that speedy Paul Jacobs, who blew through there at 10:12 (that is 4 hours and 10 minutes, to roll through 24.5 miles in the Massanuttens). We then had to hustle back to the Camp Roosevelt finish in time to greet Paul. We were seriously worried he would beat us back!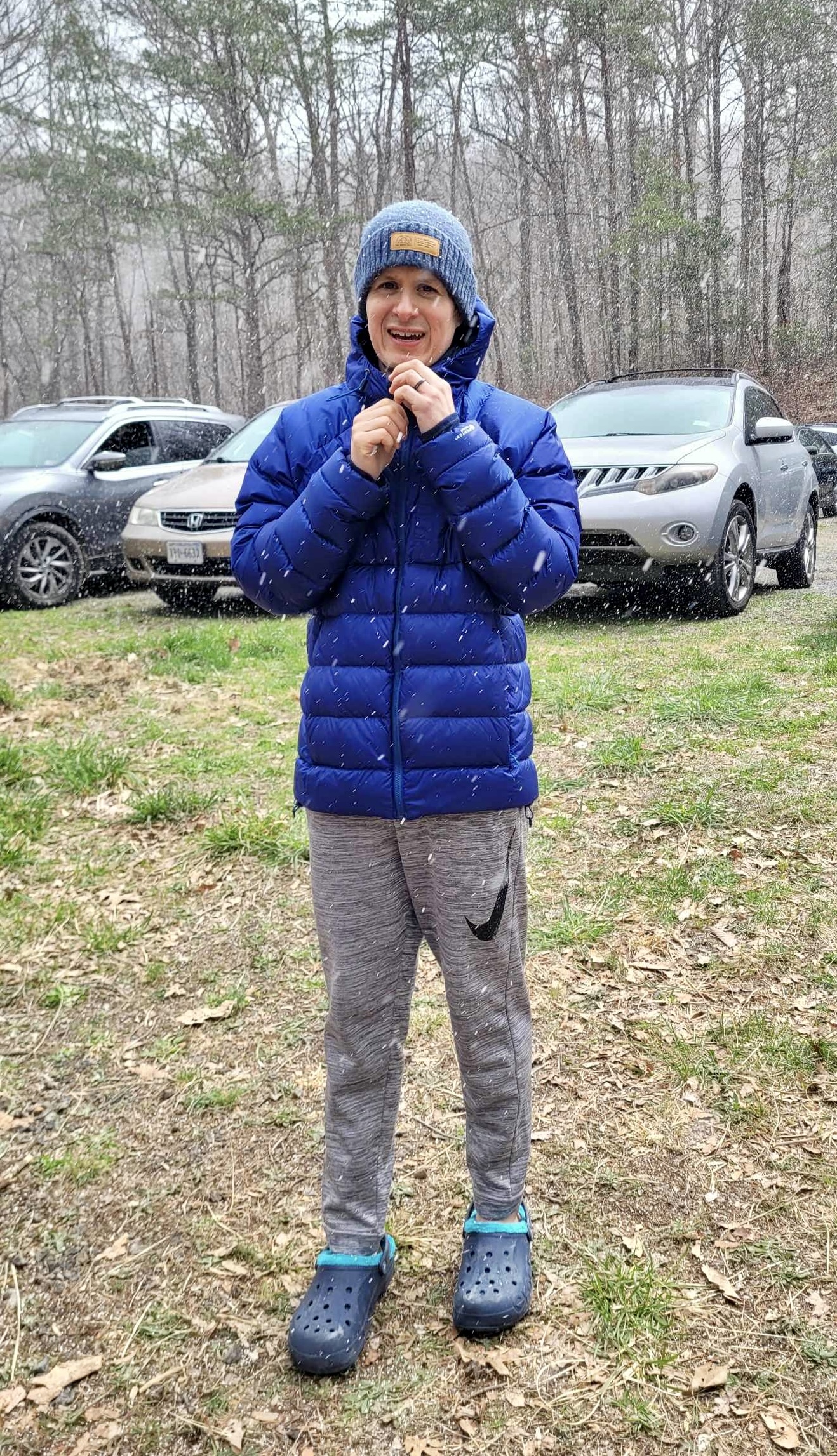 But we made it and were able to feed him a burger at the end. Right after that, Jose brought Ryan Bailey back, who had hurt his ankle by AS 1. Jose then proceeded to lock his keys in his truck. Chris talked him down from breaking his window and we had a tow truck out within the hour. It was an eventful morning!
After Paul had come in, we then had a bit of a wait for the second runner, Dan Fogg. Then the other 31 runners who completed the whole run rolled in from there. Almost everyone had a bonus mile or 2. Matt Merz got a little lost and got a ride back to where he made a wrong turn - he finished up about 3 miles shy. Tom Simonds and Tin Lu cut it short as well. the end.
It seemed all had a great time even with the crazy weather. We had warm sun, then cold wind, lots of crazy clouds and more than one spurt of hail (yes, HAIL); luckily the bad weather didn't last long and we were all thankful for the small hail instead of rain. We had a nice fire all day at Camp Rosie. We cooked burgers and made pasta salad for
I only took a few pictures because I forgot after that! We had no major injuries and no one got seriously lost. We consider that a win.
Huge thanks to the wonderful volunteers: Sheila Vibert, Jose Cardenas, Ashley Carr at the first aid station. Larry "Chocolate Bunny" Tumblin, Barret Stanton, and Mary, friend of Barret, at the second aid station. Tracy Cooley and Tom Simonds, who chipped in after completing their own shortened versions of the course. And finally, but not leastly, the following Canine-Americans: Freja Cooley, Dexter Stanton, and Rigley Stanton.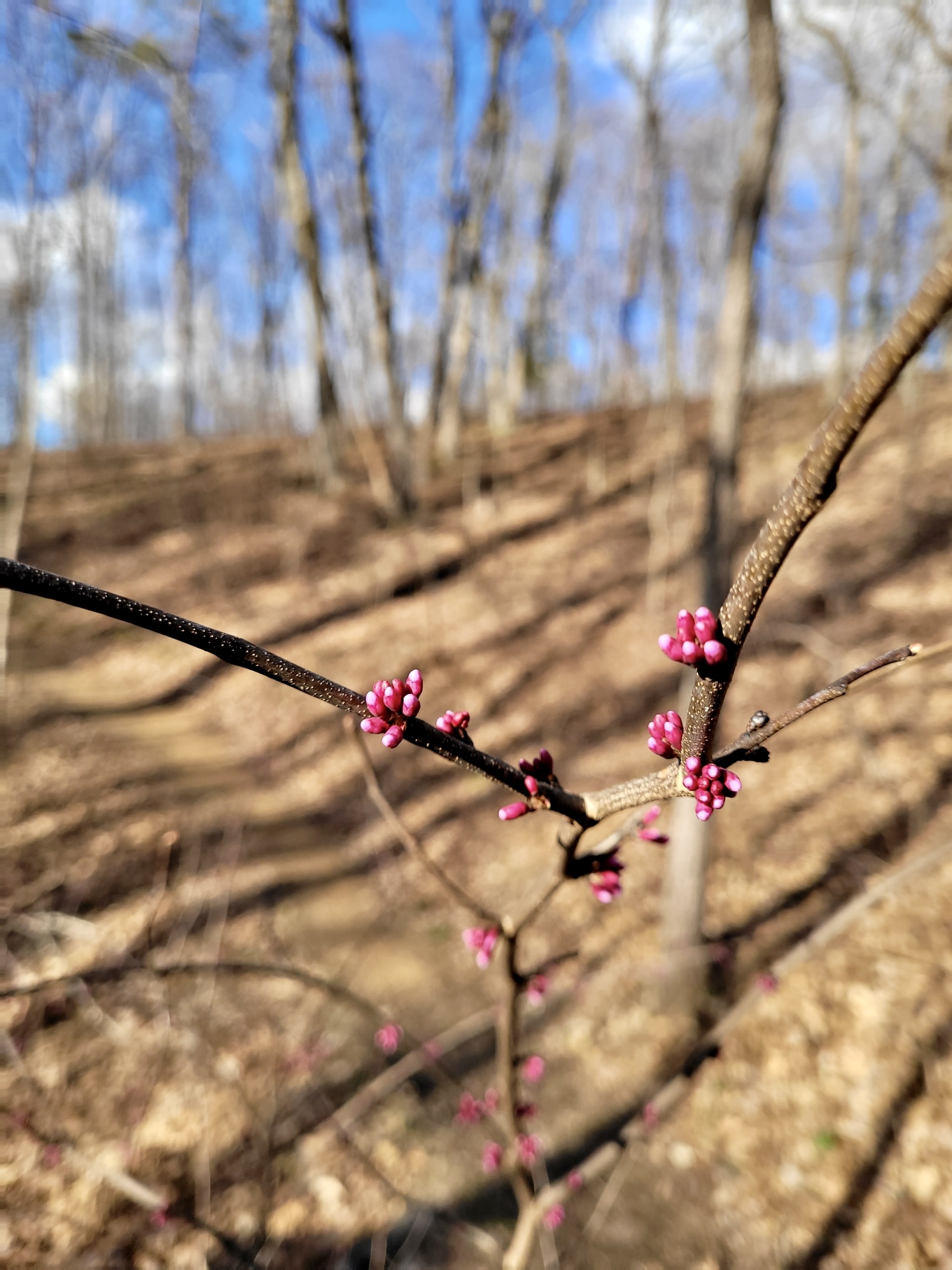 Results
And here is our usual admonition regarding the "results" below… Bear in mind: this is not a race. No one treated this as a race. These should not be considered "race results." The times are provided for informational purposes only. This can help others who pull the route from the event site and run the course self-supported, so that those runners can approximate times. It can assist those considering this training run in future years to estimate their own run times. And it is helpful for volunteers to see the range of times that runners take to cover certain sections.
Name
VC Aid
211 Aid
Finish
Ryan Bailey
3:43
xxx
xxx
Jared Byrd
3:05
5:20
7:21
Luc Claessens
3:07
5:46
8:22
Tracy Cooley
4:13
7:48
xxx
Sam Coyner
3:43
7:11
10:18
Heather Dougherty
3:11
5:39
7:38
Justin Faul
3:08
5:51
8:02
Dan Fogg
2:46
4:58
6:50
Lauren Gabler
4:13
7:48
10:41
Bob Gaylord
4:09
7:48
10:53
Jeremy Gray
3:36
6:33
9:17
Jamie Greenawalt
3:33
6:32
9:06
Eric Harris
3:07
5:36
7:54
Bradley Hawley
3:11
5:30
7:37
Stacie Humm
3:56
7:09
10:05
Joshua Ilnicki
3:07
5:28
7:37
Kyle Imhoff
3:16
5:41
7:38
Paul Jacobs
2:21
4:10
5:46
Katie Keier
3:42
7:09
10:10
Robert Kolb
3:33
6:20
8:42
Amanda Lichy
4:13
7:48
10:53
Ivory Lira
4:15
7:48
10:53
Tin Luu
5:20
8:17
24 Miles
Eric McGlinchey
3:35
5:33
9:06
Barbara McMullen
3:48
7:42
xxx
Matt Merz
3:14
7:56
8:27
James Miller
4:06
5:36
10:38
Al Murray
3:13
5:49
8:17
Phil Orndorff
3:43
7:09
10:09
Jeff Pence
3:35
7:09
10:05
Andy Peterson
3:56
7:09
10:05
Patrick Ryan
3:13
5:49
8:04
Joe Schramka
3:07
5:36
7:58
Dirk Schulze
3:25
5:41
7:42
Kate Sidoli
3:29
6:20
8:42
Tom Simonds
3:35
6:58
xxx
Lu Sun
3:24
6:27
8:57
Bruce Tweedie
4:17
7:38
10:41

Aid stations on the MMT Training Academy #3 route:
Visitor Center (13.6 miles)
Route 211 (24.5 miles)
Finish:
Camp Roosevelt Horse Parking Lot (35 miles)
Last updated March 28, 2022