2020 Report
January 18, 2020 • Fort Valley, VA
23 starters, 20 finishers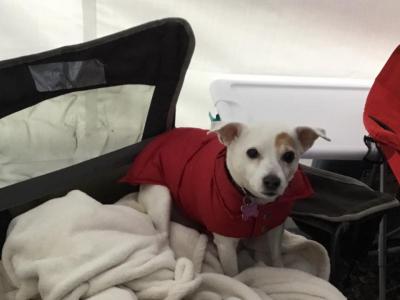 This was Larry Huffman's second year in charge of the first Massanutten Training Academy Run, and for the second year in a row, he was tossed a big weather curveball. In 2019 this led to a one-week postponement; in 2020 the event went on as scheduled. Larry's notes on the event are detailed below:
Snow squalls on I-66 made the drive in dicey and a number turned around for home. Several others withdrew between the final roster on Friday afternoon and early Saturday morning, again mostly due to concerns about the weather. However, by the start, it had stopped snowing. Runners reported a few inches of snow on the trail and some mud but otherwise good conditions. Freezing rain and sleet hit us at Edinburg around 9 am and a cold, drenching rain fell in the afternoon at the finish line, but Sarah Smith's cozy canopy with side panels and heating element at the Signal Knob Cafe, along with her delicious vegan chili, gave the volunteers and runners welcome shelter and sustenance.
Congrats to the runners! I hope they will all agree the northern Massanuttens shone as they do best on a cold winter's day in challenging conditions.
Many thanks to our volunteers! Sophie Smith; Sarah Smith; Dave Woll; Tom Simonds; Guy Towler; Kevin Bligan; Carl Bligan; Elaina Stanton; Jana Fridrichova; Quatro Hubbard; Tracey Cooley; Josh Howe; Lou Brooks.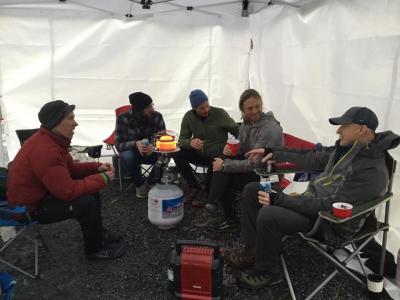 Results
And here is our usual admonition regarding the "results" below… Bear in mind: this is not a race. No one treated this as a race. These should not be considered "race results." The times are provided for informational purposes only. This can help others who pull the route from the event site and run the course self-supported, so that those runners can approximate times. It can assist those considering this training run in future years to estimate their own run times. And it is helpful for volunteers to see the range of times that runners take to cover certain sections.
Name
Edinburg
Woodstock
Finish
Trevor Baine
9:10
10:49
6:15
Christopher Flint
9:32
11:21
6:55
Keith VanGraafeiland
9:18
11:13
6:58
Kathleen Cusick
9:32
11:30
7:19
Levi Mason
9:36
11:37
7:26
Rip Cantelmi
9:36
11:37
7:27
Barret Stanton
9:36
11:37
7:27
Bernard Pesjak
9:49
11:39
8:07
Jim Harris
10:05
12:31
8:53
Christiana Fogg
10:05
12:26
9:31
Jeremy Gray
10:18
12:58
9:31
Jamie Greenawalt
10:05
12:36
9:31
Robert Kolb
10:23
12:58
9:40
Edward Leno
10:08
12:51
9:40
Jeff Pence
10:18
12:58
10:17
Andy Peterson
10:18
12:59
10:17
Eric Harris
10:18
12:58
10:19
Shelly Cable
10:32
13:21
10:38
Sherry RuffnerSlack
10:32
13:21
10:38
Chris Pabian †
9:31
11:24
6:41
Luke Bosek
9:08
10:42
xxx
Frank Gonzalez
9:08
10:42
xxx
Rick Mueller
10:36
Dropped
xxx

Run starts at the Moreland Gap Road entrance to the Caroline Furnace Lutheran Camp (not at the actual MMT 100 race start that involves leaving the camp grounds and then running down Route 678 to the Moreland Gap Road).

Intermediate split times reflect time of day; finishing times are general running times, with start at 7:12 AM due to slick travel conditions (scheduled for 6:30).

Edinburg Aid Station is 11 miles into this run.

Woodstock Tower Aid was at the trail head (hiked-in due to weather closure of the road), 19.2 miles into this run.

Finish at Signal Knob Parking Lot, southern end, after 32 miles.

† indicates runner who took a shortcut through Mudhole Gap to end his training run early (total distance covered was still around 30 miles).

Rumor has it that the runners who dropped at Woodstock Tower did so because their crew/driver was cold…
Last updated February 12, 2020