2022 Report
August 13, 2022 • Stokesville, VA
39 starters, 39 finishers
As a picture is worth a thousand words, in lieu of a report … MMB 2022 Photos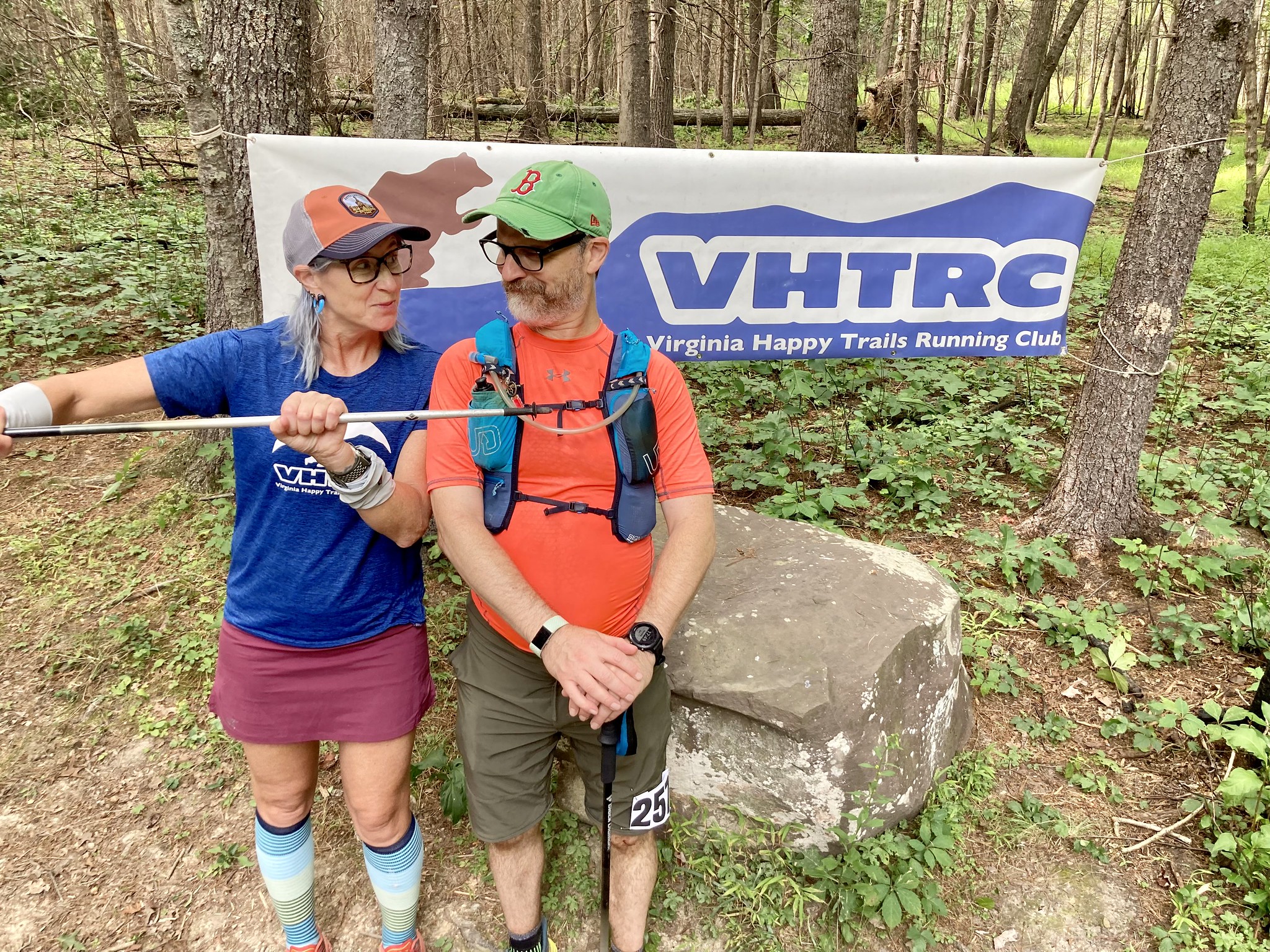 Our first year with the new course! A ground-truthing run earlier this summer had indicated that the old Martha Moats Baker 50k course was now the new Martha Moats Baker 60k course. So many PRs were there to be had! The old Party Route Marathon course, from the final aid station directly back to the TWOT lot on Tilghman Road, was now the new Party Route 50k. Not nearly so many 50k PRs, however.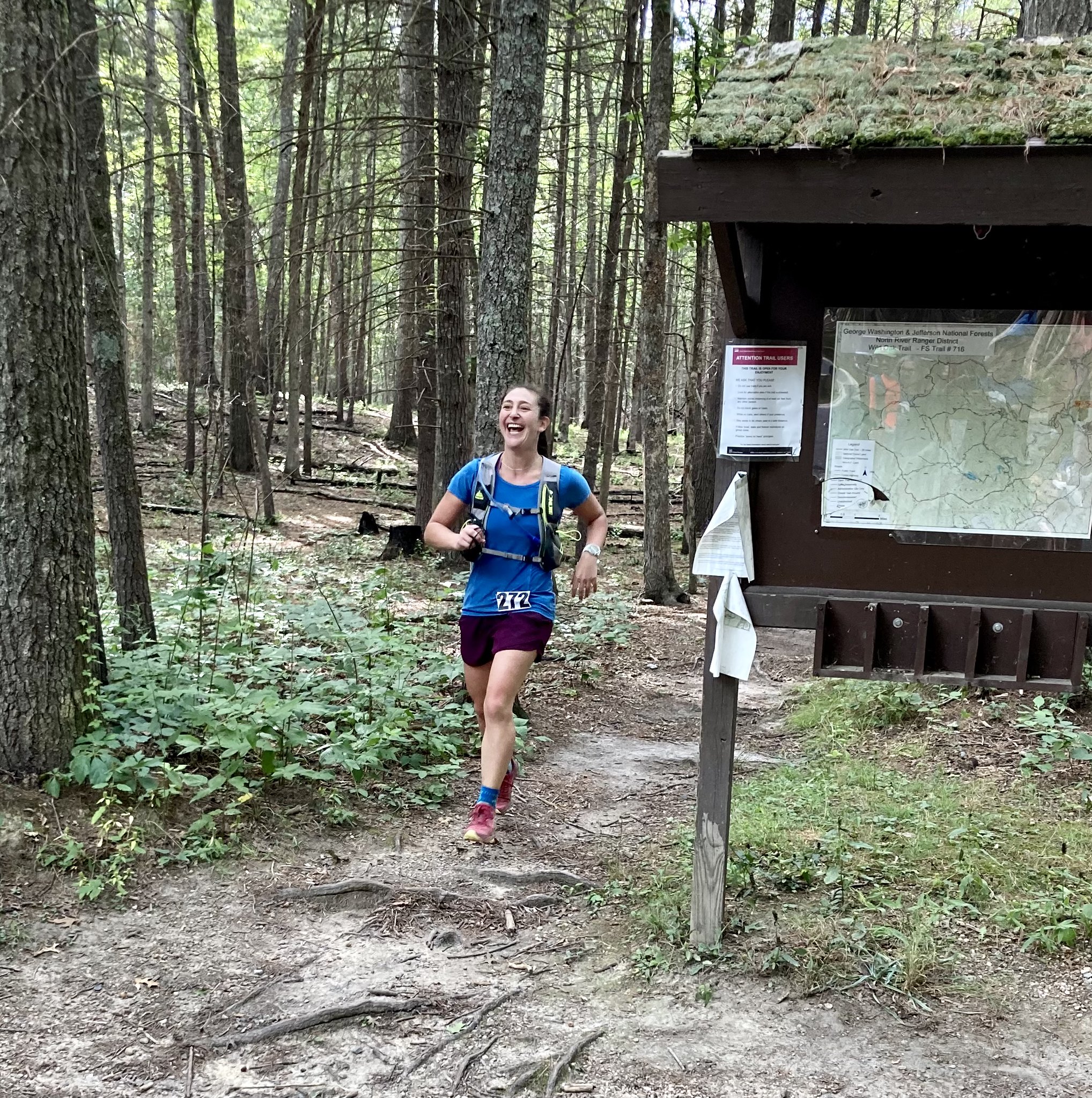 Huge congratulations to all the runners who made their way to MMB and the start, as all 39 who started finished (either the 60k or the 50k). Overall winner was Samuel Layding, who was running his very first ultra! He made an interesting choice for his debut in taking on the MMB 60k. It just happened to fall in the right place in his racing calendar; Martha Moats Baker hopes that he was pleased with his decision. Sam did indicate at the finish that the final 8 mile stretch up and over the Grooms Ridge trail and down Little Bald on the TWOT trail was the hardest running accomplishment he had ever taken on. Many other runners who have tackled that final jackknife section of the course have expressed the same thoughts.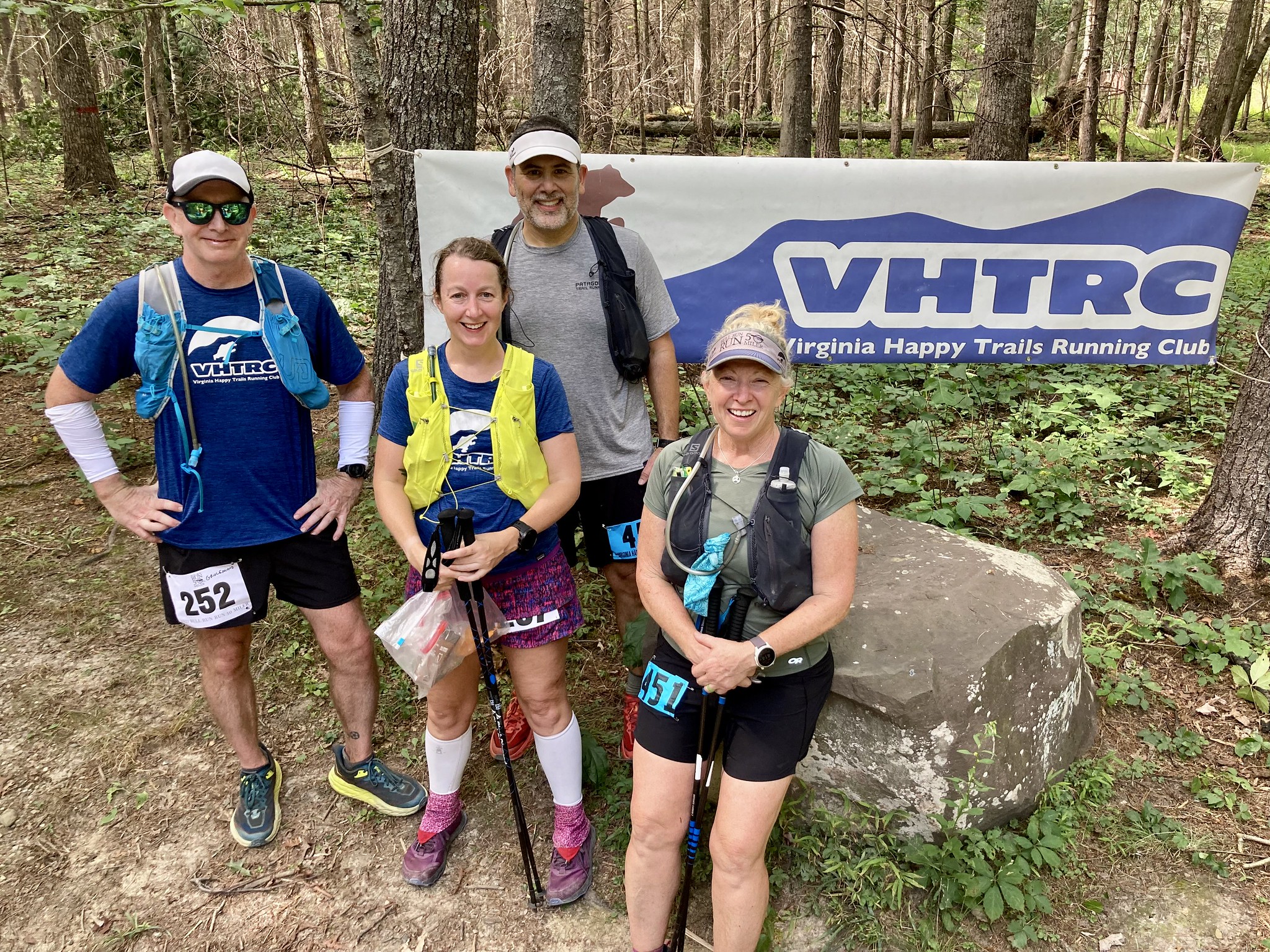 The 60k run was very competitive, as the top four men were generally within shouting range of each other, finishing between 7:10 and 7:35. A number of very talented runners completed the 60k behind them having a range of goals for this day; MMB is a popular training run for those signed up to take on the Grindstone 100 miler a month or so later. The first woman was Dani Sevel, who now holds the course record with her time of 9:40. 22 runners ultimately made that turn up Grooms Ridge at the final aid station and all finished the 60k (though at least a handful had some bonus trail distance to add to their 60k totals).
That left 17 runners who opted for the Party Route. The first two to do were Matt Erb and Erika Fry, who ran together much of the day, and who tied for first among the 50k finishers in 6:38.
Let's do it all over again on the second Saturday in August in 2023!
Results
Reddish Knob Aid Station: 13.4 miles
Wolf Ridge Aid Station: 22.7 miles
Grooms Ridge Aid Station: 30.2 miles
| Place | 60k Finisher | Bib # | Sex | Age | State | AS 1 (13.4) | AS 2 (22.7) | AS 3 (30.2) | Done (38.7/31.1) | Comments |
| --- | --- | --- | --- | --- | --- | --- | --- | --- | --- | --- |
| 1 | Samuel Layding | 260 | M | 25 | PA | 2:17 | 3:50 | 5:13 | 7:10 | 60k |
| 2 | Anthony Wolosik | 454 | M | 29 | DC | 2:21 | 3:56 | 5:15 | 7:16 | 60k |
| 3 | Nathan Wick | 453 | M | 37 | VA | 2:36 | 4:08 | 5:31 | 7:28 | 60k |
| 4 | Aaron Shapiro | 273 | M | 38 | MD | 2:48 | 4:27 | 5:46 | 7:35 | 60k |
| 5 | Shawn Baker | 241 | M | 36 | VA | 2:50 | 4:32 | 6:06 | 8:15 | 60k |
| 5 | Barret Stanton | 275 | M | 24 | VA | 2:50 | 4:32 | 6:06 | 8:15 | 60k |
| 7 | Trent Hale | 253 | M | 28 | VA | 2:36 | 4:20 | 5:52 | 8:27 | 60k |
| 8 | Pat Early | 244 | M | 43 | VA | 2:50 | 4:42 | 6:13 | 8:41 | 60k |
| 8 | Bradley Hawley | 256 | M | 42 | VA | 2:50 | 4:42 | 6:13 | 8:41 | 60k |
| 10 | Erin Altemos | 240 | M | 48 | MD | 3:06 | 4:55 | 6:30 | 9:24 | 60k |
| 11 | Eric Eldridge | 245 | M | 54 | VA | 3:17 | 5:12 | 6:45 | 9:39 | 60k |
| 12 | Dani Sevel | 272 | F | 33 | VA | 3:24 | 5:25 | 7:03 | 9:40 | 60k |
| 13 | Ali Mohammed | 266 | M | 44 | MD | 2:50 | 5:06 | 7:01 | 9:56 | 60k |
| 14 | Eric Harris | 255 | M | 49 | DC | 3:06 | 5:18 | 7:15 | 10:00 | 60k |
| 15 | Jesse Meadows | 262 | M | 41 | VA | 3:17 | 5:21 | 7:16 | 10:04 | 60k |
| 16 | Marty Fox | 248 | M | 71 | VA | 3:38 | 6:13 | 8:04 | 10:39 | 60k |
| 17 | Jamie Greenawalt | 251 | F | 54 | PA | 3:36 | 6:05 | 8:04 | 10:55 | 60k |
| 17 | Andy Peterson | 269 | M | 65 | VA | 3:38 | 6:13 | 8:04 | 10:55 | 60k |
| 19 | James Miller | 264 | M | 57 | VA | 3:24 | 5:56 | 7:56 | 11:04 | 60k |
| 20 | Larry Huffman | 258 | M | 61 | VA | 3:38 | 6:11 | 8:10 | 11:08 | 60k |
| 21 | Chris Miller | 263 | M | 43 | MD | 3:38 | 6:13 | 8:12 | 11:10 | 60k |
| 22 | Kate Moga | 265 | F | 54 | VA | 3:50 | 6:30 | 8:40 | 12:08 | 60k |
| | | | | | | | | | | |
| Place | 50k Finisher | Bib # | Sex | Age | State | 13.4 Miles | 22.7 Miles | 30.2 Miles | 31.1 Miles | |
| 1 | Erika Fry | 249 | F | 32 | VA | 3:08 | 4:57 | 6:26 | 6:38 | 50km |
| 1 | Matthew Erb | 247 | M | 44 | VA | 3:08 | 4:57 | 6:26 | 6:38 | 50km |
| 3 | Daryl Brubaker | 242 | M | 41 | VA | 3:17 | 5:28 | 7:14 | 7:22 | 50km |
| 4 | Brent Russell | 270 | M | 44 | VA | 3:17 | 5:34 | 7:29 | 7:39 | 50km |
| 5 | Michael Hannon | 254 | M | 57 | MD | 3:24 | 5:40 | 7:27 | 7:42 | 50km |
| 5 | Joe Schramka | 271 | M | 53 | DC | 3:28 | 5:40 | 7:27 | 7:42 | 50km |
| 5 | Todd Ellick | 246 | M | 39 | VA | 3:19 | 5:28 | 7:29 | 7:42 | 50km |
| 8 | Christian Stanton | 449 | M | 48 | VA | 3:27 | 5:51 | 7:56 | 8:27 | 50km |
| 9 | Dave Goodwin | 250 | M | 57 | VA | 3:31 | 6:06 | 8:10 | 8:39 | 50km |
| 10 | Robert Grolemund | 252 | M | 53 | VA | 3:58 | 6:50 | 8:57 | 9:12 | 50km |
| 11 | Tracey Thibodeau | 451 | F | 52 | VA | 3:58 | 6:50 | 8:57 | 9:13 | 50km |
| 11 | Samantha Neakrase | 267 | F | 44 | VA | 4:10 | 6:41 | 8:53 | 9:13 | 50km |
| 11 | Larry Thibodeau | 450 | M | 53 | VA | 3:58 | 6:51 | 8:57 | 9:13 | 50km |
| 11 | Rob Tidwell | 452 | M | 52 | VA | 3:36 | 6:31 | 9:02 | 9:13 | 50km |
| 15 | John Hord | 257 | M | 54 | MD | 4:15 | 6:49 | 9:12 | 9:33 | 50km |
| 16 | Jeffrey Klemm | 259 | M | 71 | VA | 4:00 | 7:10 | 9:37 | 9:47 | 50k |
| 17 | Robert Perry | 268 | M | 59 | MD | 4:15 | 7:23 | 9:57 | 10:17 | 50km |
Last updated November 13, 2022