2022 Report
July 23, 2022 • Luray, VA
56 starters, 52 finishers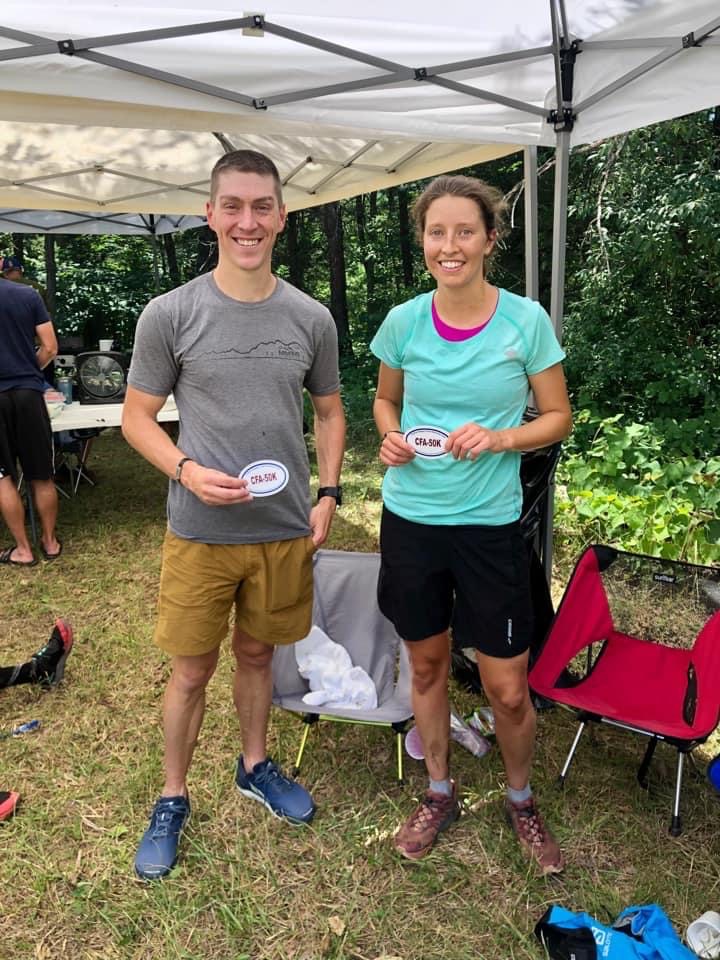 It was another HOT year for Catherine's Fat Ass. The run began at 7am and the air was thick with humidity. As the runners climbed up Bird Knob to their first aid station, the temperatures rose into the 90s. We are extremely thankful to the many volunteers who worked to keep this event successful and the runners hydrated. Of the 25 volunteers we had this year, many worked multiple positions.
Congratulations to top finishers Joseph Crawford, Erin Kelman, and Anthony Wolosik, all finishing under 6 hours. Joseph Crawford took first in just 5:06. Our female podium winners include Nora Jodrey, who also finished in under 6 hours with her first ultra and took first place by over 40 minutes. Jana Fridrichova, who did an additional 4 miles after missing the turn onto the Purple trail after flying through the Bird Knob aid station #1, fought her way back to the front of the pack, taking 2nd. Emma Fields and Cat Hinkle tied for 3rd, despite this being their first time on Massanutten trails (they mentioned it was rocky). Honorable mention goes to James Jordan for toughing his way through his first ultra as well. It was on his bucket list to complete an ultra before his 30th birthday. James, I think you have time to complete another. Come back and join us!
The after party, as always, was a huge success and we were able to break down after all the runners had finished and get out of the parking lot just before a big storm rolled in. Thanks again to the CFA participants for running, volunteering, cheering, and/or supporting this weekend. We hope to see you next year for the run on July 22, 2023!
Special thanks to retiring Run Director, Dan Aghdam, for all of the support this year as I take over the reins. I know I have big shoes to fill keeping this event as exciting as you have made it.
Photos - Jamie Greenawalt (Furnace Aid Station)
Photos - Charlene Howard (Bird Knob Aid Station)

Results
Place
Name
Age
Sex
Home
Time
Note
1
Joseph Crawford
36
M
VA
5:06
2
Erin Kelman
45
M
MD
5:27
3
Anthony Wolosik
29
M
DC
5:38
4
Kyle Imhoff
31
M
VA
5:45
5
Bradley Hawley
42
M
VA
5:53
5
Vladimir Martinez-Jimenez
37
M
VA
5:53
7
Nora Jodrey
25
F
MD
5:54
1
7
Aaron Shapiro
38
M
MD
5:54
9
Erik Price
39
M
VA
6:10
9
Lars Hasseler
38
M
VA
6:10
11
Michael Harms
39
M
VA
6:14
12
David Peppelman
46
M
MD
6:31
13
Randall Orr
39
M
VA
6:33
13
Jose Cardenas
34
M
VA
6:33
15
Jana Fridrichova
43
F
MD
6:37
2
16
Derek Kennedy
27
M
VA
6:50
17
Patrick Early
43
M
VA
6:51
18
Itaru Fujieda
46
M
MD
6:52
18
Justin Faul
42
M
VA
6:52
20
Ali Mohammed
44
M
MD
6:58
21
John Durkalski
39
M
DC
6:59
22
Alexander Schnoeller
46
M
TN
7:10
23
Mark Domanski
43
M
VA
7:12
24
Emma Fields
42
F
VA
7:31
3
24
Catherine Hinckle
36
F
VA
7:31
3
26
Marty Fox
71
M
VA
7:33
26
Keith Knipling
46
M
VA
7:33
28
Dani Sevel
33
F
VA
7:35
29
Dagmar Paul
37
F
VA
7:38
30
Marc Griffin
46
M
VA
7:39
30
Matt Smythe
41
M
VA
7:39
32
Matt Burke
34
M
MD
8:06
4
33
Brian Chiles
48
M
VA
8:11
34
Gaynor Bourgeois
53
F
MD
8:15
34
Daisy Weill
34
F
DC
8:15
36
Eric McGlinchey
48
M
VA
8:23
37
Patrick Lichy
43
M
VA
8:33
38
Travis Bertram
49
M
VA
8:41
39
Jimm Ouellette
49
M
VA
8:47
40
Jeff Reed
62
M
VA
8:54
5
41
James Miller
57
M
VA
8:56
42
Amy Zbikowski
43
F
MD
9:04
43
Tracey Thibodeau
52
F
VA
9:21
43
Stuart Brown
71
M
VA
9:21
43
Fitzgerald Brown
27
M
VA
9:21
46
Ram Oruganti
52
M
VA
9:27
47
Crystal Koch
46
F
VA
9:50
48
Vickie Bryant
52
F
VA
9:51
49
Sam Coyner
55
M
VA
9:53
50
James Jordan
29
M
VA
10:04
6
51
Doug Kelly
56
M
VA
10:16
52
Jeffrey Klemm
71
M
VA
10:37
Nope
Guy Towler
53
M
VA
DNF
7
Nope
Carol Cohen
45
F
VA
DNF
8
Nope
Heather Dougherty
36
F
DC
DNF
9
Nope
Katie Burke
44
F
MD
DNF
10

1 - First female, and her first ever ultra!
2 - 2nd female, despite 4 bonus miles
3 - Cat and Emma finished tied for 3rd female
4 - Missed turn onto purple/ 2 bonus miles
5 - Nice race by the race's founder!
6 - His first ever ultra!
7 - Said "nope" to climbing the evil purple switchbacks; took a hard right and finished by way of pink trail, instead
8 - Opted out of Morgan Run fun/did Furnace out-n-back for 20 miles
9 - Bad ankle; opted out of Morgan Run for 16 miles - Good luck at Eastern States!!
10 - Dropped at Bird Knob 1 and instead helped with finish line set up
Last updated July 26, 2022