2017 Report
December 30, 2017 • Luray, VA
46 starters, 36 finishers
Report
Despite challenging conditions, the 12th annual Boyers Furnace 40 miler saw a record number of starters and finishers. 46 runrs toed the starting line, and 36 runners finished, almost three times as many as last year. Daniel Fogg is the men's champion, finishing in 7:22. Kelly MacDonald is the women's champion. She finished in 8:20, just missing the event record. The event records remain in the hands of Aaron Schwartzbard (6:47) and Amy Sproston (8:19), both set in 2007.
Those who overcame the treacherous driving conditions after the previous night's snow were rewarded with a white winter wonderland. Unfortunately, there was not enough snow to be runner-friendly on the trails, but enough to be runner-detrimental. The snow, combined with the dry leaves and the infamous Massanutten rocks, spared no one. Runrs were slipping and sliding for much of the day on the trail sections.
After a short pre-race briefing, the runners took off at 7:35AM. The snow-covered roads prevented volunteers from providing planned aid at Mile 12 (Milford Gap) and the runrs did not see aid until Mile 17 (Veach Gap). By that point, Daniel Fogg had already opened up a 21-minute lead on Brad Hinton and Will Weidman, who ran together almost the entire day. The strong duo were overtaken near the end of the run by George Sefzik, who ran a strong second half to finish in a three-way tie for third. Aaron Ellison was a surprise 2nd place. His car was stuck going over a pass to get to the run start, but he doggedly found an alternative means of coming into the valley. Aaron ran strongly after starting 49 minutes late, and his chip time beat the third place trio by a single minute. Without knowing it, Kelly MacDonald was also racing a late-starter, though she comfortably finished 16 minutes ahead of Kathleen Cusick. Kathleen was first held back by the road conditions, and then held back further when run management forced her to re-park. She didn't start chasing people down until 45 minutes after the official run start. Josh Howe produced the Best Blood of the day.
This run would not have been such a success without the rock star volunteers and other folks who made this run possible. The aid station volunteers were Brett Martin, Jon Jester, Debbie Marcus, Challen Edwards, Mike McCormick, Susan Gardner, Erin Altemos, Homer Komthirath, Tony Escobar, Dan Aghdam, and Quatro Hubbard. Brett, Dan, and Jon made sure there was warm food at every aid station and the finish. Tony, the previous RD, flew out from Denver to lend his help and guidance. Dan Aghdam and Quatro Hubbard were the best mentors ever for the newbie RD. Quatro in particular oversaw every single step of the operation. President Keith Knipling and Quatro produced an accurate and useful update to the Boyer's turn sheet. Soup Sophie cooked up flu-fighting chicken soup for the finish. Quatro and Brett started the post-race bonfire, and Andy Peterson kept it going by ingeniously breaking wood pieces without the forgotten saw.
Mark your calendars now. The Lucky 13 version of Boyer's Furnace will take place on Saturday, December 29, 2018. Entry will open on November 19, 2018.
Josh Howe's Report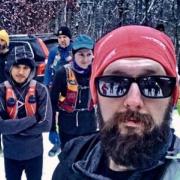 The fresh coating of snow wasn't gonna stop a few of us crazies from playing in the Massanuttens all day for the annual Boyers Furnace 40 miler… make that 41 miler!
If anything the snow made the rocks more bearable because you couldn't see them. At least along the East Ridge it was out of sight, out of mind. Having done this fatass run before a few years ago, I was hoping to improve on my time and see what I could do.
First and for most, a big shout out to Carol Cohen for being one bad ass RD, thanks to Q, Tony, Dan, Jon, Homer, Brett, Susan, Challen, Debbie and the army of volunteers that stood out in the cold to take care of us.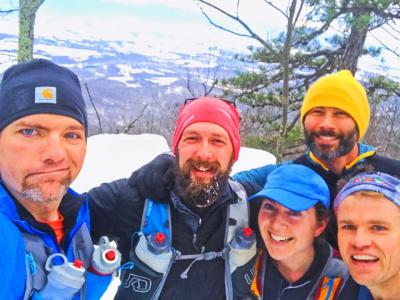 Shortly after 7:30 we were off and I was leading the pack up the orange blaze. Once we got to Edith's Gap a few of the faster gents sped off. I kept them pretty close thou for a while. I ended up running with Brad, Kelly, Ryan and Keith (pictured here) for a bit along the ridgeline. There were some pretty great views with the fresh powder topping the distant peaks. Just past Milford, I took off. It was pretty awesome how comfortable I felt flying over the rocky snow covered terrain. Suddenly I found myself in 3rd place around mile 16. My avg pace was something crazy that meant I was probably going too fast. I put my head down to concentrate on not falling over and in the process missed the turn for the aid station. I was continuing down the orange / blue blazed trail, well over a half mile at least. When I realized my mistake I was so pissed… and was a little demoralizing. I ran back as fast as I could hoping the others had been delayed somehow and I wouldn't be too far behind. Apparently I wasn't the only one to do this… there were lots of footprints going both ways.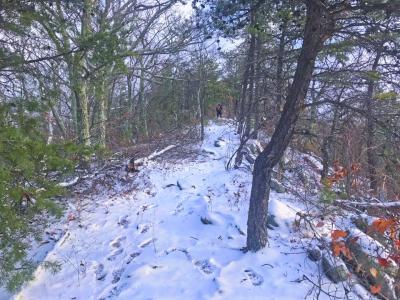 Next up was 6 miles of dirt road through Fort Valley passing the ruins of Boyers furnace then navigating the less snowy and rockier Barren wasteland of the Western ridge between Woodstock tower and Edinburgh. At one point I was pretty sure I spotted the frozen remains of a hiker… it turned out to be just a tree stump! I began to slow significantly, feeling the affects of my speedier pace earlier. My Watch died on me just over 28 miles in around the 6 hr mark. The rocks were exacting their revenge. I briefly ran with a bear dog who trotted along gleefully.
My feet were cold to the bone and wet. I was concerned and had forgotten to bring a fresh pair of socks with me. The uncomfortable cold chill was creeping up slowly. I decided I was going to call it a day once I got to the next aid station at Edinburgh. I was feeling under the weather as I was still recovering from a cold this week. I was beaten and bruised and had a pretty gnarly gash on my lower leg. Definitely a contender for best blood! But when I got to the aid station the volunteers rushed into action, letting me warm up and even giving me a pair of dry socks to put on. Thank you, Thank you, Thank you to that volunteer I did not know. I think someone told me later, her name was Susan. [Ed. note: Susan Gardner was the Good Sock Samaritan]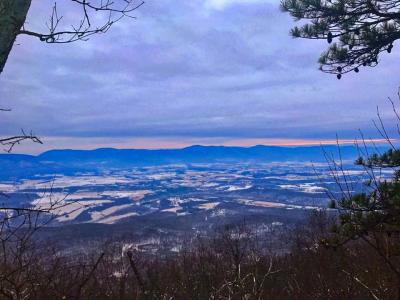 I knew the last section was 9 more miles of road and I really wasn't looking forward to it. As I sat there, Jesse Fuller came over and talked to me, convincing me that I still had some miles left in the tank and that I should finish it with him.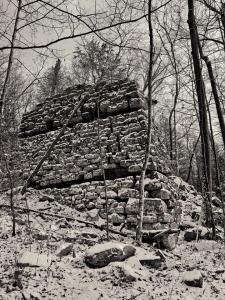 I finished in 9 hours and 49 minutes. Enough for a 91 minute PR over my previous time. While it wasn't what I had hoped for, it was probably what I needed. A reminder that even when I feel beaten and broken, I can finish strong with a little help from my friends.
Photos
Results
Place
Name
Age
Sex
State
Veach - 17 M.
Woodstock - 22 M.
Edinburg - 31 M.
Finish
1
Daniel Fogg
33
M
DC
2:56
3:47
5:44
7:22
2
Aaron Ellison †
41
M
MD
3:25
4:22
8:53
7:55
3
George Sefzik
42
M
VA
3:24
4:26
6:23
7:56
3
Brad Hinton
41
M
VA
3:17
4:15
6:10
7:56
3
Will Weidman
34
M
VA
3:17
4:15
6:19
7:56
6
Chris Pabian
41
M
PA
3:29
4:30
6:32
8:10
7
Kelly MacDonald
28
F
VA
3:25
4:30
6:37
8:20
8
Kathleen Cusick †
42
F
FL
3:37
4:42
6:36
8:36
9
Keith Knipling
41
M
VA
3:25
4:34
6:51
8:40
10
Chris Looney
29
M
VA
3:39
4:47
7:02
8:46
11
Gregory Holden
38
M
VA
3:44
4:45
7:08
9:02
12
Andy Peterson
61
M
VA
4:19
5:26
7:55
9:33
13
Eric Kieley
48
M
MD
4:17
5:25
7:55
9:34
14
Josh Howe
38
M
VA
3:37
4:46
7:34
9:49
14
Jesse Fuller
33
M
VA
3:31
4:56
7:34
9:49
16
James Miller
53
M
VA
4:13
5:35
8:03
9:51
16
Ryan Brown
32
M
MD
4:29
5:40
8:02
9:51
18
Jose Cardenas
29
M
VA
3:33
4:50
7:39
9:55
19
Rob Tidwell
47
M
VA
4:31
5:40
8:16
10:11
19
Casey Fisher
34
M
MD
4:30
5:40
8:16
10:11
21
Travis Bertram †
44
M
VA
4:13
5:31
8:11
10:23
22
Daniel Gracias
37
M
VA
4:14
5:35
8:10
10:24
23
Barry Hauptman
54
M
MD
4:30
5:42
8:26
10:33
24
Don Riley
54
M
MD
4:16
5:37
8:27
10:41
25
Bert Salter
42
M
MD
4:32
5:26
8:44
10:43
26
Marty Fox
67
M
VA
4:30
6:01
8:28
10:47
27
Mundy Hackett †
47
M
VA
4:20
5:34
8:07
10:50
28
Andrew Burnette †
47
M
MD
4:33
6:01
8:45
11:06
29
Michael Busick
46
M
MD
4:29
5:47
8:39
11:08
30
Dave Goodwin
53
M
VA
4:30
5:54
8:45
11:16
31
Jeff Pence
59
M
VA
4:32
6:03
8:57
11:37
32
Larry Tumblin
48
M
VA
4:42
6:03
8:58
11:38
32
Tj Theis †
29
M
MD
4:22
5:43
8:16
11:38
34
Paul Sherlock
61
M
VA
4:44
6:06
9:11
11:41
35
Ed Walsh
68
M
VA
4:40
6:12
9:13
11:44
35
Guy Towler
48
M
VA
4:46
6:15
9:30
11:44
Boyers 50k Finishers
Nope
Jennifer Ragone
47
F
VA
4:30
5:41
8:12
50k
Nope
Joyce Fendley
51
F
VA
5:11
6:40
8:16
50k
Nope
Rodney Flora
24
M
MD
3:31
5:27
8:25
50k
Nope
Gary Knipling
74
M
VA
4:32
5:58
9:01
50k
Honorable Mentions
Nope
Michael Stefanon
49
M
VA
4:48
6:29
xxx
DNF
Nope
Brian Craig
45
M
VA
4:48
6:29
xxx
DNF
Nope
Meghan McCormick
33
F
VA
5:11
6:40
xx
DNF
Nope
Ryan Quinnelly
35
M
VA
3:24
xxx
xxx
DNF
Nope
Joel Wanger
29
M
MD
3:33
xxx
xxx
DNF

Given unexpectedly treacherous driving conditions, some runners could not make the 7:35 start. The following runners with later starts were given chip times to compensate:

† Andy Burnette (7:37)
† Adam Matheson (7:50)
† Mundy Hackett (7:50)
† Kathleen Cusick (8:20)
† Aaron Ellison (8:24)
† TJ Theis (8:24)
† Travis Bertram (8:24)
Last updated December 16, 2019