Awards Party Honoring 2013
February 9, 2014 • Cabin John, MD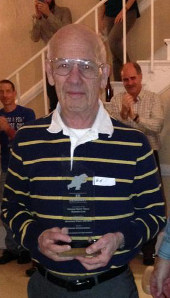 A large gathering of VHTRC members and guests came together to celebrate the various achievements of their fellow runners for the 2013 season. Joe Clapper and Michele Harmon organized another great party and Bob Fabia served a delicious gourmet meal. Ed Demoney, Anstr Davidson, and Joe Clapper were also honored for their longtime service to the Club.
2013 awards and nominees are below. Bold signifies the winners.
Many thanks to Keith Knipling for the excellent slideshow and Aaron Schwartzbard for donating the winner's photos.
Furbutt Award
The Furbutt Award is a performance award that recognizes participation in club events as a runner and a volunteer. This award recognizes two runners — one male and one female member of the VHTRC who showed up at just about every club run and participated by running in a determined manner, to the very best of his or her ability. This person tries really hard. But whereas the recipients would run most of our club events, (and would finish the events they entered, including MMT or BRR), he or she would not run all club events. He or she would occasionally volunteer. This is the award for the person who is really engaged in the VHTRC and supports the club by running well and volunteering in all our runs and events.
Women
Sophie Speidel
Alisa Springman
Carter Wiecking
Men
Mike Bur
Paul Crickard
Gary Knipling
Runner of the Year
Recognizes two runners — one male and one female member of the VHTRC — who have demonstrated consistently outstanding performances in trail runs during the past year. Nominees for this award may be considered not only for their speed but also for their versatility and consistency as well as their support and representation of the club while performing at this high level over the year.
Women
Sheri Fiolek: 1st Cacapon 12 Hour, 2nd Laurel Highlands 50K, 2nd Oil Creek 100K, 5th Rosaryville 50K
Martha Nelson: 1st Highland Sky 40 (CR), 1st VHTRC Women's Trail Half Marathon (CR), 1st Megatransect 26, 1st place overall St. Paul Trail Marathon, 3rd Promise Land 50K
Megan Stegemiller: 1st Old Dominion 100, 2nd Labor Pain 12 Hour, 4th Hellgate 100K, 6th MMTR 50
Men
John Anderson: 1st 50-59 AG Seneca Greenway 50K (6th overall), 1st 50-59 BRR 50, 3rd 50-59 JFK 50, 5th overall MGM 50K
Sean Andrish: 2nd Uwharrie 40, 2nd Elizabeth's Furnace 50K, 7th MMTR 50
Brad Hinton: 1st Elizabeth Furnace 50K, 1st Cacapon 12 Hour, 4th MMT 100, 4th BRR 50, 4th Hellgate 100K
Jack Kurisky: 1st Capon Valley 50K, 3rd Stone Mill 50, 7th Reverse Ring 71, 7th Plain 100, 40:02 Hardrock 100
Performance of the Year
Recognizes one male and one female member of the VHTRC for the most outstanding performance of the year in a trail run. "Outstanding" is considered in terms of course difficulty and weather conditions as well as the age, gender, and ability of the runner. In other words, this is a relative, not an absolute, test.
Women
Holly Bugin: Course Record at Holiday Lake 50K in 4:23:04 while a few weeks pregnant
Katie Keier: 4th Female to finish TWOT 100 in 43:03 (32,000+ feet of climb)
Robin Watkins: 1st Female at MMT 100 in 25:30 (her first 100)
Men
Keith Knipling: 2nd overall at Big Dog Backyard Ultra, 141.678 miles in 30:04
Dave Quivey: Finished the TWOT 100 in 43:46 (32,000+ feet of climb)
Adam Watkins: 5th overall in "Foot Division" of the 350 mile Alaska Iditarod Trail Invitational, 6 days, 22 hours, 30 minutes
Most Improved
Recognizes one male and one female member of the VHTRC whose performances in trail running in the past year have significantly improved.
Women
Diane Behm: finished the "mini Beast" (Holiday Lake 50K, Terrapin Mtn 50K, Promise Land 50K, MMTR 50 and Hellgate 100K) in second year of trail running
Tracy Dahl: finished Uwharrie 40, Elizabeth Furnace 50K, BRR 50, Promise Land 50K, and Capon Valley 50K in second year of trail running
Sara Davidson: 29 min PR at BRR 50; 25 min PR at Holiday Lake 50K; finished Laurel Highlands 70 in 18:13
Kim Love-Ottobre: 3.5 hour PR at MMT 100; 46 min PR Glacier Ridge 50K, 2nd female at Black Hills 100
Men
Jack Anderson: 60 min PR Hellgate 100K; 2.5 hr PR MMTR 50; 46 min PR Promise Land 50K; 1:24 PR BRR 50
Danny Mowers: 43 min PR MMTR 50; 5 min PR Terrapin Mtn 50K; 5th overall Laurel Highlands 70, 13:30
Danny Rogers: 8th overall Mid-Md 50K, finished BRR 50, TNF 50, and Burning River 100 in 22:38 in second year of trail running
Rookie
Recognizes the male OR female member of the VHTRC who, in his or her first year of trail running has demonstrated mental toughness and persistence as well as ability.
Nicklaus Combs: 1st Rosaryville 50K 4:24; 9th Destin 50 9:07; Kettle Moraine 100 27:26; Chimera 100 31:43
Samantha Pitts-Kiefer: 32.5 miles at 12 hour Adventure Trail Run (first ultra); 43 miles at Stone Mill 50 
Ambassador
Given to the VHTRC Ambassador of the Year. You figure out the criteria.
Bob Gaylord
Keith Moore
Hai Nguyen
Carter Wiecking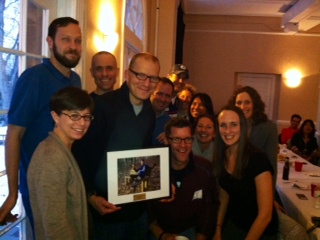 Last updated January 30, 2020