Awards Party Honoring 2010
February 6, 2011 • Cabin John, MD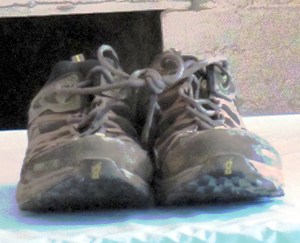 There was great excitement on the red carpet as the stars arrived at the VHTRC 2010 Awards Ceremony. An unusually large group of winners was there this year.
The highlight of the afternoon was the posthumous presentation of the James Moore Award to Mike Broderick. The James Moore Award is based upon a combination of community service and tough running.
The other awards were:
Runner of Year, Male - Neal Gorman
Runner of Year, Female - Amy Sproston
Performance of the Year, Female - Barb Isom
Performance of the Year, Male - Neal Gorman
Most Improved, Male - Gary Knipling
Most Improved, Female - Stephanie Wilson
Rookie of the Year - Brittany Zale
Ambassador - Sophie Speidel
Photo of the Year - "Sean at SMUT" by Keith Knipling (shown below - slideshow of all nominees)
"Next Year I'm not Going to Do Anything Stupid" Award - Eva Pastalkova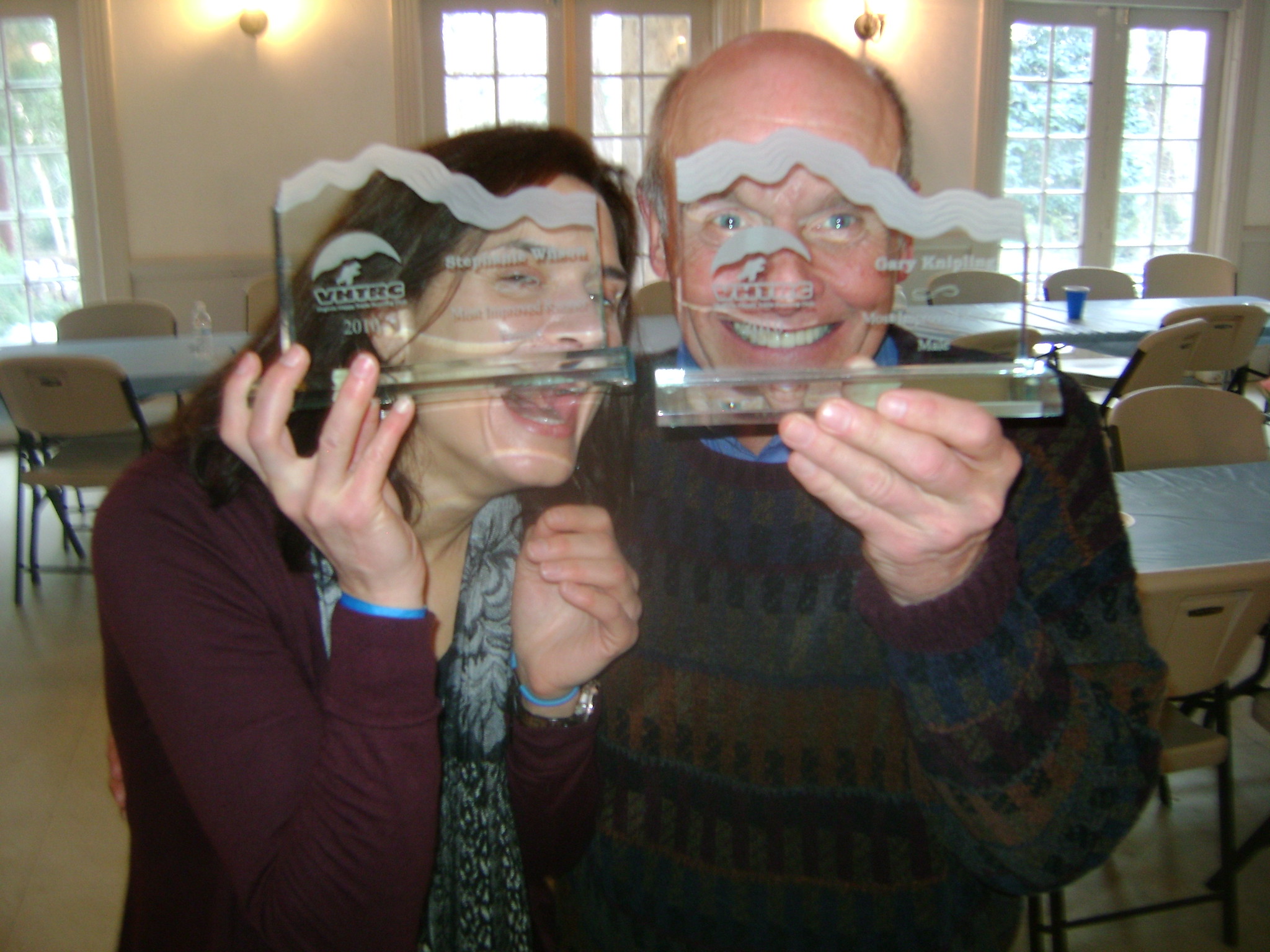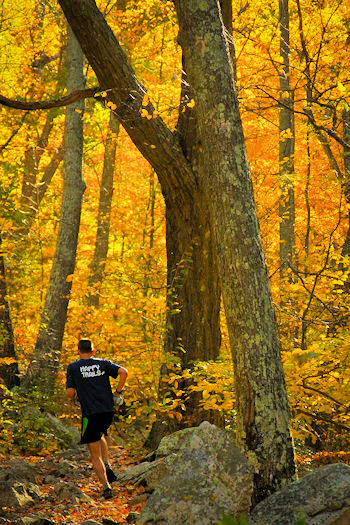 There was a problem when Gary was confused about the difference between "performace of the year" and "running performance of the year." We straightened him out.
Pictures from: Quatro | Brenda
YouTube slideshow of picture nominees
Nominees
Nominees are listed in alphabetical order.
Runner of the Year
Criteria: Recognizes two runners — one male and one female member of the VHTRC — who have demonstrated consistently outstanding performances in trail runs during the past year. Nominees for this award may be considered not only for their speed but also for their versatility and consistency as well as their support and representation of the club while performing at this high level over the year.
Male
Mike Campbell (age 60)

1st age group JFK 50 8:11; 5th 12 Hour Adventure Trail Run, 50 miles; 1st age group Burning River 100, 20:21; 1st age group MMT100, 26:52:31; 1st age group Bull Run Run 50, 8:30; Mt Cheaha 50K, 7:54:14; 2nd overall at Icy 8-Hour, 45 miles

Neal Gorman

4th Wasatch 100, 21:19; 4th Leadville 100, 18:47:54; 2nd Vermont 100, 16:33:11; 13th Western States 100, 18:14:00; 4th Masochist 50, 7:55:20, 3rd Bel Monte 50, 8:21:38

Brad Hinton

1st North Country 50, 8:00; 1st Adventure Trail 12 –hour, 72 miles; 2nd Stone Mill 50, 7:48; 2nd Bel Monte 50K, 5:02; 3rd Dahlgren 50K, 4:07

Keith Knipling

1st Stone Mill 56, 8:38; 4th Rosaryville 50K, 4:42; 5th Grindstone 100, 22:03; 6th Catoctin 50K, 5:23; 6th Hellgate 100K, 12:22; 10th Masochist, 8:11. Winner of the Beast Series

Brian Schmidt

1st Grindstone 100M, 19:44; 6th Promise Land 50K, 5:08:34, Masters CR; 2nd Highland Sky 40M , 6:13; 1st Catoctin 50K, 5:05; 1st Catherines 50K Fat Ass, 12th Bull Run Run 50, 7:29

Matt Woods

12th at 100K World Cup-Gibraltar, 6:58; 1st Mad City 100K, 7:06; 1st Holiday Lake 50K, 4:30; 1st North face 50-Washington, 6:28; 2nd North Face Wisconsin, 6:15
Female
Annette Bednosky

1st Burning River 100, 16:44 (CR); 1st Mt. Cheaha 50k, 5:09; 2nd Caumsett 50K, 3:43; 2nd Mad City 100K, 8:05; 2nd Ice Age 50, 7:27; 8th Western States 100, 20:43

Justine Morrison

1st Holiday Lake 50K, 5:15; 1st Terrapin 50K, 4:56; 2nd Promise Land 50K 6:02; 2nd Highland Sky 40, 7:30

Eva Pastalkova

1st Plain 100, 26:45; 1st Swan Crest, 28:03; 1st Highland Sky 40, 7:19; 1st Promise Land 50K, 5:27; 2nd Bull Run 50, 7:29

Amy Sproston

1st JFK 50, 6:57; 1st Pine to Palm 100, 22:39; 1st Siskiyou 50K, 4:40; 2nd Where's Waldo 100K, 11:03; 2nd White River 50, 8:22, 4th Miwok 100K, 10:22
Performance of the Year
Criteria:Recognizes one male and one female member of the VHTRC for the most outstanding performance of the year in a trail run. "Outstanding" is considered in terms of course difficulty and weather conditions as well as the age, sex, and ability of the runner. In other words, this is a relative, not an absolute, test.
Male
Mike Campbell (age 60)

JFK 50, 8:11, 60+ age group winner

Neal Gorman

Broke Joe Kulak's Grand Slam record, 74:54:16 — Western States 100 - 18:14 (13th), Vermont 100 - 16:33 (2nd), Leadville 100 - 18:47 (4th), Wasatch 100 - 21:19 (2nd)

Patrick McGlade

Run Across America (1/2/2010 to 4/23/2010 - 2500 miles: Huntington Beach, CA to Tybee Island, GA)

Scott Mills (age 59)

Western States 100, 22:52:54

Brian Schmidt

Grindstone 100, 19:44

Bill Turrentine (age 61)

Umstead 100, 23:06

Matt Woods

World Cup 100K, 6:58, 12th overall
Female
Annette Bednosky

Burning River 100, 16:44, course record

Barb Isom (age 62)

MMT 100, 31:33, first over-60 female finisher in run history

Amy Sproston

JFK 50, 6:57, fifth fastest female time in run history

Caroline Williams

MMT 100, 35:58, two minutes before cut-off
Most Improved
Criteria:Recognizes one male and one female member of the VHTRC whose performances in trail running in the past year have significantly improved.
Male
Mike Bailey

Promise Land 50k, 5:31 (:50 min improvement from '09); Old Dominion 100, 21:52; JFK 50, 7:35

David Frazier

1st Mason Dixon 50K, 3:32; 3rd Terrapin 50K, 4:29; 6th, Bull Run 50, 7:22

Gary Knipling

Bull Run Run 50, 9:55 (1:20 improvement from '09); Catoctin 50K (1:30 improvement from '09), MMT 100 30:19 (3:30 improvement from '09)
Female
Caroline Williams

Bull Run 50 11:45 (:53 improvement from '09), Promise Land 50K 9:11 (:10 improvement from '09)

Stephanie Wilson

Capon Valley 50K 5:10 (:59 improvement from '09), 6:58 Catoctin 50K, (:53 improvement from '09), 10:37 Mountain Masochist (:05 improvement from '09)

Martha Wright

Promise Land 50K 6:40 (1:20 improvement from '09), Terrapin 50K 6:20 (:12 improvement from '09)
Rookie of the Year
Criteria:Recognizes the male OR female member of the VHTRC who, in his or her first year of trail running has demonstrated mental toughness and persistence as well as ability.
Jeff Best

Hellgate 100K, 16:24; Bull Run 50, 10:19, Highland Sky 40, 9:26

Brian Greeley

1st Sequoia 50K, 4:22; 1st Gunpowder 50K, 4:41, 2nd, Skyline Challenge 50K, 5:08

Brittany Zale

4th female Grindstone 100, 32:06; 3rd female Skyline Challenge 50K, 6:33; DC North Face 50, 11:20
Ambassador
Criteria:Given to the VHTRC Ambassador of the Year. You figure out the criteria.
Joe Clapper

Bobby Gill

Sophie Speidel

Greg Zaruba
Next Year, I'm Not Doing Anything Stupid
Criteria: Especially bad decision-making by a member of the club.
Elizabeth Furnace 50K

What is it with water and Ultrarunning that brings out stupidity? At the Elizabeth Furnace 50K last year, the field navigated Passage Creek just after a torrential rainfall contributed to a spectacularly rapid snow melt. At least those Northern Californians have enough sense to use a rope-guide or a boat to cross the American River. Anyone who participated in this suffer-fest is worthy of this award. Pictures by Stephanie Wilson

Reverse Ring

Another groupthink nomination: the entire field of the Reverse Ring last year—ever the intrepid navigators—left the northern end of the Signal Knob parking lot and promptly turned left on the connector trail that leads…to the south end of the parking lot. After careful consultation of their $500 GPS receivers, they realized their mistake and ascended to the Signal Knob Trail on Orange. Okay people, repeat after me "Stay on Orange; stay on Orange."

Martha Moats Baker meets PETA

At last August's MMB, Eva Pastalkova ran some bonus miles after getting lost on the first turn. She turned around and retraced her steps, all the way to the parking lot. She got lost again, missing the road to the first aid station, but eventually arriving there from the wrong direction after everyone had left. She then started to retrace her steps a third time, whereupon a passing cyclist shared his map with her. She had navigated entirely off the map.

Reoriented, she arrived back at the abandoned aid station and was joined by a dog wearing an odd collar, bearing an antenna and a battery pack. The dog was young and friendly, shared Eva's lunch with her, and followed her. As Eva descended the long ridge towards the road on the northern leg of the course, a second dog appeared, this one limping and wearing an identical collar. She then carried this dog down the mountain using a fireman's carry, with the dog's legs jammed in her hydration pack. BTW, for those of you who've never seen her hydration pack, it's the size of an mountaineer's expedition pack. She ran, walked, staggered, fell, and walked down the mountain carrying the dog. When she emerged onto the road, three good ol' boys in two honkin' big trucks met her. Those were their dogs, which were on their first trip into the woods, and were being trained to run down and tree bear. She started to scold the owners for allowing such novice dogs out in the back-country. Tom Corris drove up and kept her from being shot by one of the locals for "messin' with ma' dawgs." In red-state Virginia, that is considered sufficient grounds for the application of deadly force.

The RD, Dennis Herr, later calculated that Eva had run 53-54 miles, with the last 5-6 miles while carrying a 25-30 lb dog on her back. This is another case of good intentions paving the road to an unintended destination.
Best Photo
Criteria Best digital photo of a VHTRC run or of a VHTRC member at any run.

To See the Nominated Photos: You can see all the nominated photos in a set on Flickr. Or you can click on the link for each picture below. In either case, a new window will pop up. You can close the new window by pushing the X in the top right of the window (if you are on a PC) or the dot in the top left if you have a MAC.
Anstr Davidson

Bobby Gill

Hallie Hegemier

Quatro Hubbard

Keith Knipling

Sophie Speidel

Stephanie Wilson
Last updated December 27, 2019