2020 Report
February 29, 2020 • Westminster, MD
110 starters, 105 finishers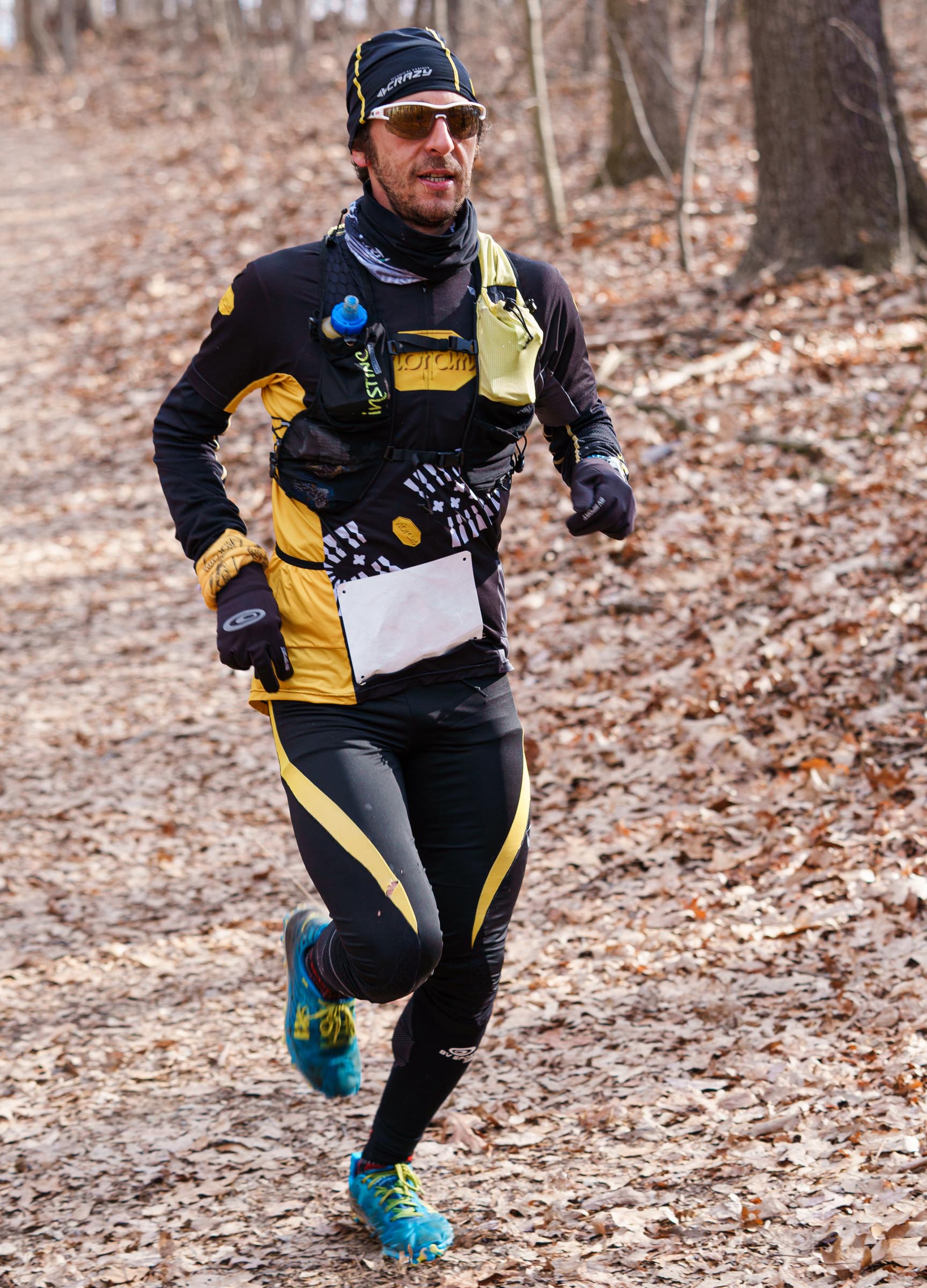 The Hashawha Hills 50 km Trail Run is well known as a great run. But it is more than that. It is never ending hills, and over-the-top course marking. It is The Famous Aid Station. It is the volunteers. It is variable late February weather that has given us ice, snow, thunder storms, sleet and cold wind. It is an incredible value. It is that fabulous finisher's mug. And it is mud.
But finally after 11 years of mud, Mother Nature upped her game and delivered a perfect day. Under mostly sunny skies and temperatures hovering in the upper twenties, the famous mud remained frozen while at the same time providing temperatures that allowed runners to enjoy this perfect day.
Runners took advantage of these perfect conditions right from the start. And the racing at the front was incredible. Right from the gun Stefano Ruzza and Paul Jacobs had the hammer down as they ran off the front battling for the lead. After an epic battle trading the lead back and forth uncountable times all day long, Stefano was in the lead at the finish, crossing the line in 3:47:21, a mere 20 seconds ahead of Paul. This back and forth battle produced the second and third fastest times ever run at Hashawha Hills.
Whereas the run for the women maybe wasn't as dramatic, it produced a great win for Kristen Serrafin. Course record holder Sheila Vibert was in 4th place overall at the half way point of the run, but in the second half Kristen moved up steadily and with 5 miles to go passed Sheila for the win crossing the line in 4:43:38.
Thanks to the all the runners who showed respect for our unique venue and supported all our volunteers.
The Hashawha Hills 50km Trail Run has a core group of friends who year after year come together, take ownership of our run, and make it the very special and successful event that it is. Without their passion for our run, Hashawha Hills would be just another run instead of the sparkling gem that it is.
This run produced a profit for the Virginia Happy Trails Running Club. Therefore, we're still not sure runners are getting their money's worth, and so we will stick with our tradition of lowering the entry fee every year as we attempt the impossible.
Please join us for the Twelfth anniversary running of the Hashawha Hills 50km Trail Run to be held on February 27, 2021. The entry fee will be a ludicrous $18.95.
Happy Trails!
Alan Gowen.
Run Director, Hashawha Hills 50km Trail Run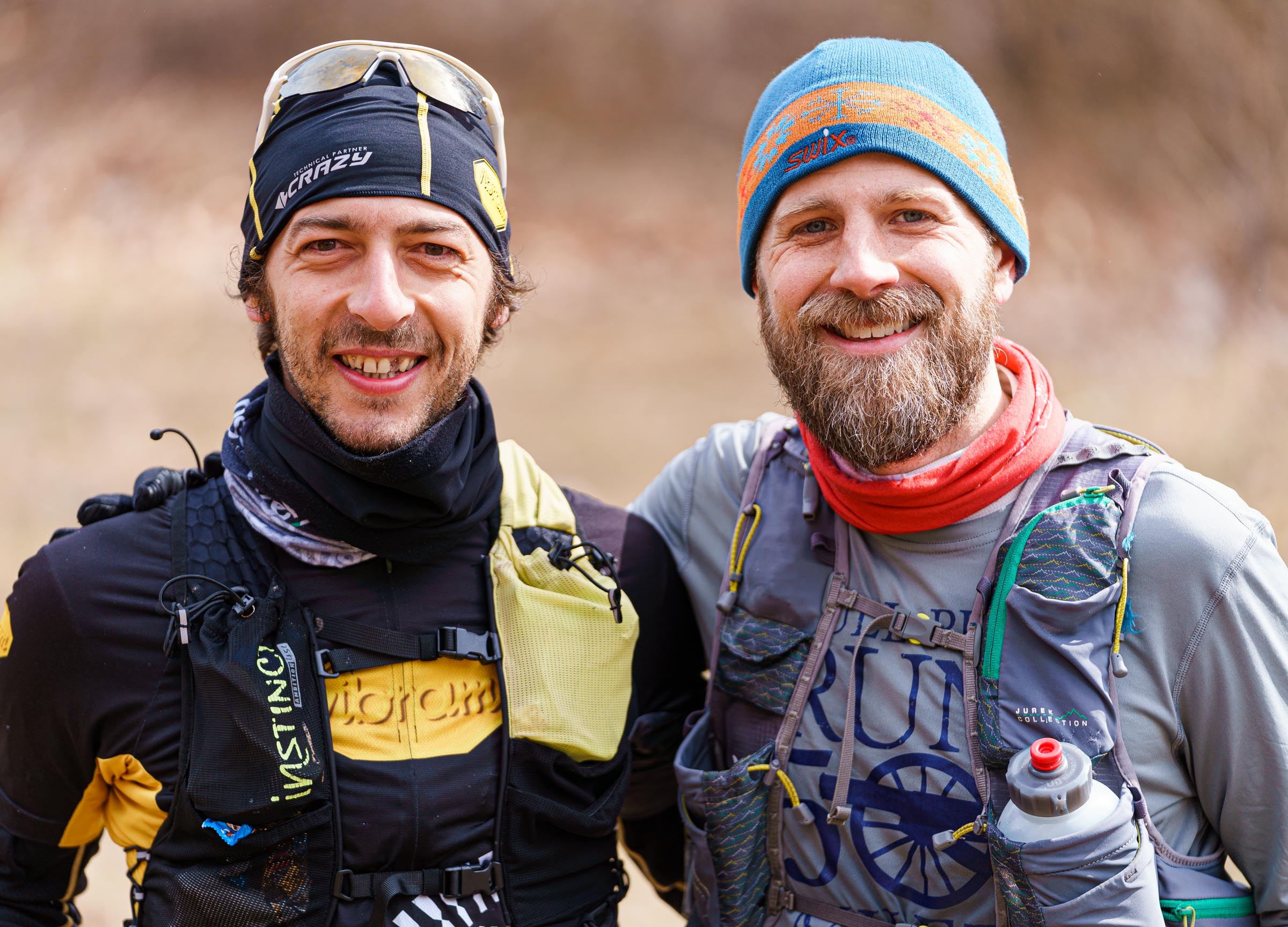 Results
| Place | Name | Age | Sex | Home | Time | Finishes |
| --- | --- | --- | --- | --- | --- | --- |
| 1 | Stefano Ruzza | 37 | M | Lutherville, MD | 3:47:21 | 1 |
| 2 | Paul Jacobs | 41 | M | Washington, DC | 3:47:43 | 1 |
| 3 | Aaron Schwartzbard | 42 | M | Washington, DC | 4:18:26 | 2 |
| 4 | Michael Myers | 33 | M | Washington, DC | 4:40:17 | 2 |
| 5 | Kristen Serafin | 31 | F | Rockville, MD | 4:43:38 | 1 |
| 6 | Sheila Vibert | 38 | F | Fairfax, VA | 4:45:59 | 6 |
| 7 | John Marciari | 48 | M | Baltimore, MD | 4:47:00 | 5 |
| 8 | Matthew Erb | 41 | M | Annandale, VA | 4:54:00 | 1 |
| 9 | Shannon Cebron | 28 | F | Baltimore, MD | 4:56:00 | 2 |
| 10 | Robert Bartholomew | 55 | M | Aberdeen, MD | 4:56:30 | 1 |
| 11 | Christopher Flint | 37 | M | Burke, VA | 5:00:36 | 3 |
| 12 | Elaine Griesbach | 49 | F | Mount Airy, MD | 5:01:49 | 1 |
| 13 | Sarah Mikalauskas | 40 | F | New Market, MD | 5:02:05 | 5 |
| 14 | Toby Ehrbaker | 45 | M | Bel Air, MD | 5:02:48 | 1 |
| 15 | Ted Murphy | 43 | M | Baltimore, MD | 5:11:47 | 2 |
| 16 | Barry Hauptman | 56 | M | Bethesda, MD | 5:13:46 | 3 |
| 17 | Hussein EzzEldin | 37 | M | Columbia, MD | 5:22:07 | 2 |
| 18 | Ali Mohammed | 40 | M | Hyattsville, MD | 5:22:32 | 1 |
| 19 | Matt Craig | 47 | M | Baltimore, MD | 5:24:30 | 5 |
| 20 | Thomas Kearns | 54 | M | Catonsville, MD | 5:24:57 | 1 |
| 21 | Jake Kruse | 39 | M | Glen Burnie, MD | 5:31:22 | 1 |
| 22 | Alla Kiyashko | 40 | F | Rockville, MD | 5:32:10 | 2 |
| 23 | Ryan Stuart | 46 | M | Alexandria, VA | 5:38:48 | 3 |
| 24 | Sarah Colwell | 31 | F | Westminster, MD | 5:40:36 | 1 |
| 25 | Pat Gilbert | 56 | M | Baltimore, MD | 5:41:49 | 7 |
| 26 | Eduardo Ugarte II | 51 | M | Springfield, VA | 5:42:01 | 1 |
| 27 | Robert Cawood | 51 | M | Annapolis, MD | 5:43:14 | 1 |
| 28 | Gary Wenczel | 41 | M | Conestoga, PA | 5:46:36 | 1 |
| 29 | Andrew Campbell | 35 | M | Fort Washington, MD | 5:50:48 | 1 |
| 30 | Paul Crickard | 66 | M | Columbia, MD | 5:52:04 | 7 |
| 31 | Peter Han | 43 | M | North Potomac, MD | 5:53:11 | 1 |
| 32 | Brenden Lingg | 36 | M | Westminster, MD | 5:53:47 | 4 |
| 33 | Allison Minehart | 32 | F | Richmond, VA | 5:55:53 | 1 |
| 34 | Larry Huffman | 59 | M | Great Falls, VA | 5:58:10 | 4 |
| 35 | Alex St. Clair | 44 | M | Alexandria, VA | 5:59:07 | 4 |
| 36 | Angelo Otterbein | 46 | M | Monkton, MD | 5:59:59 | 4 |
| 37 | Carey Ahr | 43 | M | Frederick, MD | 6:04:13 | 3 |
| 38 | Adeline Ntam | 40 | F | Silver Spring, MD | 6:05:49 | 3 |
| 39 | Sean Schmidt | 49 | M | Reisterstown, MD | 6:06:22 | 2 |
| 40 | Billy Clem | 50 | M | Frederick, MD | 6:08:53 | 3 |
| 41 | Ryan Schenning | 28 | M | Baltimore, MD | 6:11:19 | 1 |
| 42 | Allison Abbe | 44 | F | Boiling Springs, PA | 6:12:37 | 4 |
| 43 | Robert Kolb | 52 | M | Lorton, VA | 6:16:11 | 3 |
| 44 | Emily Clay | 30 | F | Baltimore, MD | 6:17:14 | 2 |
| 45 | Robert Kazmierski | 39 | M | Baltimore, MD | 6:19:55 | 2 |
| 46 | Eleonora Duregon | 33 | F | Lutherville-Timonium, MD | 6:20:44 | 2 |
| 47 | Marvin Leventer | 55 | M | Baltimore, MD | 6:21:45 | 1 |
| 48 | Kenneth Scerbo | 42 | M | West Point, NY | 6:22:20 | 2 |
| 49 | Jamie Greenawalt | 52 | F | Bedford, PA | 6:26:44 | 6 |
| 50 | Christian Stanton | 46 | M | Fredericksburg, VA | 6:26:45 | 2 |
| 51 | Brian Chiles | 46 | M | Woodbridge, VA | 6:28:51 | 2 |
| 52 | Nathaniel Corn | 40 | M | Catonsville, MD | 6:30:32 | 3 |
| 53 | Shelly Cable | 50 | F | Bedford, PA | 6:32:07 | 8 |
| 54 | Rachel Temple | 42 | F | Alexandria, VA | 6:32:32 | 2 |
| 55 | Jason Lawrence | 42 | M | Thurmont, MD | 6:33:49 | 1 |
| 56 | Michael Bottos | 59 | M | Ashburn, VA | 6:37:19 | 1 |
| 57 | Michael Hardman | 29 | M | Fayetteville, NC | 6:41:45 | 1 |
| 58 | JoAnne Smart | 43 | F | Charlottesville, VA | 6:41:51 | 2 |
| 59 | Gary Nelson | 39 | M | Huntingtown, MD | 6:42:43 | 1 |
| 60 | Brett Martin | 39 | M | Arlington, VA | 6:43:37 | 3 |
| 61 | Frank Middleton | 42 | M | Westminster, MD | 6:47:09 | 1 |
| 62 | Chris Beers-Arthur | 51 | M | Frederick, MD | 6:48:19 | 3 |
| 63 | Crista Horn | 48 | F | Frederick, MD | 6:48:22 | 1 |
| 64 | Brian Hapeman | 47 | M | Charlottesville, VA | 6:51:06 | 2 |
| 65 | Julie Kimmel | 39 | F | Reston, VA | 6:53:00 | 1 |
| 66 | Kerry Shepherd | 52 | F | Frederick, MD | 6:53:27 | 1 |
| 67 | Kibby Powell | 50 | F | Middletown, MD | 6:53:27 | 2 |
| 68 | Andrew Carta | 35 | M | Crofton, MD | 6:55:29 | 4 |
| 69 | Cassandra Lizza | 39 | F | Lancaster, PA | 6:56:13 | 3 |
| 70 | Meranda Pierce | 45 | F | Mount Joy, PA | 6:56:13 | 5 |
| 71 | Stephen Wancowicz | 48 | M | Baltimore, MD | 6:57:16 | 1 |
| 72 | Jon Jester | 60 | M | Mechanicsville, VA | 6:57:52 | 3 |
| 73 | Stephanie Fonda | 52 | F | Kensington, MD | 6:57:52 | 2 |
| 74 | Alberto Vazquez | 50 | M | Lutherville, MD | 6:59:25 | 4 |
| 75 | Chris White | 51 | M | Glen Allen, VA | 7:01:32 | 1 |
| 76 | Alyce Graham Stiles | 37 | F | Wilmington, DE | 7:02:37 | 2 |
| 77 | Paul Sherlock | 63 | F | Arlington, VA | 7:03:26 | 6 |
| 78 | Robert Grolemund | 51 | M | Ashburn, VA | 7:05:37 | 2 |
| 79 | Tracey Thibodeau | 49 | F | Stafford, VA | 7:05:39 | 2 |
| 80 | Gary Maier | 67 | M | Wallkill, NY | 7:10:00 | 3 |
| 81 | Carole Williamson | 58 | F | Eldersburg, MD | 7:11:20 | 10 |
| 82 | Michael Jury | 44 | M | Springfield, VA | 7:13:32 | 2 |
| 83 | Elaina Stanton | 49 | F | Fredericksburg, VA | 7:16:25 | 2 |
| 84 | Starla Snyder | 57 | F | East Freedom, PA | 7:17:19 | 3 |
| 85 | Samirah Abdul-Fattah | 62 | F | Holland, PA | 7:17:24 | 1 |
| 86 | Alan Lagon | 50 | M | Baltimore, MD | 7:25:45 | 10 |
| 87 | Andy Dodge | 57 | M | Westminster, MD | 7:27:48 | 1 |
| 88 | Steve Coco | 49 | M | Westminster, MD | 7:27:51 | 5 |
| 89 | Chris Coder | 38 | M | Westminster, MD | 7:27:52 | 6 |
| 90 | Adam Renninger | 39 | M | Westminster, MD | 7:27:53 | 4 |
| 91 | Meghan Curley | 38 | F | Annapolis, MD | 7:33:50 | 2 |
| 92 | Brigitte Sheehan | 59 | F | Newark, DE | 7:34:00 | 4 |
| 93 | Dipak Bhattacharyya | 56 | M | Fairfax, VA | 7:34:29 | 2 |
| 94 | Angela Hayes | 50 | F | Odenton, MD | 7:50:51 | 1 |
| 95 | Rachel Rosenblatt | 50 | F | Pikesville, MD | 7:50:54 | 1 |
| 96 | Christine Schauerman | 54 | F | Ellicott City, MD | 7:56:38 | 3 |
| 97 | Faye Weaver | 46 | F | Ellicott City, MD | 7:56:40 | 2 |
| 98 | Frank Volny | 41 | M | Columbia, MD | 7:56:44 | 3 |
| 99 | Joe Hanle | 62 | M | Germantown, MD | 7:57:25 | 4 |
| 100 | Jeffrey Klemm | 69 | M | McLean, VA | 7:58:57 | 3 |
| 101 | Jenni Norris | 49 | F | Alexandria, VA | 8:03:04 | 1 |
| 102 | Genice Rill | 46 | F | Finkaburg, MD | 8:04:01 | 3 |
| 103 | Roxanna Strine | 65 | F | York, PA | 8:35:31 | 1 |
| 104 | Scott Lemmon | 50 | M | Mount Holly Springs, PA | 8:42:25 | 2 |
| 105 | Larry Thibodeau | 51 | M | Stafford, VA | 8:45:46 | 1 |
Last updated March 1, 2020