Vicki's Death March 2009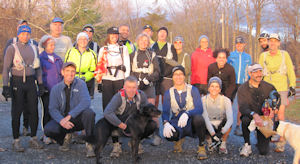 We had 27 participants in this year's version of Vicki's Death March. This was a very nice turnout for the first Friday edition of the run. In years past, the VDM has generally been on a Thanksgiving weekend Saturday or Sunday. Looks like there are enough club members more interested in the mountain trails than in participating in the "Black Friday" sales at the malls to continue the Friday date in the years to come.
Pictures have been posted - Doug Sullivan | Anstr Davidson
Despite some interesting weather developments, looked like just about all the runners got in the miles they wanted, and enjoyed some of the more scenic sections of the Shenandoah National Park. The weather guessers were a bit off the mark, as the light snow and sleet were unexpected - too bad they weren't wrong about the strong winds, which fortunately were shielded from the runners by the topography much of the day.
Many thanks to the "group leaders" that emerged on the trails yesterday. Since Vicki's Death March is just a fun run and not a race, it was good to see those who knew the course shepherding their respective flocks of newbies around the course, and seeing to it that no one got too terribly lost.
The bulk of the runners were able to summon up the energy to stop in Flint Hill and the Griffin Tavern after the run for a late lunch. We spent almost as much time rehydrating there as we had on the trails, which seems to be the norm for a VHTRC event.
Big thanks to Vicki Kendall for continuing to be the title sponsor of this wonderful run, and for being an inspiration to us all. Thanks also to Holly Franz for her help "topside" on the windy Skyline Drive, and to Jo Lockner for the donation of the peanut butter cup cookies, which were the clear highlight of the run for many, based on the enthusiastic reception they received at the roving aid Q-baru.