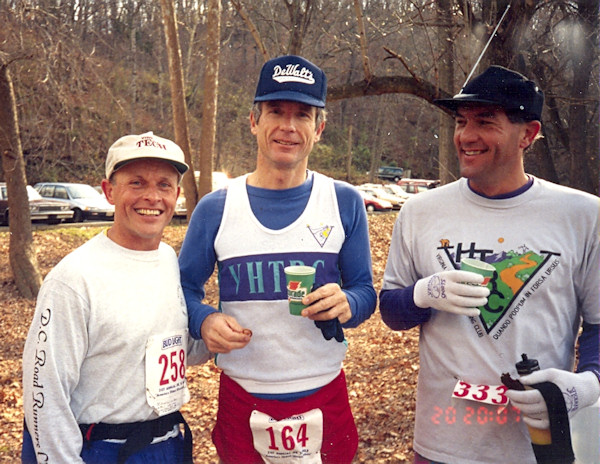 Reflections on Chris Scott
Three members of the VHTRC from 1993 (at JFK) and 2017 (at BRR), a span one year shy of a quarter-century. These guys each have left an indelible mark on our club and the VHTRC is immeasurably better off because of their influence. Sadly Chris Scott, the good-looking one on the right, passed away Sunday after a year-long battle with pancreatic cancer. He was 74, although he never looked (or acted) his age.
"President for Life" Chris was there at the beginning of the VHTRC just over 30 years ago. Chris was the idea guy. The spark. The club name, motto, the original logo, our signature events, all bear Chris's signature touch. He was the first director of Bull Run Run and the creator of the Women's Half Marathon.
21 years ago this month, Chris and Anstr became the first people to circumnavigate the newly completed Massanutten Trail (which the VHTRC also had a hand in creating), and subsequently became the first directors of a new event they called The Ring (named, in part, after a certain popular movie at that time) in September, 2002.
Chris's influence extended far beyond the VHTRC. In the early 2000s he directed the Coyote Fourplay, a four-day running festival across the hills of Ventura County overlooking the Pacific Ocean of Southern California. This event brought together a veritable "who's who" of ultrarunners in those days, including champion runners, Scott Jurek, Krissy Moehl, David Horton, Blake Wood, and Sue Johnston. Ventura is also the home of Patagonia, and Chris was a singular influence in bringing Patagonia into the ultrarunning sphere. Chris's events were famous for crazy antics and very good SWAG.
Without Chris there would be no VHTRC. We owe many people gratitude for where we are today, but it was Chris's goofball enthusiasm that was the genesis of our running club.
Happy trails to you, Chris, until we meet again.