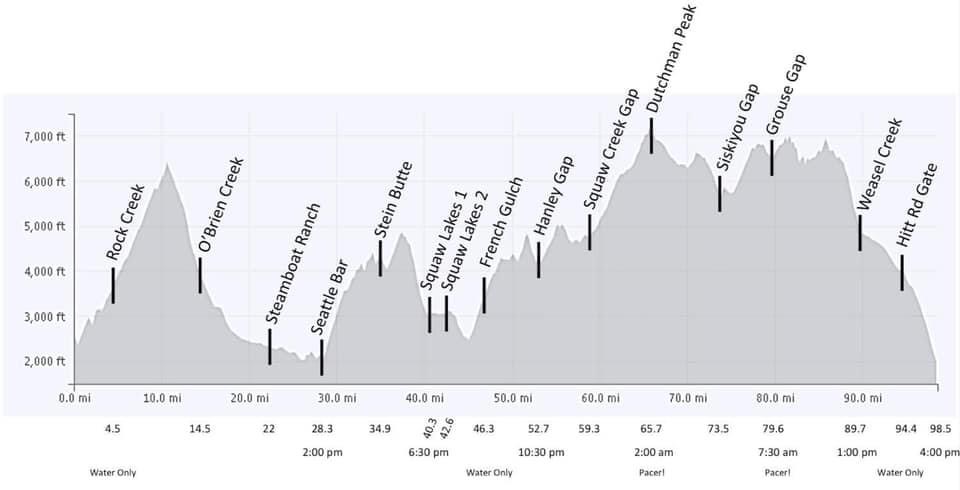 Pine to Palm 100 Race Report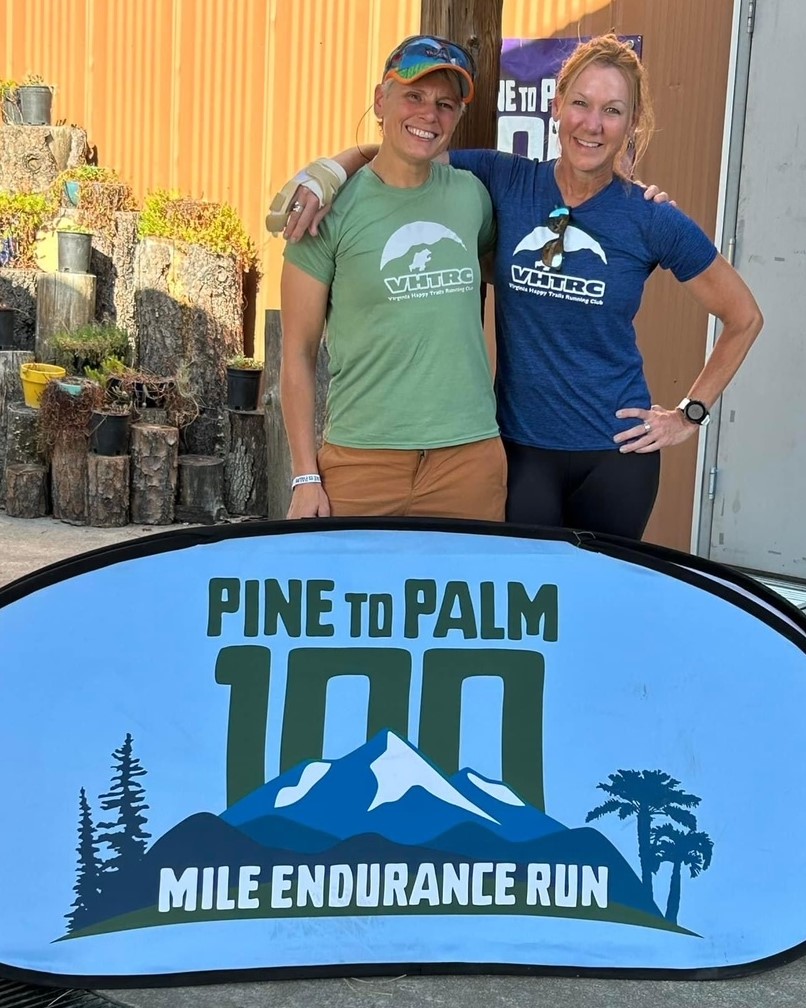 "Has anyone seen a course marker recently…?" Not what you want to hear the first 10-14 miles into a 100 mile race (or anytime, really). But let's back up and start from the beginning.
For the last several years, I have been running a destination 100 out West. I love the destination races because they are always full of unknowns and adventure. When researching races for 2023 I came across Pine-to-Palm. I messaged a friend who had run it several years ago and asked him how he would compare it to Cascade Crest (which I ran in 2021 and so far, is my all-time favorite 100 course). He recommended the race and said they were comparable. I talked to my coach, Karl Meltzer, who has been coaching me for the past 6+ years. He said it should be a good race for me - not too much altitude, but plenty of elevation! In fact, he said he might sign up too! And so, I signed up for P2P. My good friend and designated destination race crew/pacer, Scott was all in, as well as my friend Karen Wille. She said she used to live in the area and would love to come out and help crew/pace!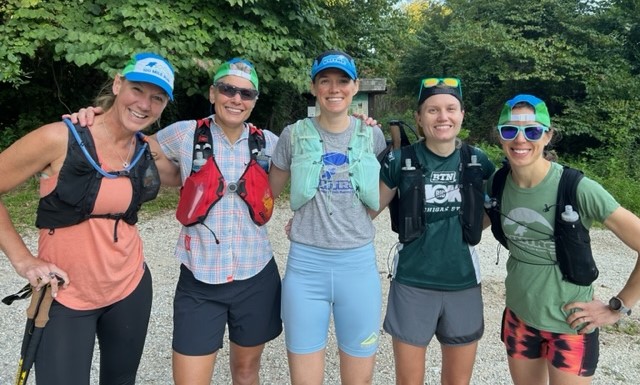 Training had gone well. I ran MMT 100 in May with a new PR of 31:18. This was with only six weeks of training after returning from my seasonal job in Alaska, where I am not able to run or train all winter. I told my coach that maybe I should do more crash courses in training! After taking a month off in June while recovering and vacationing in Africa (where I was committed to only running if it were from a lion), I resumed training for P2P.
Something about race week always seems to curse me with additional stress. The only difference this year, was that some glitches started a few weeks out. My Crew Chief Scott got deployed with FEMA and was not going to be able to make it. Karen managed to break her pinkie in THREE places a couple weeks before the race and was now my sole crew. Then, two days before flying to Oregon, my daughter called me at 1:00 AM and told me she hit a deer on her way home from the airport and needed me to come get her. I asked her if she was alright and where she was. She said she was a little banged up but otherwise ok, and somewhere near Sperryville, VA. The air bags deployed, and her car was totaled (but she gets to brag to her dad and brother that she got the first deer of the season).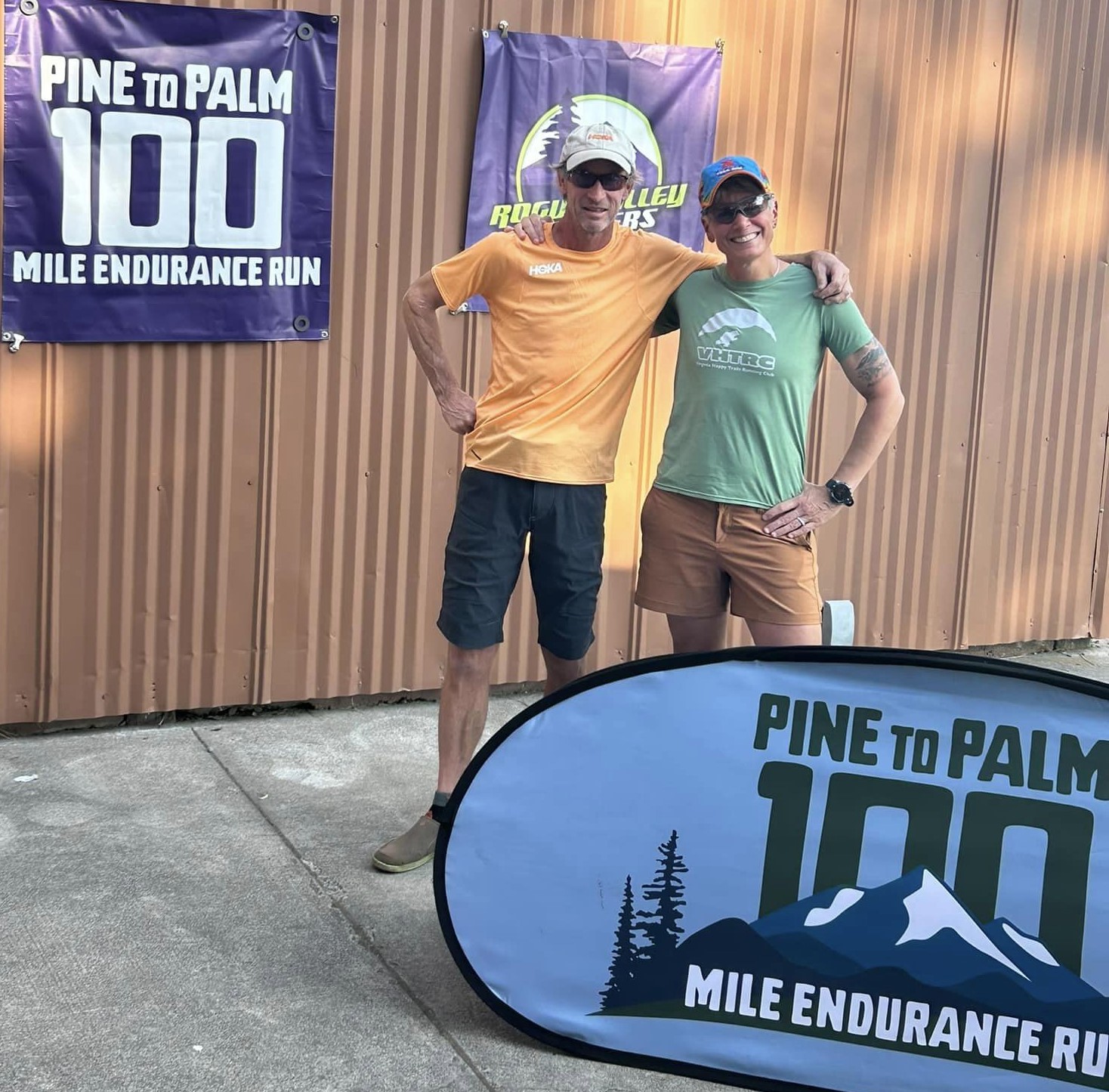 There were also some doubts leading up to race week whether it would even happen due to the wildfires and air quality. There was no communication from the RD until late the weekend before the race – but the race was on!
Thursday before the race, my husband dropped me off at the airport and Karen and I flew to Medford, Oregon. We arrived in Medford and headed to our lovely Air B&B. Since I had rented a 3-bedroom place and it was only the two of us now, I had invited my coach and his wife to stay with us, arriving the following day. Karen and I grabbed a few groceries and then checked out Trip Advisor for a local seafood place for dinner. We enjoyed the absolute best calamari and halibut fish-and-chips (outside of Alaska, of course).
Friday morning, I tried to sleep in, but was wide awake on East coast time, by 0500. Karen slept in. We then cooked up an amazing breakfast together and waited for Karl and his wife to arrive. That afternoon we had serious recon plans of the finish area, as well as heading to Pacifica Gardens, where packet pickup would be held, and the start location 10 miles further away. We wanted to know exactly where to go at 0430 the next morning… in the dark and on very remote back road.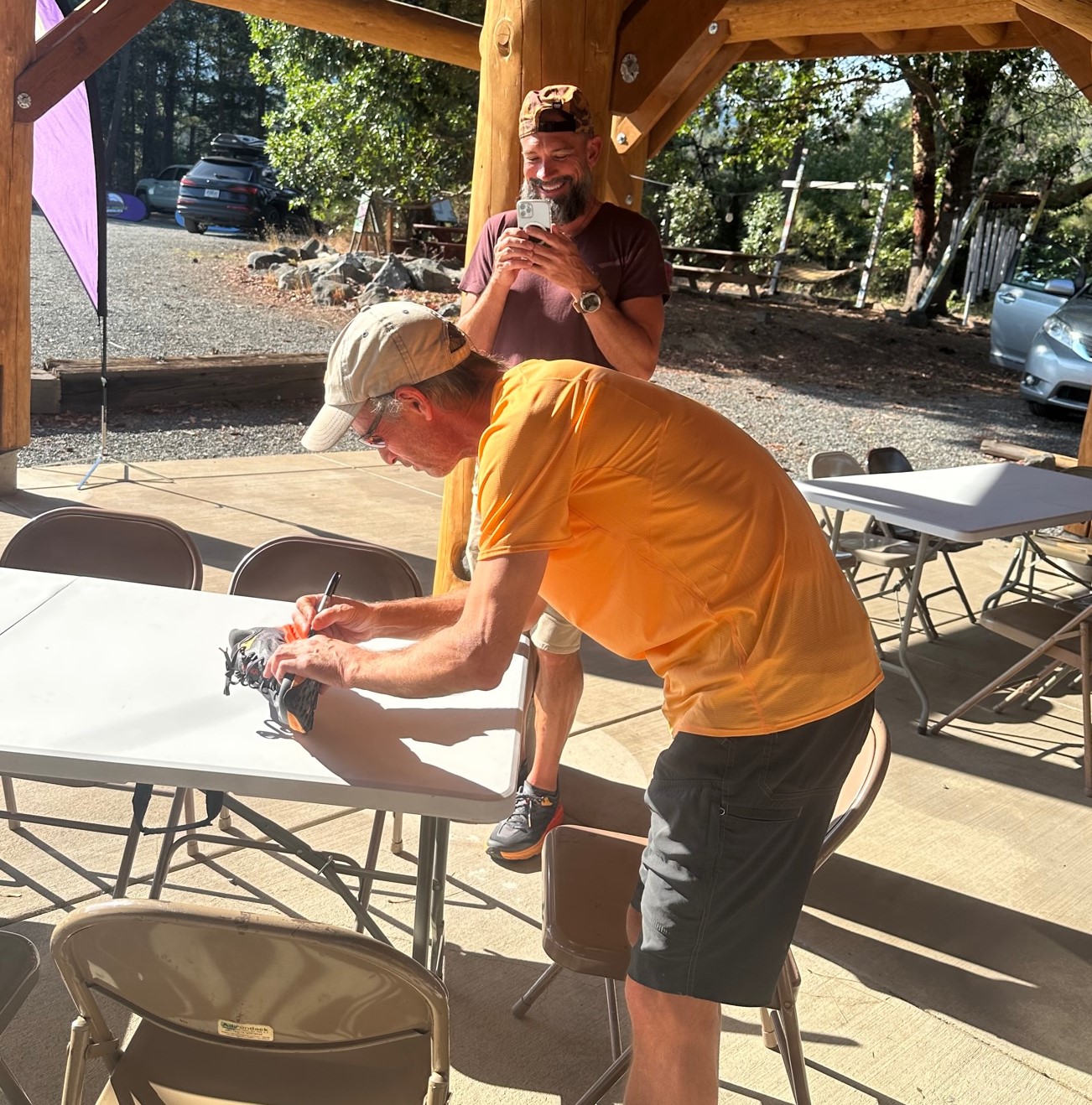 We arrived at Pacifica Gardens and left our drop bags and picked up our race swag. Karl got snagged to autograph a pair of his trademark Hoka Speed Goats for display in the RD's local running store.
Admittedly, one of my biggest concerns was getting lost. Most races are typically well-marked, but I had read other P2P race reports that it was easy to get lost. Typically, I will download the GPX course to an app for easy referral, even when there is no cell-service. Unfortunately, there was no GPX file for this course, other than a Strava link, which I was unable to use. At packet pick-up I told Hal (the RD) that we were not going to hang around for the pre-race brief, but if he could share any quick tips about the course I should know, I would appreciate it. He said "no, the course is easy and well-marked – you never go more than a 1/3 of a mile without seeing a ribbon." Easy enough…..
We left Pacifica Gardens and headed to the start area for a quick recon, and then to dinner in Jacksonville, OR. It was a very small and quaint town with almost no cell service. I walked into the local tavern and asked where we could get the best burger in town. Without hesitation, the bar tender quickly responded, "Back Porch Bar & Grill, just a couple blocks from here.". Off we went for burgers and beer (cider for me, I don't care for beer).
We headed to bed early that night, but as usual, I didn't sleep well the night before the race. But I did awake to my alarm, so I must have slept some.
It was about a 50 min drive to the start. We arrived in plenty of time to pick up my bib (not provided at packet pick-up) and be one of the first to use the "fresh" porta potty – you have to take the small victories where you find them during tough races. Finally, it was time - Hal counted down the start and we were off to the proverbial races.
Start (mile 0) to Seattle Bar Aid Station (mile 28)
I started near the back-of-the-pack and followed the leaders on a fire road that mostly ascended. I mixed it up with running and power hiking, depending on the grade, just as most other runners did. I reached the top of the hill where Hal was waiting in his truck with water. This was our first aid-station of the day and seemed to come much earlier than I expected. We then veered right to hit single track trail.
We all had headlamps and the sun was rising, but the trees were still too dense to allow much light in. I tried to focus on finding flags, but it was so natural and easier to follow the runners in front of you. Finally, after a good solid period of hiking up hill (approximately 10 miles into the race), I noticed that we had not seen a flag in quite a while - certainly more than a 1/3 mile. I was in a conga line with at least 10 other runners when I finally asked, "Has anyone seen a flag recently?" I received a lot of "Nope" and "Uhhh's…" in return. Then, right when I was starting to doubt we were still on course, a dozen or so runners were headed back towards us, as we were approaching an intersecting trail on the left. There were absolutely no flags to indicate the left turn, and all the leaders ran right by it. There was, however, a flag after you made the left turn approximately 25 yards up the trail. WTF – where's the flag? Who marked this trail? This scenario repeated itself twice more over the next 5-8 miles. Had I not come up on the turn just as I saw other leaders coming back towards me, I would have made the same mistake. Flags were periodically scattered between 1/3 mile to over a mile- and my confidence to not get lost was fading.
I tried to just focus on the positive and was grateful that I was with a bunch of other runners. I knew I would be topping Greyback Mountain soon and excited for the view…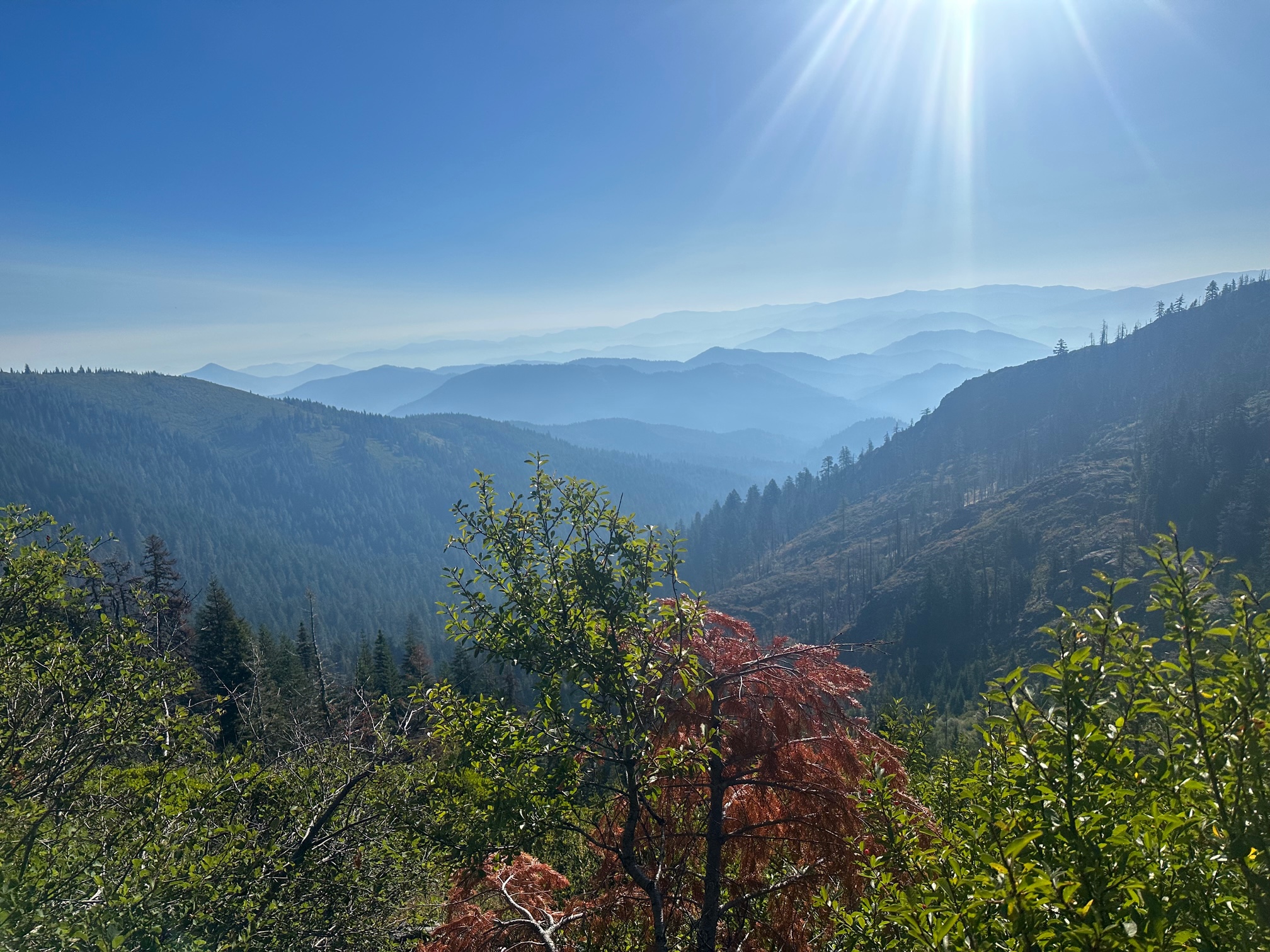 Greyback Mountain
I entered O'Brien Aid-Station (mile 14.5) where I had a drop-bag filled with baggies of Hyle Hydration – my primary source of nutrition. This is the third 100-mile race that I used Hyle Hydration. I found that I cannot eat solid foods during a race, the Hyle and an occasional Spring Energy Gel is pretty much all I eat. I found my drop bag and while filling my bottles overheard some chatter about Karl Meltzer and a few other leaders had run 7 miles off course and are actually behind us. WHAT?? While I felt badly my coach was one of the runners that got lost, I also had to chuckle to myself, because just the night before he was talking to me about staying on course and being extra cautious, don't go too far without seeing a marker… All I could think was SEVEN MILES??
The next 14 miles to Seattle Bar Aid-Station (mile 28.5) was mostly on a fire road and a few miles of pavement. While I did not care much for the fire road, I was able to move quickly and make up some time. I did wonder how this would affect me later though, since my training was primarily mountain miles, consisting of more hiking than running. About a mile on the hot paved road, I came to an intersection where a sign was posted "Caution - Runners on Road". I stopped and looked around for a marker. Across the street, I finally identified a small blue and white marker and continued. I ran at least another mile without seeing any more markers, my confidence fading. I finally stopped and looked at my watch, looked behind me for other runners, and saw someone quickly approaching me. I also faintly heard voices and cheering in the distance and figured I must be going the right way. The runner behind me quickly caught up and sped by. I said, "Great job, looks like you really got your second wind." He responded "I was hoping to be up with the leaders right now, but went 7 miles off course. Karl Meltzer was with me, and he is NOT happy."
I ran into the Seattle Bar and quickly saw Cheryl (Karl's wife) and Karen. I yelled to Cheryl "Be sure to tell Karl I beat him in the 50K!" She chuckled and said she would. I was feeling pretty good and asked how many miles before I will see you again? They both told me in 8.5 miles. I said great, then I should need about 3 hrs worth of powder (Hyle Hydration). I also carry an emergency pack in my pack. Each baggie of powder I carry is one hour's worth of nutrition for me.
I was in and out quickly and saw Karl entering the aid-station just as I was leaving. It was a big 6-mile climb leaving Seattle Bar and it only took Karl a few miles to catch me. When he approached, I stepped aside and as he passed, he wrapped his arm around my shoulder and said, "what did I tell you about paying attention on the course?" We both chuckled and continued. I kept up with him for a mile or so, which gave us some time to chat. He commented that I was climbing well. I looked at my watch and it showed I was doing a 19–20-minute mile. Karl said, "yeah, well this is a steep climb." As soon as we got to a short runnable section, Karl was gone.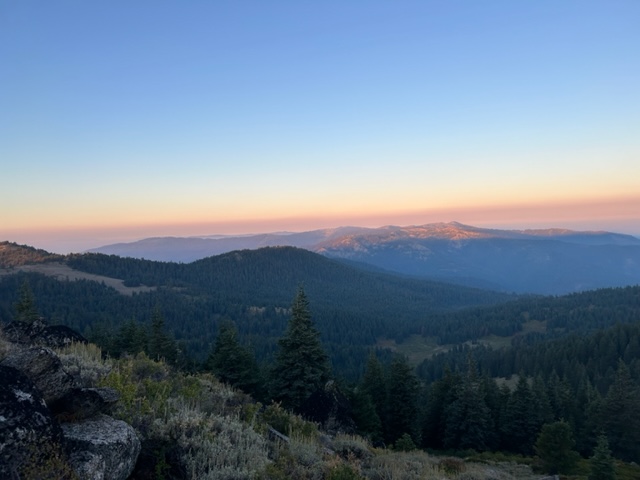 As I continued to climb, I suddenly noticed I was excessively sticky. My hands, my shorts, my leg, my pack. I reached behind my back and felt my shirt, which felt like it was melted from a hot iron or something. I could not figure out what was going on. Then it hit me… my emergency baggie of powder must have broken and leaked out (don't tell Bob though, because he warned me to double bag the powder for this exact reason). My sweat activated the powder and made a sticky mess – it was everywhere! When I reached the next aid station, I assumed I was going to see my crew. Nope…. they were invisible as the course flags. This was Elliot Ridge (mile 35) - another 6.6 miles before I would see Karen. Crap… I do not have enough powder with me for 2 more hours – well, I DO have enough, it's just all over me in a sticky, useless paste. One of the awesome volunteers saw my shirt and shorts and asked me if that was all sweat. I explained to him what happened, and he immediately took me aside and squeezed a cold sponge all over me and my shirt to help wash it off. I was still a sticky mess, but it was a marked improvement. The cold water also felt good, because it was getting quite warm. I was out of powder and had one spring energy gel to get me through another 6.6 mountain miles. I decided to give the race sponsor electrolyte (Skratch) a try, since I really had no choice. I didn't care for the taste but tried to sip on it. Halfway to Acorn Woman Lakes (mile 41), where I would finally see Karen, I started to feel nauseated. She thought I had a drop bag at this aid-station, but I said, no not this one. I told her we have a bit of a problem and I need my powder. She wanted me to go run the 2.5-mile loop around the lake and then by the time I got back she would have all my stuff ready to go. I said no, I needed a bottle now to take with me on that loop. She quickly found me a seat and said wait here and I will run up to the car (apparently not close by) and get your stuff. Some nice folks that were waiting for their runner offered me a chair and tried to get me to drink some of their juice. I kindly declined because I knew I would just puke it up. I waited a few minutes for Karen and then started getting anxious, so I stood up and stretched a little. As soon as she came back, I took off around the lake and started sipping on my bottle. I puked a several times, but was able to continue drinking and running. By the time I got back to the aid-station, I was feeling a little better. Karen topped me off with supplies, and I was off again.
Hanely Gap (mile 52) to Dutchman (mile 66)
I was leapfrogging with a few runners, but mostly running alone for a while now. When I came into Hanley Gap Aid-Station (mile 52) I was so excited to see Karen. She set up a crew spot for me but told me I had to first climb up Squaw Peak to get a pin flag and bring it back down. I said OK, but when I return, I would really love my Polar Spring Bubbly water. The sun was just starting to set, and it was about a mile climb up a fire road. I power-hiked as quickly as I could, so that I could be at the top to see sunset. I almost made it, but the view was still incredible.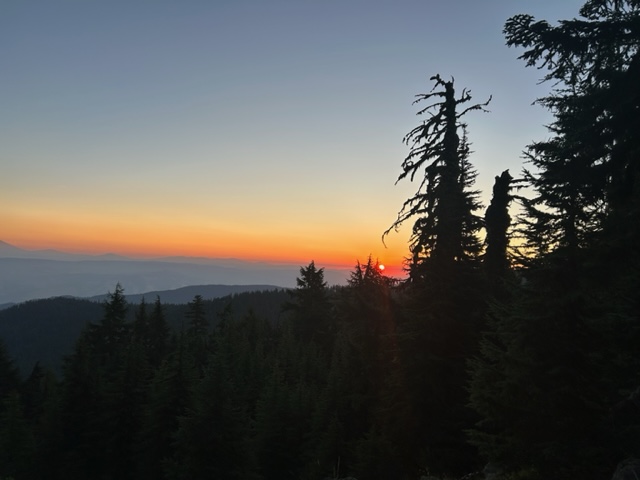 When I got back to the bottom, Karen cheered me on and whisked me to the side where she had my stuff all ready and waiting. She found me a chair and sat me behind a volunteer van where I could change my debris filled shoes, shirt, and sport bra, guzzle my bubbly water, and head back out into the cooler night air, a much welcomed change. She also gave me my waist lamp and fully charged extra battery. She walked me out of the of the aid-station, but not before I puked up the bubbly water I just drank. The next time I would see her would be Dutchman Peak (mile 66).
It was a beautiful night, and I was still moving well; leapfrogging with a few folks, but mostly by myself. This is the first 100 that I was running without a pacer (aside from Karen jumping in a couple miles here and there while still doing a fabulous job crewing me). It seemed like an awful long stretch to Dutchman, and it was. The climb was relentless, and it was the same fire road that all the crew cars used, so the dust was awful. The climb seemed endless… at one point you can see the aid-station lights – even though they are in sight, I still had a long way to go – a cruel optical illusion. As I finally got closer, I could hear the music and see the aid-station – waaayyy up top, on a mountain. I knew this was an out and back to the aid-station, but I was under the impression that crew was allowed to crew us from the bottom before and after climbing the out and back up to Dutchman. This was not the case. At the bottom, Dutchman was a 5-way intersection and the course markings were scarce to nonexistent – at least they get credit for consistency. I climbed up to Dutchman aid-station, checked in, refilled my bottles, and asked where do I go when I get back to the bottom. The volunteer said just go straight across and follow the markers. I was not so convinced it would be that simple, and I was right. I wish I had a picture of the markers (or lack of) to share. At the bottom where the 5-way was, there was an arrow pointing to the woods saying up the hill to Dutchman. I thought, why does the arrow not point up the hill then? I continued straight across the intersection as the volunteer explained, hoping I took the correct road (there were three roads). I ran approximately ¾ mile without seeing a single marker and started doubting that I was on trail, so I turned around. As I approached the intersection again, a woman came up from behind me. I asked her if she was a volunteer because she wasn't wearing a bib. She said yes and asked if I had been up top to Dutchman yet. I said yes, but I cannot find the trail to my crew. She pointed back the way I just came from and said the crew station is about 2 miles down the road. I was so frustrated and asked her why aren't there any markers? She apologized (annoyingly, as if it was not the first time she had been asked that). I told myself to just keep moving and not let it get to me.
I continued and found Karen waiting for me and we ran about a ½ mile back to the car together. I told her I was starting to chafe and needed some more lube. She gave me a lidocaine roller and told me to squeeze it onto my hand and rub it on the chaffed area. As soon as I rubbed that between my ass cheeks I started jumping up and down yelling "It Burns, It Burns" and instantly had a vision of Smeagol, in Lord of the Rings. Karen looked at me with rolling eyes and said it will go away. Then she asked me where exactly did I apply that? I said where I was chafed, my ass and whoo-whoo. She laughed and told me "I thought your inner thighs were chafed; you're not supposed to put it there!"
I danced around another 30 seconds or so until the pain faded. We are still laughing over that! We refilled and started heading down the trail. Karen was going to run a couple miles with me before turning around. As soon as I started running though, I had to pull over and puke. Karen couldn't resist a perfect photo…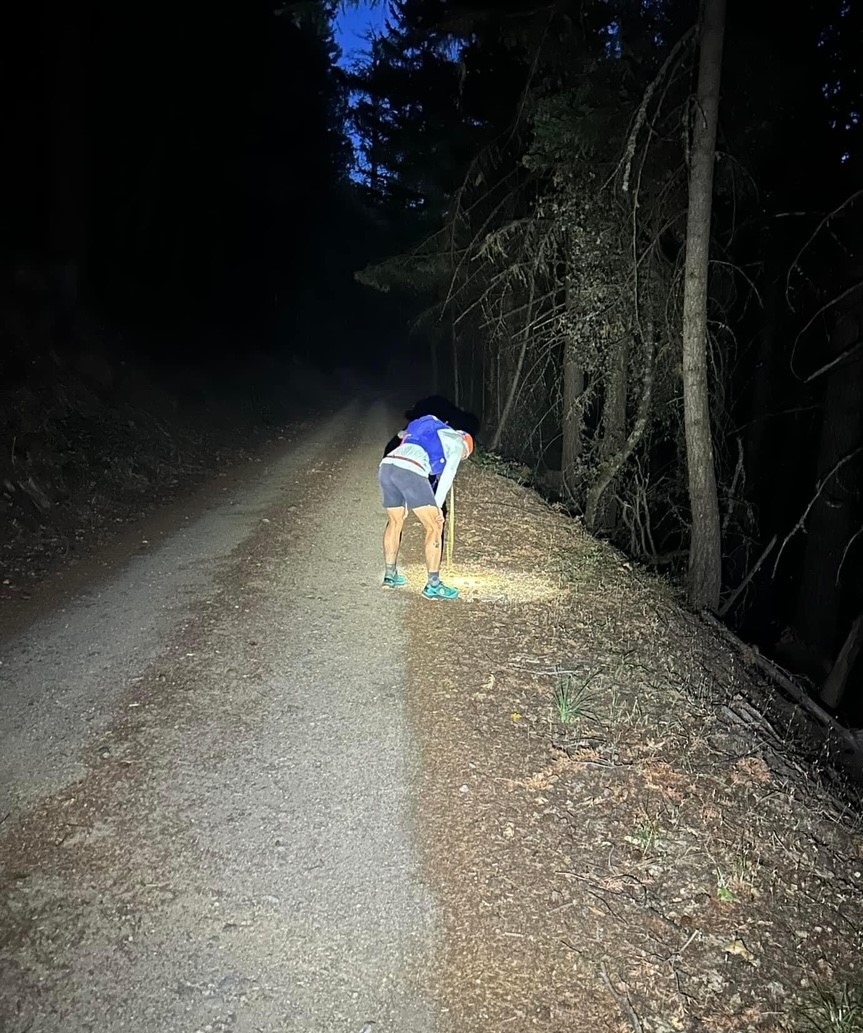 Dutchman (mile 66) to Grouse (mile 80)
Karen escorted me to where the trail veers off to connect to the PCT. I hugged her goodbye and said see ya at Grouse. The next 5-6 miles had minimal climbs, but the trail was rocky and technical. We were also told the PCT would be minimally marked. Once I got to Siskiyou Gap aid-station (mile73.5) the trail climbed about 1000' but it was a really nice trail.
As I arrived at Grouse, I was so happy to see Karen waiting for me. Karen had all the things I needed, and I was in and out quickly. Our original plan was for her to try and get a ride from the finish and pace me the last 20 miles, but she decided to crew me from Grouse and then run with me for several miles to the out and back, where I again would have to grab a pin flag and return to the aid-station with it. She ran about 4 miles with me and we decided she better turn around or she would miss me at the next aid-station. Shortly after she turned back, I found the 4-mile out-and-back. I had to conquer Wagner Butte, the last major climb in the race. An "easy" 7000' climb to the top of the butte, where I had to grab a flag, and then descend 7000' to the bottom on steep, rocky scrambles and switchbacks. Holy Moly, that was rough!! The climb to get the flag was legit rock climbing and bouldering, and the return was downright scary, more so on legs with 86+ miles on them. The view at the top was absolutely amazing though. I wish I had my phone with me.
As I descended, I was met by other runners behind me. I took note of at least three other females and my competitive spirit kicked in. I hustled as best I could. The switchbacks were relentless, but I continued to shuffle down this technical trail.
Weasel Creak (mile 90) to the Finish
I finally got to mile 90, the last full aid-station. For some reason, I thought Karen would meet me there, but we both misread that (or, she just weaseled out of it). No biggie, I filled my bottles, and quickly dumped the rocks and debris from my shoes. I asked the volunteer what was next, and he said mostly fire road downhill to the finish. As I was leaving the aid-station, the two girls that I had been leapfrogging with all night entered Weasel Creek. I saw them and quickly started moving. I was moving swiftly, but also had to pee about every mile - ridiculous, but totally normal for me drinking 15oz per hour. I kept looking behind me and checking my watch. The miles just kept counting down. About 4 miles from the finish a couple people started cheering me on, Go Deb! I had no clue who they were, but they continued to cheer and said Karen was waiting for me. I picked up the speed (at least I thought I did, but my watch didn't show that – I need to get that checked). Finally, I saw Karen in the distance and she started cheering. I reached her and she was soooo excited and yelled "you are in second place overall female!" I said WHAT?!?!?! I had NO IDEA!!
We ran tighter as fast as I could go – which felt like I was flying down the hill, but in reality, it was maybe a 12-minute mile pace. We hit the hot paved road and I asked Karen if she saw anyone behind us and she said no, home free at the bottom of this hill and around the corner to the finish line. As we rounded the corner, I saw the finish line and my coach waiting for me. I gave him a sweet high five and crossed the finish line with a giant fist punch to the sky… looked at my watch with wide eyes…28:55 – a PR by several hours and second place female!! Sadly, the RD was nowhere to be found to congratulate me or present me my belt buckle.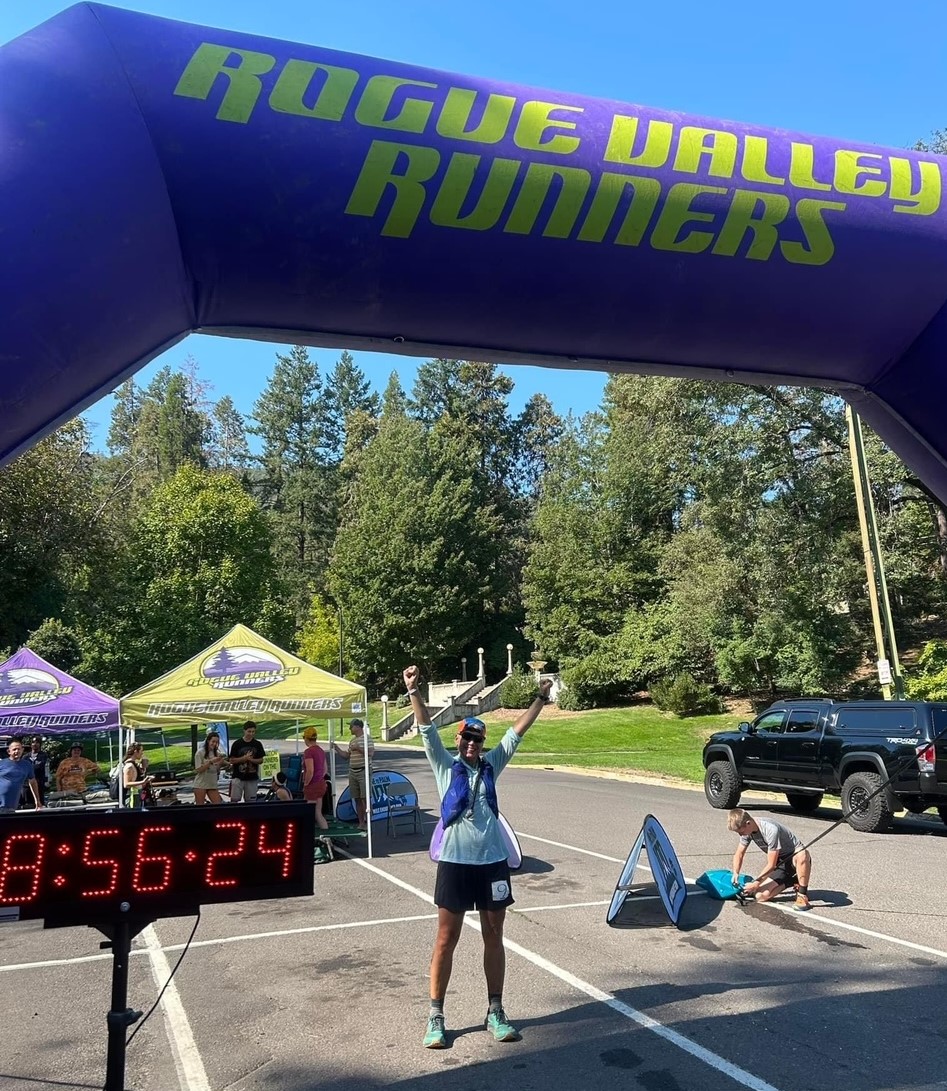 To my solo crewman, Karen, thank you. You did an amazing job single-handedly, crewing and pacing periodically in what turned into another amazing adventure. I am forever grateful for all that you sacrificed to help me cross that finish line.
Thanks to my coach (and his wonderful wife Cheryl) for your continued support, belief in me, and never-ending tips and advice. Hope we get to run another ultra together- that was especially fun!
Thank you to all my VHTRC friends who have shared some miles with me. And of course, thank you to my wonderful husband for all his support and encouragement.
Finally, Thank-You to all the amazing Volunteers at Pine2 Palm!!
Happy Trails – Deb
[2023 Pine to Palm Results]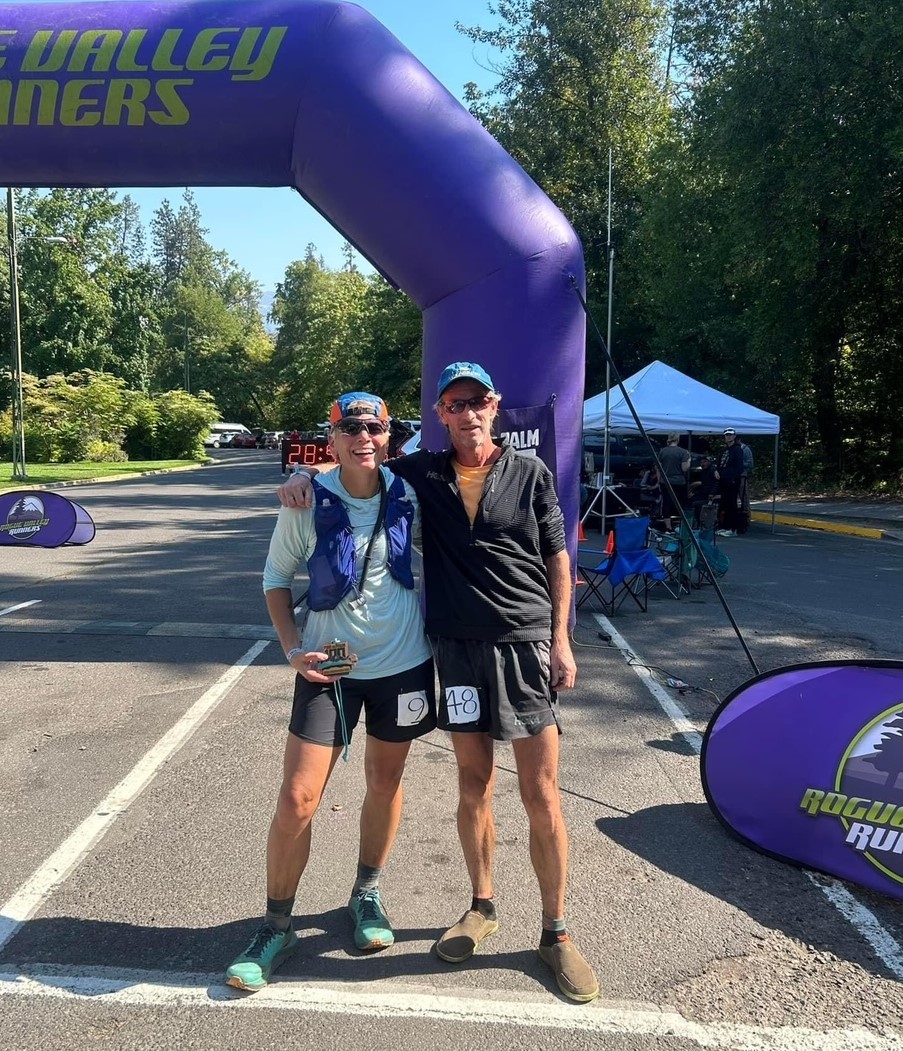 Photos