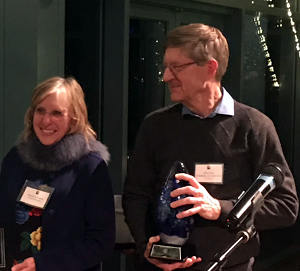 John and Stephanie Win Prestigious Award
At its annual member meeting on November 28, the Potomac Appalachian Trail Club gave its highest award — the Avery Award — to John Stacy and Stephanie Danahy. The award, named for the founder of the PATC, Myron Avery, "recognizes a substantial achievement by a PATC member who most exemplifies the spirit of volunteerism through his or her contribution to PATC during the past year."
John and Stephanie were recognized for their tireless volunteer work on trails in the Masssanuttens, on the Tuscarora Trail, in the Shanandoah National Park, and on the Bull Run-Occoquan Trail. This is in addition to all the work they do with the VHTRC.
In accepting the award, John noted the fun and satisfaction of working in the outdoors with other volunteers.
Also at the meeting, John was elected to serve as the PATC's Supervisor of Trails. This is an important job since the core of the club is maintenance of trails in this region.