Gary Builds Another Bridge
Many have participated in clearing the Bull Run-Occoquan Trail and other paths used by the Bull Run Run course. Those include Frank Probst, Diane Behm, Harry Behm, Bob Gaylord, and several others.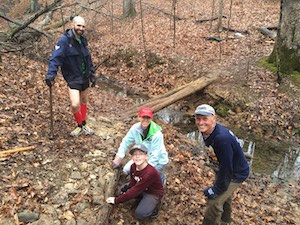 On Friday, April 3, Gary's crew of Suzi Spangler, Dan Rose, Anstr Davidson, and Gary's grandson, Ryan, addressed an issue on the red-blazed horse trail that goes down to the river from Hemlock. Near the beginning of that trail is a ravine with a stream at the bottom. People have set up several makeshift ways to cross that stream. None of them work well. In fact, they are counter productive because they dam the stream and raise the water level.
Gary arrived with four locust logs. We dragged them down the hill and installed them. We also made a path to the bridge, which is to the side of the old way across the stream.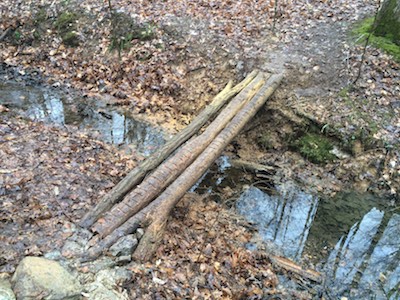 We think that the leaders will just plow through the stream and not bother with the bridge, but if those who want to keep their feet dry (a pointless goal most years at BRR) will likely use it.
The trail construction occurred after we cleared all known blowdowns on the course. Dan had started around 3 a.m. and run the entire course from Fountainhead upstream. There were only a few blowdowns, and Gary got them all. (There is one we couldn't find, but it does not appear to block the trail.)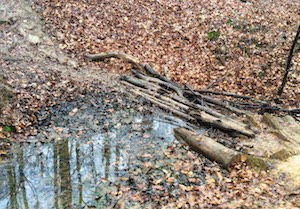 The trail should be in good shape for the run. Thanks again to Gary and many others for their hard work. (The old way across the stream is at right.)