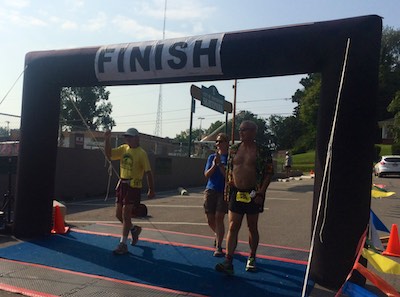 A Race for the Ages
Several VHTRC members and alums joined a crowd of old folks at A Race for the Ages, which was conceived and executed by Gary Cantrell, aka Lazarus Lake. This was like a high school reunion with classes by year group. 
The format was that you could run around a mile course for as many hours as you are old in years. This handicap for the old folks brought out many legends from ultrarunning's past.
The weather was hot and only a small part of each loop was shaded. While the old folks had gobs of time, it wasn't easy given the conditions.
Significant accomplishments by people we know were 81-year-old Ed Demoney's 100 miles (making five decades in which he has done that — see photo of Ed finishing with daughter Lisa and Chris Scott), Tom Corris and Margie Schlundt who got 132 miles, Jay Finkle at 129 miles, the Knipling boys (Gary and Keith) at 122 miles, Stan Duobinis at 106 miles, and Dennis Herr who ran 100 miles faster than most. Others who got 100 miles were Leonard Martin, Chris Scott, and Rich Limacher. Those with fewer than 100 miles, but more than David Horton, were Eva Pastalkova, Anstr Davidson, Anita Finkle, Mike McCumber, and Keith Dunn.
The overall winners were Joe Fejes who got 200 miles in 49 hours and Liz Bauer who got 164 miles in 56 hours (and who beat Ann Trayson and Lorna Michael (Richie) among others).
Gary Cantrell, his family, and his volunteers put on a great event. There was food and a truck with ice for all. The event was held somewhere in Tennessee. (Tennessee geography is a bit confusing.)
The event illustrates the strengths and weaknesses of Facebook. If you want to see pictures, comments and similar in a big jumble, go to the Facebook page. Results are linked from here. The actual results are here, though that may change.
Congrats to all and a big thanks to Gary Cantrell!